Alexander Yemelyanenko to enter the ring in November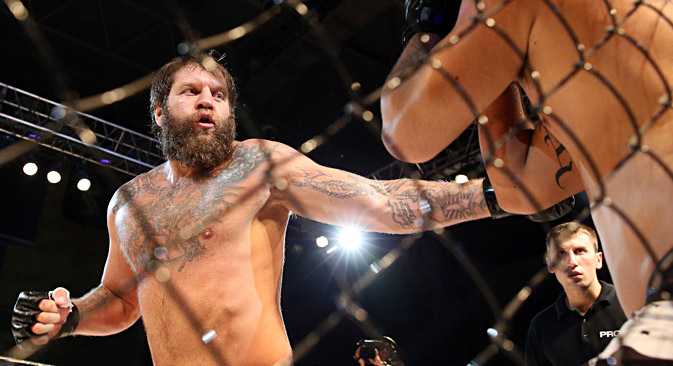 Brother of Russian famous fighter Fyodor Yemelyanenko, Alexander, plans to recover after training using old-fashioned methods—vitamins, massage and going to the Russian banya. Source: ITAR-TASS
The 32-year-old Russian mixed martial artist Alexander Yemelyanenko is starting to train for his fight against the Croatian fighter Mirko Filipovich.
The battle of two stars of mixed martial arts—Alexander Yemelyanenko and Mirko Filipovich, a.k.a. "Cro Cop"—will be held in November as part of the Legend Tournament in Moscow. The Croatian fighter started to prepare for the fight back in July. His manager Orsat Zovko told Izvestia that Mirko is taking the fight very seriously and has not stopped training for even a moment, despite a 104-degree heat wave. Filipovich is in great shape. After many fights in the MMA, the Croatian fighter returned to K-1 in the past year, winning seven victories in a row.
The upcoming fight is referred to as the revenge of the decade. In 2004, it was Filipovich who knocked out Yemelyanenko with a blow to the legs, just as Yemelyanenko was beginning his career in the MMA. The Croatian's signature blow is a left to the head, the strength of which is almost 6,600 pounds.
In order to not repeat the situation, Yemelyanenko requested the assistance of Mike Passene—one of the best coaches in the kickboxing world. Yemelyanenko has said himself that the main goal is not to hit with the legs like Cro Cop, but to defend himself.
Source: Youtube
"I will take advantage of all of Mirko's weaknesses. Now I am going to Holland to learn kickboxing. I would like to add kick blows to my fighting and boxing technique, but not to be able to hit hard with my legs. The goal is to learn to see the opponent. Because when you practice only fighter moves or boxer strikes, feet can fly around and you don't notice them. And then you either try to catch them, or try to go between the legs, and you miss a blow that may decide the outcome of the fight," said Yemelyanenko.
The Russian MMA star also noted that he has no desire to gain revenge against the Croatian. "I don't have any negative emotions toward Mirko," said Yemelyanenko. "Cro Cop is a very good, experienced fighter, so I will be glad to enter the ring with him."
Yemelyanenko began preparing for the fight after visiting the Mount Athos monasteries. However, the fighter asked journalists not to mix his personal and professional life.
"I am a religious person and often read the Bible. I enjoy going to church. I go to Athos to talk with people and to pray. I don't look for any kind of miraculous forces that could help me win a fight. Monastic life settles the mind and calms the nerves. I read prayers there and practice obedience. I split wood, do a lot of manual labor."
Q&A with Alexander Yemelyanenko
Izvestia: Have you reconciled with your brother? Will he help you train for the fight?
Alexander Yemelyanenko: He will, of course. The stuff the press writes is just nonsense. We never had an argument.
Izvestia: How much do you have to train to win?
A.Y.: I will be training two times a day for two hours, five times a week. I plan to recover after training using old-fashioned methods—vitamins, massage and going to the Russian banya.
Izvestia: What is your prediction for the upcoming fight?
A.Y.: I will try to finish the fight early, either by pain or strangulation knockout. We'll see how it goes.
Izvestia: Are you going to cut off your beard before the fight?
A.Y.: No, I am not going to change my appearance. I'm just going to get a trim, so it looks nicer.
First published in Russian in Izvestia.
All rights reserved by Rossiyskaya Gazeta.