Final whistle blows on Abramovich football era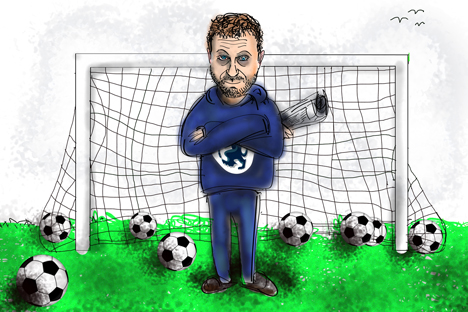 Sport expert James Ellingworth pundits why Russian oligarch and Chelsea club owner Roman Abramovich has decided to stop funding soccer in Russia.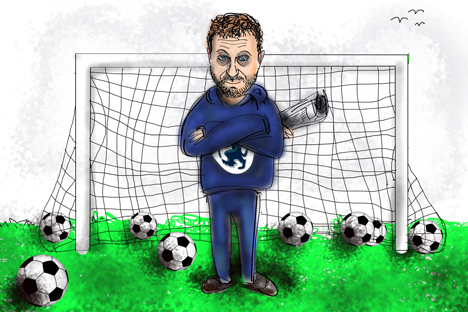 Click to enlarge the image. Drawing by Niyaz Karim
His National Academy of Football fund has pumped around $200m (£125m) into the grassroots of the game in Russia, but Roman Abramovich is ending his involvement.
When the Soviet Union collapsed, with it went much of Russia's highly structured state football programme, designed to funnel talent into a national team that played "scientific football" in an attempt to prove the superiority of the new socialist man.
The end of that system sent youth football into deep decline – facilities rotted as Russian clubs were forced to sell talented youngsters abroad to survive.
After nine years, 130 new pitches and one world-class youth academy, as well as paying millions of dollars in wages to employ Guus Hiddink as national coach, the foundation "is winding down following the accomplishment of its goal to rebuild the infrastructure for grassroots football development in Russia", according to John Mann, spokesman for Abramovich's company, Millhouse.
One of the project's main achievements was to transform a provincial academy near the car-making city of Tolyatti, which now has up-to-date pitches, medical facilities and tutoring for its young talent. The academy's coaches have even been sent to Chelsea's training ground to learn from the team.
The most potent symbol of the project's success so far is Alan Dzagoev, who spent his formative years at the Tolyatti academy and is now a playmaker capable of creative fireworks for CSKA Moscow and Russia.
Abramovich has spent about $2bn of his oil fortune on football, most of it on Chelsea, which he bought in 2003. With the end of the National Academy foundation, he is no longer funding any Russian football projects, though "it is possible" he could do so in the future, Mr Mann says.
The end of Abramovich's funding comes as another oligarch is reducing his involvement in Russian football. Billionaire fertiliser baron Suleiman Kerimov stunned the footballing world when he slashed spending at his club Anzhi Makhachkala – which once had a transfer budget that was the envy of the world – last month and launched a fire sale of star players, including the transfer of Samuel Eto'o and Willian to Chelsea.
Since then, there has been speculation about Kerimov's health and legal problems (he has been declared a wanted man in Belarus over a collapsed business deal), and Anzhi has swiftly returned to being a modest provincial side after harbouring ambitions to become Russia's pre-eminent club.
But there is no general oligarch exodus from sport. President Putin's childhood judo pals Boris and Arkady Rotenberg are on the offensive. Between them, they have part-funded the Winter Olympics in Sochi, taken control of the Dynamo Moscow football and ice hockey teams, and are now trying to bring the first Finnish hockey team into the Russian-controlled KHL league.
In Russia, as the world over, billionaires just cannot seem to resist the siren call of sport. An oligarch and his money are not easily parted – unless there is a ball involved.
James Ellingworth is a Moscow-based sports writer.
What do you think about the current situation in Russian football? Share your opinion in the comment section below
All rights reserved by Rossiyskaya Gazeta.