Endorsing Sharapova earns her megabucks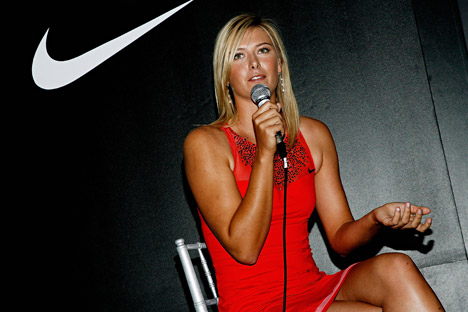 Tennis player Maria Sharapova unveils her new night dress performance designs by Nike for her 2007 U.S Open title defence on August 22, 2007 in New York City.
Getty Images
Maria Sharapova earns much more from endorsements than from her on-court prize winnings, making her among the top 20 highest earning sportspersons of the decade.
Star Russian tennis player Maria Sharapova is among the 20 highest-paid athletes of the decade. Forbes magazine's list of high-earning sportspersons is headed by American golfer 'Tiger' (Eldrick) Woods while Sharapova, the only woman on the list, is at 18th place. Her earnings over the last 10 years are estimated to be $ 250 million. She has left such famous sportspersons as British Formula One racing driver Lewis Hamilton and Denver Broncos quarterback Peyton Manning well behind.
Most of Sharapova's earnings are from her endorsement of a wide variety of endorsements. According to Forbes' estimates, the tennis star earns 6.7 million dollars from prize money on court, while the endorsements she does bring her $ 23 million.
Record-breaking contract with Nike
Sharapova signed her first promotional contract at the early age of 11 years. In 1998, Nike became her technical sponsor. By then she had moved to the United States. The American sports giant and the Russian star have been inseparable since then. In 2010, Nike signed a new contract with Sharapova, a record-breaking eight year contract for 70 million dollars; a record for women's tennis.
Sharapova - Nike Commercial 'I feel pretty'. Source: gmkillr/YouTube
Wimbledon Effect
In 2004, then 17-year-old Sharapova won a sensational victory at Wimbledon. This win opened the door to the world of big money for her. Just a month after the victory she signed a contract with Motorola, estimated at $1 million a year, according to unofficial sources. Now the company is not doing as well as a decade ago, but Sharapova is still on a roll. In 2008 she moved from Motorola to Sony Ericsson, and in 2012, she became the face of Samsung, the market leader in smart phones.
Maria Sharapova Samsung Galaxy 3 Commercial. Source: masha19maria/YouTube
Dolce vita
Sharapova has become a star not only on court, but also on the social circuit. Her status as a Wimbledon champion sparked the attention of luxury brands, as a result of which the Russian tennis player is the face of Swiss watchmaker TAG Heuer and American jewelry house Tiffany & Co. Designers at Tiffany & Co even created a collection of jewelry specially for Sharapova not so long ago. Under terms of the contract, she has to wear jewelry from Tiffany's during all her matches.
She has also attracted endorsements from automobile giants, like Land Rover, in 2006, and Porsche, in 2013. The collaboration with the German car maker came after Sharapova won the Porsche Tennis Grand Prix in Stuttgart in 2012.
Maria Sharapova driven to Pre-Wimbledon party in a Porsche 918 Spyder. Source: Porsche/YouTube
All rights reserved by Rossiyskaya Gazeta.