Match reignites passion for chess in Russia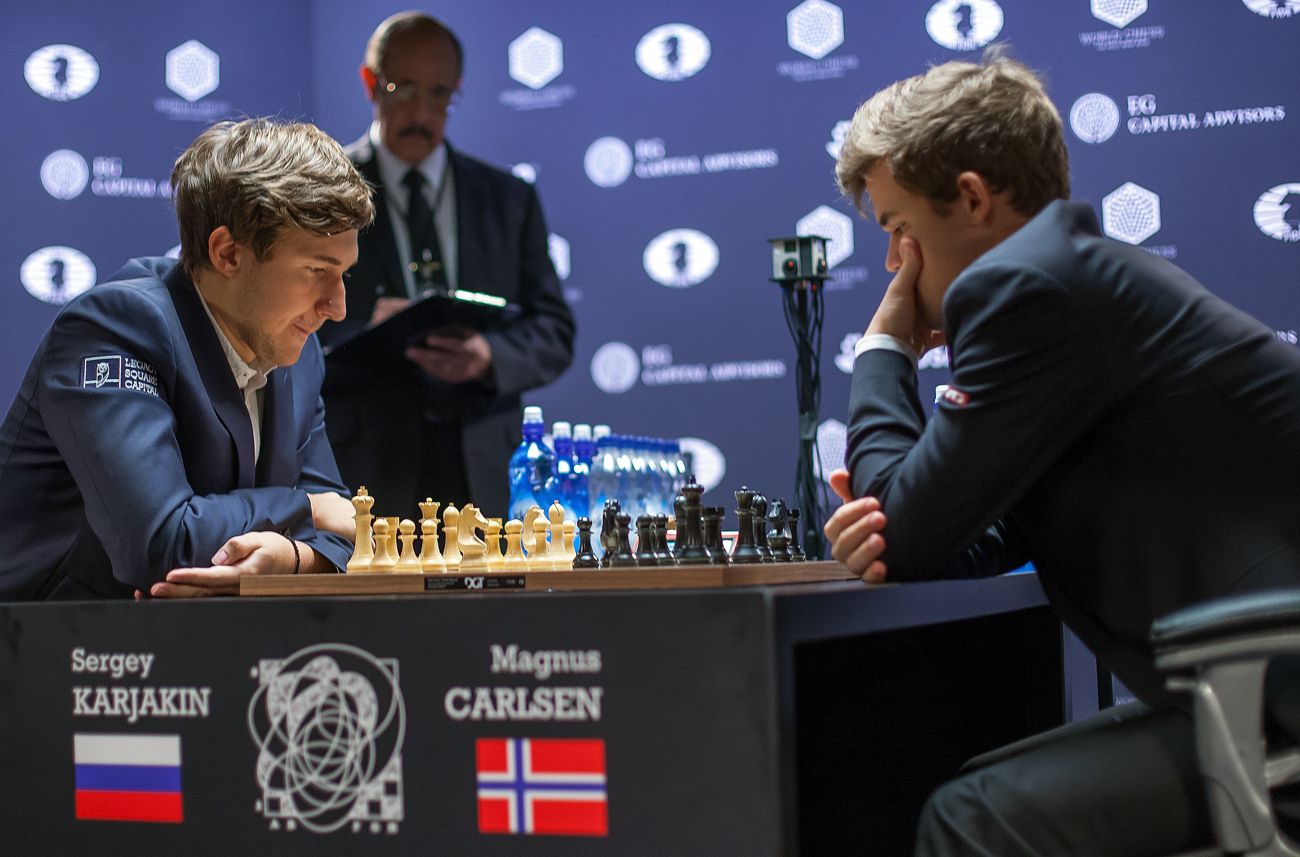 Grandmasters Sergey Karjakin (Russia), left, and Magnus Carlsen (Norway) during a tie-breaker of the 2016 FIDE World Chess Championship in New York.
Nancy Siesel / RIA Novosti
Sergey Karjakin, the Russian Grandmaster, beat Magnus Carlsen to win the eighth game of the World Chess Championship, after seven draws, and dramatically revived interest in the game among the Russians.
Russian Grandmaster Sergey Karjakin turned from being the best chess player in Russia two weeks ago into one of the most talked about global sports celebrities, and chess back to one of the most talked about sports in the country.
The title match for the World Chess Championship between Karjakin and the Norwegian Magnus Carlsen, the current titleholder, appeared unlikely at first glance to produce any serious intrigue.
The Russian prepared seriously for this fight: the grandmaster received the highest level support and Karjakin himself spoke of a possible victory. However, very few people believed that would be enough against Carlsen's experience and three championship titles. The bookmakers were also confident; Karjakin, not only had no chance of winning, he was likely to lose quickly, well before the 12 matches stipulated by the regulations.
However, things turned out otherwise. The first seven games ended in draws, and the eighth was a sensational win for Karjakin.
"This is like the Battle of Stalingrad," said Kirsan Ilyumzhinov, President of the World Chess Federation (FIDE). "This is the turning point in the match!" he said emotionally.
Karjakin's victory was enthusiastically greeted by the media. Over the last two weeks, every morning started with the question, how is Karjakin doing? Just like earlier times, when momentous World Championship matches between legendary Soviet chess players and others for the title were minutely followed.
Carlsen bounced back in the 10th game and stirred the plot further. People waited for the tiebreaker with bated breath, as if a "viral" photo was launched on the Internet. While the tiebreaker was being broadcast on the Kremlin walls, tens of thousands of fans were watching the action.
Karjakin lost in the final game, which was a tiebreaker. People saw fortune and a certain symbolism favouring the Norwegian as it was Carlsen's birthday. At the end of four rounds of "Rapid Chess", the score ended 9:7 in favour of the Norwegian grandmaster, helping him retain the title of World Champion.
While the victory was a great achievement for the Norwegian, Karjakin's superb performance provided Russians with hope. He played an outstanding match, proving that he has the skill, daring and aggression to play on equal terms with the World Champion and, equally important, he really managed to revive interest in chess in the entire country.
First published in Russian by Kommersant.
All rights reserved by Rossiyskaya Gazeta.