Sharmanka theater: Exiled Russian art in Scotland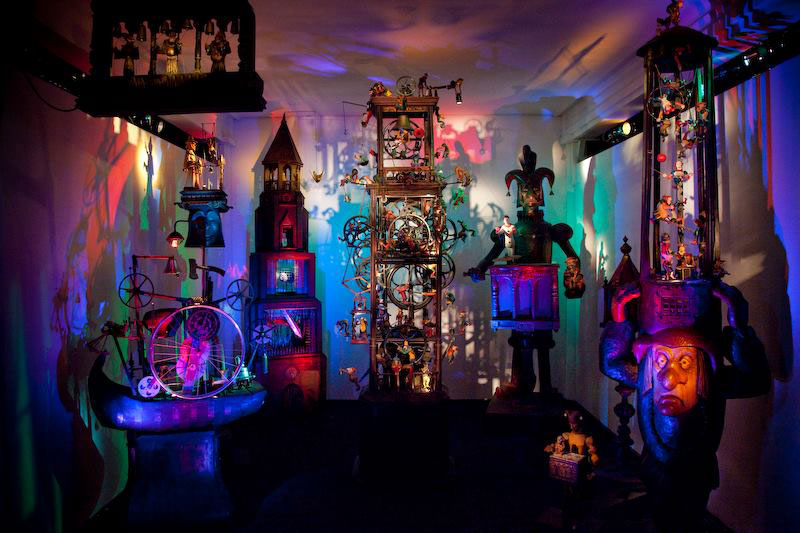 Merry-Go-World, Sharmanka Kinetic Theatre's touring set.
Press photo
An art form sowed from Russian seeds blossoms with the tools, materials and space available in Scotland. RBTH explores Eduard Bersudsky's 'Sharmanka' theater and discovers a land of living sculpture and a mysterious toy shop.
Giant wooden carvings decorate children's playgrounds throughout Russia. Larger than life bears stand guard at the gates, fairytale figures support swings and slides. Depending on the whim of the artist, these may take on various forms: from playful to slightly sinister. Sometimes it's tempting to imagine them having a life of their own.
Far from Russia's parks, on Glasgow's busy Trongate, a darkened hall in an arts center brings some of those images to life. Eduard Bersudsky's 'Sharmanka' theater is a glimpse into an intriguing world, a land of living sculpture, a mysterious toy shop. Straddling the border between gallery and theater, it's a place of music and light, a place where shadows dance. Its kinetic sculptures jangle into life, telling their stories and enthralling audiences in what renowned actor Simon Callow describes as a "priceless mechanical theater".
'Unofficial' art
Bersudsky was born in Leningrad in 1939 and spent much of his life struggling for the right to create and exhibit his determinedly 'unofficial' art. That was what led him to carve for the city's playgrounds – it was a creative position that didn't demand membership in the Union of Artists. Marginalized at best, suppressed at worst, he finally left his homeland not as a result of political persecution but in response to the market forces that denuded Russian art in the early 1990s. Losing his St. Petersburg gallery and gaining invitations to exhibit in Britain, fate brought him, along with long-time collaborator Tatyana Jakovskaya and her son Sergey to Scotland in 1993.
A wooden figure playing sharmanka. Source: Press photo / sharmanka.com
If Russia sowed the seeds of Bersudsky's art, Scotland gave him – at last – the tools, the materials and the space to harvest the finished product. Jakovskaya explains that a combination of resources and enthusiastic supporters of the project helped Sharmanka to thrive, while Bersudsky managed to produce far more in Scotland than he was ever able to complete in St. Petersburg.
Bersudsky rarely speaks about his work. In an age of conceptualist creation, where the densely-typed A4 sheet detailing the artist's intention is often more important than the work of art itself, he prefers to leave audiences to draw their own conclusions – or simply enjoy the view.
Press photo / sharmanka.com
Press photo / sharmanka.com
Press photo / sharmanka.com
Press photo / sharmanka.com
This turns many of his creations into a mirror in which viewers can project and reflect their own ideas. Take, for example, The Time of Rats. Made in 1991, one of Bersudsky's last works before leaving Russia, it shows a mole plodding endlessly forward as a party of rats cavorts at the controls. The mole, strong but sightless, is explicitly linked to Russia; the rats that exploit and deceive it remain anonymous. For one viewer, they represent baleful foreign influence on the motherland; another sees the delirium of new Russians of the wild 90s, a free-for-all; a third recognizes the last throes of the Communist Party, dancing into the abyss. It's a work that – much like Russia itself – poses awkward questions and shies away from glib answers.
Sharmanka: spirit of play and entertainment
The word 'Sharmanka' means 'hurdy-gurdy' or barrel organ, an old mechanical musical instrument. And that spirit of play and entertainment also informs the sculpted automata that Bersudsky brings to life. While there's plenty of Gogolian grotesque on display, there's also ample scope for that peculiar Russian sense of humour. Theater of the absurd, in the fullest sense of theatrical absurdity. For evidence of that playful spirit, look no further than the overgrown train set of Travelling Circus or the energetic recreation of Master & Margarita, a tribute to Tim Stead, a Bulgakov enthusiast who worked on the Sharmanka Millenium Clock that dominates the great hall of Edinburgh's Royal Museum of Scotland.
Sharmanka has toured widely, and Bersudsky's work can be found beyond Glasgow. Apart from the Millennium Clock in Edinburgh, other sculptures can be found throughout Scotland, from the remote Isle of Mull to the museums of Falkirk and Irvine, and across Europe from Copenhagen to Jerusalem. Up to now, though, there has never been a tour back to the gallery's native Russia.
Founder of the theater sculptor-mechanic Eduard Bersudsky (L) and lighting designer Sergey Jakovsky. Source: Robin Mitchell / Facebook page of Sharmanka
"We've looked into it and there were three times when we had invitations to exhibitions and festivals," said Jakovskaya. "But every time we ran into the same problem – it would cost three times as much to send our sculptures there as to other European countries.
"At the moment, it's more likely that we'll get to the Baltic States, maybe to Georgia or Ukraine, rather than to Russia."
Meanwhile, in Scotland, a collection of exiled Russian art has become international. Bersudsky's ravenous consumption of the masterpieces of different eras and places filters into his own work. When completing the Millennium Clock he wrote of following a tradition dating back through medieval Europe to the Neolithic standing stones on Orkney. Yet an unmistakeable Russian accent remains. Of those clock carvings he concluded, "It took me eight weeks. And all of my previous life in Russia."
Visit www.sharmanka.com to book your ticket.
All rights reserved by Rossiyskaya Gazeta.