Russian billionaires grant Russia top spots in global rankings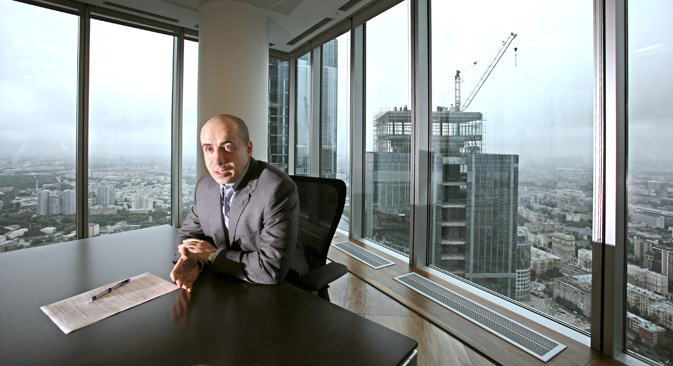 Yuri Milner ranked 35th on the Forbes Midas List, with a wealth of $1.1 billion. Source: Kommersant
Russian Yuri Milner is 35th in the Forbes Midas List of Tech's Top Investors, while Moscow is second city in the world by quantity of billionaires.
Last week business magazing Forbes updated its Midas List of Tech's 2013 Top Investors. Russian businessman Yuri Milner took the 35th place (#29 in 2012) with a wealth of $1.1 billion. Milner entered the billionaires list thanks to his smart investment in social media. In January 2009 he met Mark Zuckerberg in Silicon Valley, and soon after his DST (Digital Sky Tecnologies) bought 1.98% of Facebook shares for $200 million.
Meanwhile WealthInsight released the list of cities with the highest concentration of billionaires. Moscow is the second in the list after New York. According to the report 64 billionaires (with a personal wealth higher than $1 billion) live in the Russian capital. Russian magazine Kommersant notes that Moscow was not listed among the top 20 cities with the highest number of multi-millionaires (people with over $30 million wealth). Around 160,000 multi-millionaires live in Russia (in China - 1.3 million, in India 250 000).
Top 3 cities with most billionaires

1) New York - 70

2) Moscow - 64

3) London - 54

Top 3 cities with most multi-millionaires

1) London - 4224

2) Tokyo - 3525

3) Singapore - 3154
Techcrunch dedicated a feature to Dish.fm, the app that helps you find the best dishes in town. The Russian project based in San Francisco launched its updated version for iPhone and iPad last week. The most interesting feature is the possibility to look up the "Best Dish" in more than 850 cities around the world. Zhanna Sharipova told RBTH: " Now our users can see not only what the best dishes at a specific restaurant are, but they can also find the best tiramisu, steak, pad thai or any other dish next to them, in their city or in the whole country."
Meanwhile, the Chinese mobile web browser UC announced the intention to invest almost $0.5 billion in the expansion of fast growing markets such as Russia, India, Brazil, Indonesia and Vietnam. In Russia and the CIS there are already more than 4 million UC-browser users, equating to a four-fold growth since 2012.
Kommersant discussed the company's future plans with Arthur Lee, UCWeb Manager of International Development. Lee revealed that the browser will focus on tablet versions because of their growing popularity in Russia. UC's development plan also includes investing in creative companies which can provide additional values to the product.
Previous post: The week in business: Russian giants go global, global giants go Russian
More about Russian Start-ups
All rights reserved by Rossiyskaya Gazeta.