$1 billion loan for new startups, new features for the apps we already love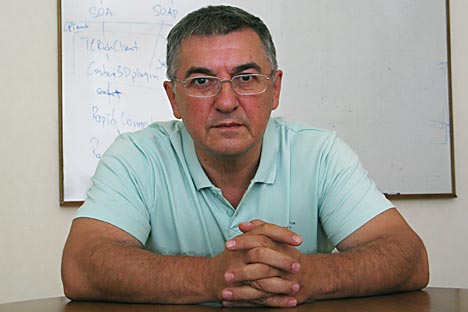 Stepan Pachikov, founder of the Evernote project. Photo: personal archive
European start-up accelerator Startupbootcamp gives financial boost to the Copenhagen MobilityXL program alumni. Evernote, notetaking app with Russian origins, introduces reminders...
Accelerator:
Europe's start-up accelerator Startupbootcamp offers $1 million credit to projects which will apply successfully to the Copenhagen MobilityXL program. The program is dedicated to mobile devices, technologies and solutions. It starts in Copenhagen on September 2, 2013 and will last three months. As a rule the participating teams will receive €15.000 in exchange for an 8% stake in the company. This time at the end of the program the accelerator will offer to its graduates an additional $1 million loan. Startupbootcamp invites startups from all over the world to participate, no matter their geographic location. For more info visit the the project's official page.
Investment:
The investment fund Grishin Robotics, owned by CEO Mail.ru Group Dmitry Grishin, invested $500,000 in the robotics videoplatform for iOs devices Swivl. Grishin's investment will enable Swivl to complete the development of its second generation robots and enhance the device's capabilities through integrated cloud-based video services. The current version of the robot costs from $149 to $199. Swivl is already widely used for distance education (in 1,000 schools and 250 universities around the world).
Apps:
Evernote, the notetaking app created by half Russian entrepreneur from Azerbaijan Stepan Pachikov, added a reminder system to the new version of the app. This is one of the most requested features of the app. The user can add a reminder to a note, simply by clicking on the clock (in the upper part of the notes on Macs and web clients or at the bottom of the page on the iPhone and iPad). Optionally, you can set the time and date at which the task must be completed. Read more about the feature.
Rando - this funny little app, which invites you to send images to other Rando-users chosen randomly, was launched in March and according to ustwo, the studio behind the project, more than 200 000 snaps are sent daily. ustwo's Matt Miller shared the app's statistics with Techcrunch's Natasha Lomas. According to it Russia ranked third among the top-5 countries by number of downloads.
Rando's top five countries by downloads:
South Korea - 82,224 downloads - 37% of total downloads
United States - 41,120 downloads -19% of total downloads
Russia - 25,553 downloads - 12% of total downloads
UK - 12,173 downloads - 6% of total downloads
Brazil - 7,795 downloads - 4% of total downloads
Have you already downloaded the app? Try it and tell us which kind of photos from Russia did you receive.
Previous posts:
Russian billionaires grants Russia top spots in global rankings
The week in business: Russian giants go global, global giants go Russian
Read more about Russian start-ups
All rights reserved by Rossiyskaya Gazeta.