Electrichka – Fun on the "no frills" train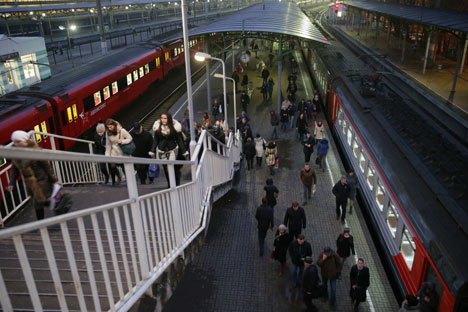 Russia is adding so many high-speed and modern trains today that soon the old electrichkas are sure to vanish. Source: ITAR-TASS
Taking a Russian commuter train – especially in the summer – is an experience like no other.
The most entertaining way to take a day or even a weekend trip from Moscow is the elektrichka. During the workweek, these commuter trains bring thousands of people from the Moscow Region to their jobs in the city, and on the weekend, they take city-dwellers to their country houses.
Mikhail Krug, a famous (or rather infamous) singer from Tver even dedicated a song to the elektrichka, so there must be something about this train that is worth experiencing.
My colleague from Finland decided recently to visit our company office in Tver for a few days and someone recommended that she take the elektrichka. There is a high-speed train between Moscow and Tver that takes about an hour, but she thought she would save some money and have a real Russian experience.
It was hard for me to stifle a laugh when I thought of my jet-set colleague heading off on the elektrichka, since I had taken this kind of train myself, in the summer of 2011.
I took the elektrichka from Moscow to the village Solnecnogorsk on my way to a camping trip with friends. It was a hot and dusty August, and one Friday after work my dear Russian boyfriend and the husband of one of my friends headed out to the Three Stations Square.
This is where three big train stations have been built right next to each other, so there is all the chaos of train stations multiplied by three.
We bought tickets and hopped into old compartments, which have no air conditioning and sweaty plastic seats. The carriages have blue plastic benches that hold 3-4 people on each side, facing each other so close that you have to rub knees with the person opposite. But you should be grateful that you actually HAVE a seat! The trains are so full that plenty of people stand for the entire ride.
You are sure to end up squeezed between an old babushka, who is probably on the way home to her dacha after a day selling veggies near the train station and a drunk who will certainly fall asleep on your shoulder.
Once on board – enjoy your ride!
After the hot train finally leaves the station you will have the opportunity to buy not only water, snacks and ice cream, but also to do duty free shopping (or at least tax-free from some unlicensed vendors), who struggle their way through the overstuffed wagons with bags of goods.
There is cheap stuff imported from China, or handmade items like mittens. The traveling salespeople are only part of the entertainment on the elektrichka.
Later some people playing guitars or accordions might wander through. But nothing compares to the theatrics of the drunks. Usually there is just one scene, but it is acted out over and over again in which a drunk man or woman (or both) is rambling, laughing and pulling out beer cans before arguing, screaming and ending in one of them (or both) throwing their cans demonstratively around the wagons and being locked out by helpful fellow travelers, who will try to keep them in the compartments between the wagons. If you're lucky they will also sing.
In the mood for a smoke? No problemo. The compartments between wagons are usually cramped with smokers.
I admit that this all sounds like cautionary tale, but I will be very honest with you – it's fun! It's entertaining, you meet a lot of interesting people and you certainly don't get bored. To hell with movies and on-board entertainment! You won't need any of that, and you will have something to tell your friends about. It's an adventure.
Russia is adding so many high-speed and modern trains today that soon the old electrichkas are sure to vanish. And you know what? If I remember correctly I actually also really enjoyed my cold beer, glued to my plastic seat, sweating profoundly, that summer in 2011.
As for my friend, well she wimped out. Before she could even read my fun experience about traveling on the elektrichka, she had re-booked her trip on the high-speed SAPSAN train. I hope she will never be able to forgive herself for missing out on this truly fun experience.
All rights reserved by Rossiyskaya Gazeta.