Being Russian in Kuala Lumpur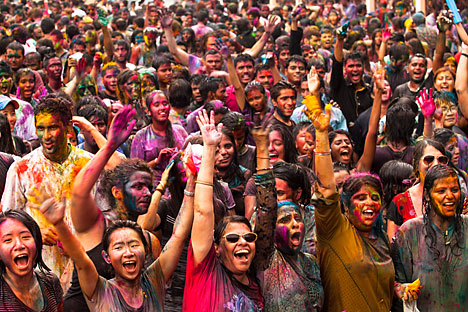 People celebrate Holi, The Festival of Colors, Mar 31, 2013 in Kuala Lumpur. Holi, marks the arrival of spring, and is one of the biggest festivals in Asia. Source: Shutterstock/Legion Media
A Russian finance professional describes the positive and negative aspects of expatriate life in the Malaysian capital.
I grew up in the Boris Yeltsin era, when the best chance of a stable life meant living in the West. In the 1990s, Russians started to believe that we were not multi-ethnic Soviets or a distinct set of people, but actually Europeans and westerners. After earning an MBA degree in London and working for a German bank for three years, I moved back to Moscow, almost disillusioned with the idea of being a westerner.
Three years ago, I was offered a great job in Kuala Lumpur with a Singaporean bank. When I mentioned this to my Russian friends, I received the same reactions: "It must be hot there," "It is a Muslim country," etc. I did have some anxieties before leaving, but that was not because of the heat. I hate cold weather and would prefer humidity and the heat, especially if I have the protection of an air conditioner. What worried me is the cultural shock I may witness.
I was always fascinated with Asia as a mystical land but I never thought I would settle down here. Three years later, I think moving to Malaysia was the best decision of my life.
Kuala Lumpur is really a world-class city with great infrastructure and public transport. There's great value for money here. The flat I rent in the trendy suburb of Bangsar is three times as big as the one I lived in Moscow. The rent is just 20 percent of what I paid back home! In addition to this, my condominium complex has a swimming pool and 24-hour security. The later is a must since burglaries and violent house break-ins are common in this country. I find this to be very strange since you are unlikely to get mugged on a street here like in Russia and Europe.
One of the main reasons that the streets of this city are safe is because of a lack of a drinking culture. The Malays are Muslims and don't drink in public (the law forbids them). I have a few Malay friends who enjoy their whiskey. After all, this was a British colony! In general, the people who do drink, like the Chinese, Indians and foreigners, know their limits, except when they visit bars in seedy neighborhoods in the city center. Unlike the West, you never feel threatened by a drunken group of young people at night.
The success of Malaysia is in how well they manage multi-culturalism. The minorities have the right to study in schools that have their own language as the medium of instruction. They can also listen to their radio stations in Chinese and Tamil. I can never imagine Russia becoming tolerant enough to allow something similar with former Soviet citizens. Each time I visit Moscow and hear the most stupid and racist things about Tajiks (this is what all Central Asians are called in Moscow these days), I feel sick.
I am not suggesting that the Malays, Chinese and Indians do not have problems with each other, but there is a great degree of tolerance. Russia may have a larger number of minority groups, but to be a mainstream member of society, you have to be a Slavic Russian or an expat who mingles with locals. If you are a Russian minority or from a former Soviet republic, you are not treated with the same kind of respect. In Malaysia, all three ethnic groups are part of mainstream society. Malays only form 60 percent of the population of Malaysia. If figures show a fall in the percentage of ethnic Russians in Russia, you can only imagine the mongering of fear that we would witness.
Malaysia has an affirmative action policy for Malays, which I do not agree with, but along with this comes a degree of discrimination. A Malay can get loans with lower interest rates and easier university admission, but can also be arrested for eating pork or drinking alcohol.
I also like the work culture in Kuala Lumpur. People work reasonably hard but not like those in Singapore or Hong Kong. Weekends are total rest time and since this city is a melting pot of so many great Asian cultures, there is always something interesting to see and do.
This country is diverse and colorful, and has so much amazing nature, making it a photographer's dream. Thanks to cheap flights, Malaysian Borneo is easily accessible. I was fascinated with monkeys when growing up and now I specially visit Borneo to seem them in the wild. Of course, the limestone Batu Caves are also a great place to go for nature, culture, and to see monkeys!
I love Kuala Lumpur and I think it is a very friendly city, but I should warn readers that some uncultured people are ruining the reputation of Russians here. I have seen Russian-speaking people misbehave and get drunk in public. I am not sure if they are all from Russia, but there's no way that someone can tell the difference between a Russian and a Ukrainian. There are also rumors of Russian mobsters moving here from neighboring countries like Thailand, and actively being involved in the flesh trade. Every country unfortunately has bad apples.
I would recommend Malaysia highly to fellow Russians. This is one of those rare places where you can enjoy a very high standard of living without the kind of expenses you have in the West.
All rights reserved by Rossiyskaya Gazeta.