An Indian girl in the Russian capital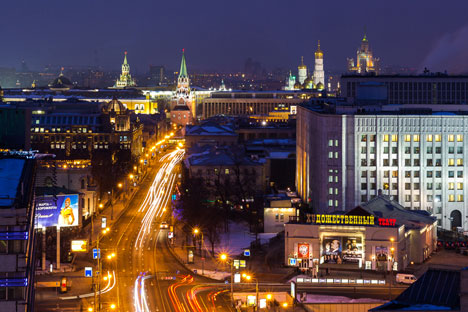 View over Moscow. Source: Slawa Stepanow / Gelio
This new blog, by Nidhi Balachandran, an Indian who has relocated to Moscow, will be in the form of letters to an imaginary person back home in India. Through these, she will personalize the experience, conveying the similarities and the differences in the two cultures, ways of life, and societies.
Hello!
When last we spoke, you sounded disappointed at my decision to return to Russia. Let me try and share with you what Russia means to my Indian sensibilities.
To be born a girl in India is not easy. Yes, we have always been protected and chaperoned- something I greatly missed when I first came to Moscow. But slowly, I came to understand that the fact that I felt the need to be chaperoned everywhere is in itself sad. Stepping out of the house after sunset alone was not really an option. In Moscow, however, that has become the norm. My love for ballet and opera takes me frequently to the Bolshoi theatre. I am often alone, as company is not always available. The show usually ends after ten, and by the time I take the metro home, it is eleven in the evening. I walk home from the metro with the awareness that it's after dark and I am alone, and yet, fear does not as much as touch me.
I have developed the habit of reading Tagore aloud on way: "Where the mind is without fear and the head is held high…" Sometimes I hum a Russian song: "Ya takoi drugoi strany ne znayu, gde tak volno dyshit chelovek", meaning, 'I do not know any other country where a person could breathe as freely (as in Russia). Russia inspires the soul.'
You may be laughing at my reading poetry 'aloud' or humming on way. But this is another thing that I love about living in Russia. My early morning walks or my walks to and from the metro. Here, no one really goes for a morning walk, like we do in India. I often go for long walks alone. There are no barking stray dogs or crazily honking vehicles to unsettle the fabric of my solitude. I walk with my thoughts undisturbed, falling in love with rust and golden autumn leaves that lay strewn about my feet. Sometimes I hum. Sometimes I speak to you aloud, in Russian. I often catch myself thinking what it would be like to live here and have little Russian speaking babies.
Russian is such a beautiful, melodious and cultured language. On my way back from work today, I took the "marshrutka" home. The "marshrutka" is what we would call a "share taxi" back home. One of the smaller public transport vehicles that seat about a dozen people. Before his stop, a passenger must ask the driver, often shouting over other passengers, to make the stop. This request is almost always made using the words, "stop at the next top, please". Each time the word "please" is uttered, it makes me feel that I am part of a cultured world where basic civilities are observed. Even the thought of being constrained to travel by public transport in India makes me shudder. But in Moscow it is an inexpensive convenience and I love being "a common man", minus the Indian snobbery that had become an integral part of my existence in India.
Russia so fills my senses. I could write all evening but I must sign off now. The moon here is so much bigger and brighter than it is back home and is already peeping in through my eleventh floor window.
Outside it has started to snow. It promises to be a long cold winter, but my heart is warmed by the light of the Russian moon and thoughts of you.
Until next time,
Nidhi
All rights reserved by Rossiyskaya Gazeta.