One of the weakest military forces in Southeast Asia is looking towards Russia to beef up its defense. After being denied weapons – and criticized in the U.S. media – for his take-no-prisoners policy against the drugs mafia, Filipino President Rodrigo Duterte has indicated he may turn to Moscow to provide his country with weapons.
Last month after the U.S. government reportedly blocked the sale of 26,000 assault rifles for police use – due to concerns over Duterte's war on drugs in which around 2000 people have been killed – the Filipino strongman said: "I remember what the Russian diplomat said: Come to Russia, we have anything you need here."
The Armed Forces of the Philippines (AFP) require an urgent infusion of modern weapons, but what the AFP doesn't need are expensive toys. High-performance – and gas guzzling – warplanes like the F-16 (offered by the U.S.) or the South Korean FA-50 Golden Eagle jet fighter are redundant for two reasons.
One, the Philippines has no external enemies. Two, Manila will never be able to afford these jets in sufficient numbers to be able to present a credible defense. "Let's contend ourselves with the propeller-driven planes but which we can use extensively in counter-insurgency," Duterte said at a public meeting earlier this year. "I don't need jets, F-16 – that's of no use to us… we don't intend to fight any country."
About the FA-50s he said: "Why did you buy that?" Duterte. "What a waste of money. You cannot use them for anti-insurgency, which is the problem at the moment. You can only use these for ceremonial fly-by."
Manila's needs
Clearly, Manila's primary security threats are land-based – communist insurgents and Islamic groups who have been running a separatist movement for decades. What the AFP requires are light ground attack aircraft that can be deployed against terrorists in the dense forests of Southeast Asia. The cheap and Syrian War tested Su-25 (NATO codename Frogfoot) is ideally suited for this role. It is a heavily armored aircraft that would provide Filipino troops close air support and is almost invulnerable to small arms fire from the ground.
If Moscow cannot spare sufficient numbers of the Su-25, its future replacement is already here in the form of the Yakolev Yak-130. At just $15 million per unit, this subsonic fighter is the friendly fighter for countries with limited budgets. "The Yak-130's multi-mission capabilities in training, air policing, and counterinsurgency make it an attractive option for some customers beyond Russia," says Defense Industry Daily.
The Jamestown Foundation says because of the focus on the army, the operational effectiveness of the Philippine Navy and Philippine Coast Guard has suffered accordingly, leaving the country's sea lanes largely unprotected. Having the eighth longest coastline (36,000 km) in the world, the country is subject to porous borders and coastlines. Russian short range missile boats – which performed spectacularly in attacking ISIS targets in the ongoing Syrian war – could address this issue.
The Philippines government has also approved for purchase attack helicopters, long-range patrol aircraft and radar. Russia has a range of battlefield support helicopters such as the Mi-17 and Mi-35 gunship, which is being deployed by Afghanistan against the Taliban terrorists.
In radar, Russia has developed an insanely large variety of platforms for tracking everything – from cruise missiles to stealth aircraft.
Manila's urgent requirement of assault rifles can be easily met. For, Russian rifles are known to be among the most reliable, especially in the damp Southeast Asian environment where the AK-47 has proven itself in battle.
For more specialized counter-insurgency needs, the NSV or Utyos machine gun uses the powerful 12.7 mm round, which is highly effective against light armor as well as helicopters. But combatants value its range of 1500 meters that does not allow the enemy to approach within the effective assault rifles range of 500-600 meters.
Russia's response
Predictably, Moscow is thrilled with Duterte's ovetures. "Formulate your wish list," Igor Khovaev, Russia's ambassador to the country, told Duterte. "Think of what kind of assistance you expect from Russia and we will be ready to sit down with you and discuss what can and should be done."
Russian Foreign Minister Sergey Lavrov has highlighted the military-technical cooperation with the Philippines. The two sides advocate promoting the bilateral collaboration, Lavrov said after meeting with Philippine Secretary of Foreign Affairs Perfecto Yasay in Moscow on Dec. 5.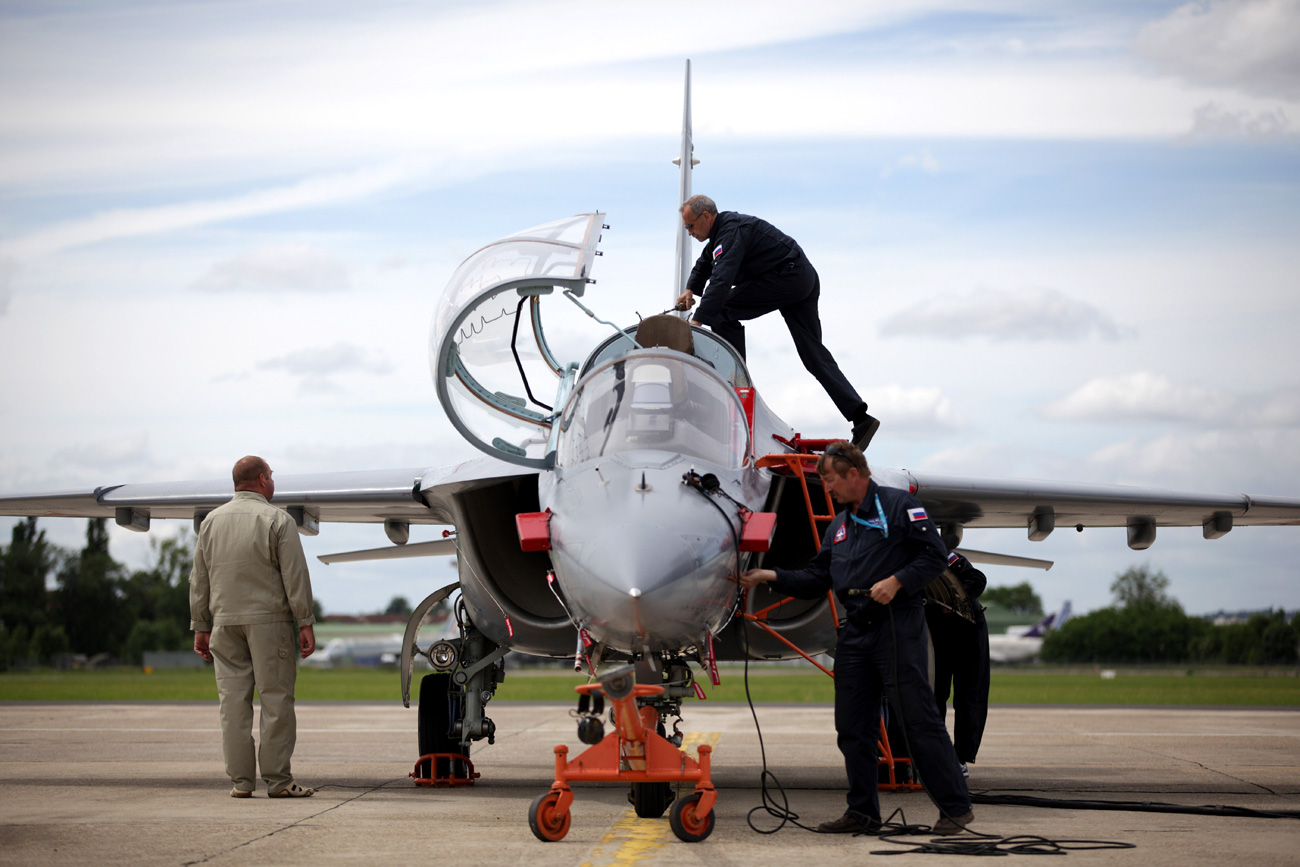 The Yak-130 displayed at the 50th Paris Air Show at Le Bourget exhibition centre. / Marina Lystseva/TASS
Last September, a Filipino delegation participated in the 'Army-2016' International Military-Technical Forum, in which the Philippines had the opportunity to study Russian weapons and equipment. Military vessels of the two countries also visited each other's ports.
Philippine Secretary of National Defense Delfin Lorenzana was in Moscow for talks with the Russian Minister of Defense Sergey Shoygu and officials at the Federal Service for Military-Technical Cooperation.
The outlook for Russia-Philippines defense ties looks positive. According to Carlos D. Sorreta, former Director, Philippine Foreign Service Institute and now the Philippine Ambassador in Moscow, there are two clear advantages Russian arms sales policies have over the West: "One, Russian arms are more competitively priced. The other is that little to no conditions are attached to these sales."
Also, diversifying weapons purchases should not be looked at as some sort of complicated surgery involving separation of conjoined twins. A number of countries have achieved what initially looked difficult. India, which relies on Russia for 70 to 80 percent of its requirements, is currently a major buyer of US and Israeli weapons.
Similarly, around 75 percent of the Philippines' arms imports since the 1950s have come from the U.S., according to Stockholm International Peace Research Institute. Manila will face censure for flirting with Russia and its armed forces will also experience some adjustments issues but it will all work to its advantage.
Anthony V. Rinna, an analyst on Russian foreign policy in East Asia, explains: "Countries have often faced difficulty when including Russia while pursuing a multi-vectored foreign policy, particularly in terms of formal integration. But in this case the Philippines is not planning to accede to an institutional security framework. Instead the Philippines is aiming to diversify its partners in a way that allows it to expand its options, potentially running counter to both U.S. and Chinese interests."
Reforms needed
If Russia finally gets a foothold in the Philippines arms market, it must avoid making the mistakes the U.S. made. For instance, the silver bullets strategy won't work in a country that cannot afford them, and where the defense brass has strong ties to the Pentagon.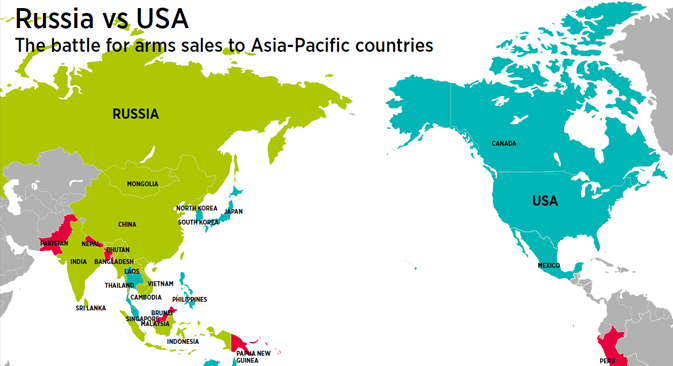 Like in other countries that are nominal U.S. allies, including Egypt and Pakistan, in the Philippines too a hefty portion of defense kickbacks end up in the pockets of the generals.
Not only will Moscow have to supply weapons that suit local requirements, it will have to sidestep corruption. According to Neri Colmenares, party list representative for the leftist Bayan Muna movement, efforts to make the Philippines defense "credible" are in vain and will only serve to increase dependence on the U.S.
"We can spend a hundred years' budget on the armed forces of the Philippines and it will not make our defense credible against China," he says. "An increase in budget or capabilities is not the way forward … because the armed forces itself has not been reformed. It's still a corrupt and politicized body."
Views expressed in this column are personal.
All rights reserved by Rossiyskaya Gazeta.