Nostalgia for the 'missing voice' in ether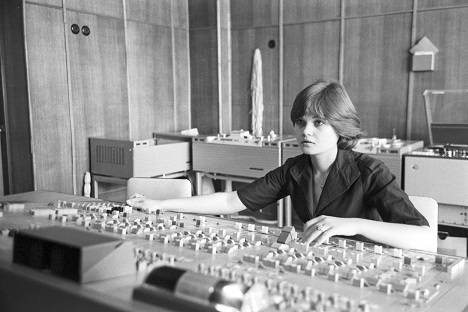 Central broadcasting service to foreign countries, Radio Moscow.
I. Nevelev/RIA Novosti
During 1965 war Radio Moscow turned out to be objective and refrained from broadcasting unverified reports earning the trust of the Indian listeners.
It was 50 years ago in September, when many Indian air bases were targeted by the Pakistani Air Force as Islamabad launched its abortive Operation Gibraltar to grab Jammu and Kashmir from India. As hostilities escalated a blackout was ordered in the north Indian cities. Delhi A and B stations of All India Radio were ordered to shut their medium wave broadcasts from the dusk to dawn so as not to act as guiding beacon for the attacking Pakistani aircraft. Those were the days without satellite-based GPS, so just like in the World War II era, medium wave transmitters were used by pilots to orient themselves and find their way over the blacked out terrain.
Amid the fierce battles raging day and night, the only source of news were shortwave transmissions and it was very difficult to comprehend anything amid the static crackling in the ether. Frustrated by the failure to catch any friendly station on the shortwave, I again switched over to medium wave band and heard clear and crisp voice saying: This is Radio Moscow!
Since then, amid the propaganda and counter-propaganda by Pakistani, Chinese radio stations, BBC world service on one side and All India Radio on another, Radio Moscow turned out to be objective and refrained from broadcasting unverified reports earning the trust of the Indian listeners.
I clearly remember, how with our neighbours throughout the 22-day war, we would tune in to the Radio Moscow preceded by its call tune, which later I learnt was, tune famous song "How big and wide is my native land". Later, I found out its broadcasts in Hindi, Punjabi, Urdu, Bengali and many more Indian languages.
Obviously, Radio Moscow was also a major player in the East-West propaganda blitz during the years of the Cold War, but it was neither anti-India, nor vitriolic in commenting on the Indian realties. It would be rather appropriate to say that Radio Moscow, reaching out to millions of Indians in their respective languages was 'sympathetic' to India in comments and focused on telling about the culture, history and literature of the vast country.
My first encounter with Radio Moscow in person was in 1972, when they invited me, a student of Moscow University, to work as part time announcer-cum-translator. The studios of the 'Inoveshchanie" (Foreign Broadcasts Service) were situated in the awesome building of the GosteleradioSSSR – The State Committee of the USSR for Television and Radio Broadcasting at 25, Pyatnitskaya Street at walking distance to the Red Square and Kremlin. In its hey days it used to broadcast programmes in 84 languages of the world with the help of very powerful transmitters situated in all corners of the country.
After the Soviet collapse, the state propaganda behemoth was dismantled due to a cash crunch; broadcasts in many languages, including regional Indian languages were closed. However, the reorganised "Voice of Russia" continued its broadcasts in Hindi, Urdu and Bengali to cover three major South Asian nations – India, Pakistan and Bangladesh.
Renamed as "Radio Rus" Moscow radio continued its broadcasts in Hindi and Urdu till the merger of "Voice of Russia" in the media conglomerate "Rossiya Segodnya", which on November 10, 2014 launched its multimedia platform Sputniknews with Radio Sputnik. The radio service was available on FM, digital radio broadcasting DAB/DAB+, as well as mobile phones and the Internet.
However, on February 4, 2015 the Hindi broadcasts were terminated by Radio Sputnik, bringing an end to an era, which began at the height of World War II, when German forces were moving to capture Stalingrad.
This was the beginning of a long relationship between common people of India with Soviet Union, Russia. In hundreds of Indian cities, towns and villages there are clubs of listeners of Radio Moscow, who up to last year have been annually meeting in Delhi with the editors of their favourite radio. But now this relationship is over.
I recall a letter from a listener from Rajasthan, who in mid-1970s had imagined that with time he would not only be able to listen to his favourite Hindi programmes from Moscow, but also watch them on TV. In 2009, to mark the 80th anniversary of Russia's foreign broadcasting a tome was released with the title: "The Voice, Known to the World". Alas, Radio Moscow is no more; its voice would be missed in the ether.
All rights reserved by Rossiyskaya Gazeta.