Russian artist reimagines 'Terminator' and 'Star Wars' for the 19th century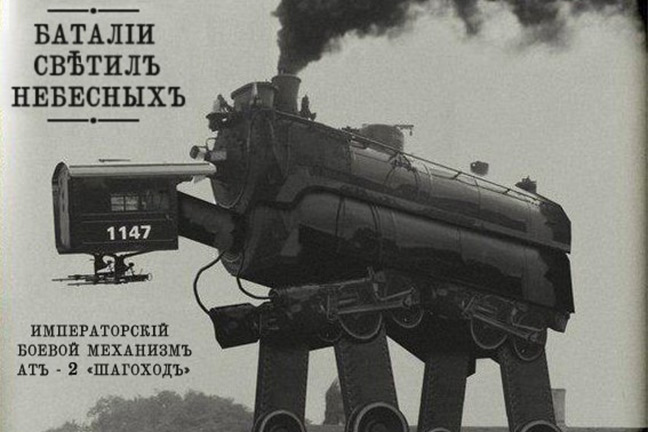 Star Wars Episode IV reimagined
Dmitry Parfiryev
See one Russian artist's reinterpretation of popular contemporary movies – as if they had been made in pre-revolutionary Russia.
The pre-revolutionary era in Russia holds a special place in the hearts of many. And some of them try to nurture their interest in this bygone age by presenting it in different forms. One of these individuals is Dmitry Parfiryev.
Star Wars Episode IV
Battles of the Space Luminaries. "Imperial battle mechanism AT-2 Walker"
Parfiryev creates witty and sometimes subversive images by applying pre-revolutionary ideas, concepts, fashion and technologies to contemporary reality. In some cases understanding of such works would require a knowledge of Russian language and history, but many others are easy to grasp for anyone.
We have picked several of Parfiryev's most amusing works, depicting posters for popular movies as if they had been created in pre-revolutionary Russia.

Terminator
I will return, my dears, and it will be no picnic!

Terminator II
Mechanical Assassin: The Second Coming — "Au revoir, my precious one!"

Terminator III
Mechanical Assassin: The Third Coming. The Rebellion of the Arithmometers
Dirty Dancing
Obscene Pirouettes
The Big Lebowski
The Hefty Lebovsky
"Nobody calls me Lebovsky. Everyone knows me as 'the dude.' If you know what I mean."
Planet of the Apes
Aviator
Aeronaut: "Life is futile, but I thirst to soar like a bird."
Some Like It Hot
Only young women at the Philharmonic
Jay and Silent Bob
Yakov and Silent Borka weigh a counter slap
Twilight
Darkness. Saga. New Moon
Star Wars Episode V
Battles of the Space Luminaries: Fifth Appearance — The Imperial Fisticuff
Star Wars Episode VI
Battles of the Space Luminaries: Sixth Appearance Return of the Maverick. "Luke, my dear, I am your father"
All rights reserved by Rossiyskaya Gazeta.