Government aims to stimulate Russia's IT sector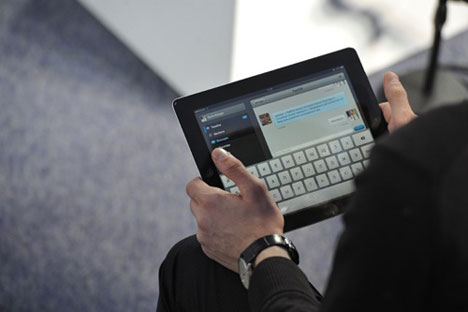 Currently Russian software exports is estimated at $4.3 billion. Sourse: Photoxpress
Officials plan for software exports from Russia to grow fivefold over the next 10 years
The Russian Ministry of Communications and Mass Media (MoC) has sent the Russian Ministry of Finance (MoF) a proposal on how to stimulate the country's IT industry, suggesting an extension of preferential insurance premiums and an expansion of the simplified tax system for IT companies.
In late February, the Kremlin's chief of staff, Vladislav Surkov, and the deputy minister of communications, Mark Shmulevich, discussed the proposal to further develop the Russian IT industry. The document submitted by the MoC for approval by the MoF (seen by Kommersant) proposes a three-year extension to the preferential social security and tax program. The plan is to increase Russian software exports — currently estimated at $4.3 billion — by a factor of five.
Labor costs at Russian IT companies have reached 80 percent, while other CIS countries operate a more lenient tax scheme, explains the ministry. So that companies do not change jurisdiction and remain "above board," the department proposes extending the term of the reduced premium (14 percent) until 2020, instead of the originally planned 2017. The tariff is set to rise to 21 percent in 2020–2021 and to 28 percent in 2021–2022.
The threshold number of employees for companies entitled to claim the benefit is also due to fall from 30 to seven. The average IT company in Russia employs 5-10 people, and startups are a key part of the innovation drive, say officials.
In terms of volume, Russian exports of software are only 2–3 times smaller than those of arms, observes Shmulevich. In his view, the benefits will help support the development of the IT industry, "which has the potential to see fivefold growth in the next decade."
"It will free up funds for IT companies to spend on business development and training," says B2B-Center chairman Alexander Boiko, assessing the MoC's proposal. However, he notes that IT companies were previously promised a drop in corporate income tax from 20 percent to 6 percent, but this failed to materialize.
The measures are useful, but not sufficient, says the chairman of Spirit, Andrei Sviridenko. He believes Russian software developers are not able to withstand the global leaders through market methods alone and require state protection, as happens in the U.S. and China. In his view, the state should allow domestic software companies to participate in government bids and procurements.
"The starting point should not be support mechanisms, but consultations on an industry development strategy to define the measurables that the ministry is looking to achieve," says Anatoly Karachinsky, president of IBS Group. In his opinion, the move to reduce the staffing threshold at which IT companies can claim the preferential rates will "reduce the incentive for further market consolidation." That, he explained, is of critical importance for Russia, since only the major players are able to create products and services on a par with the Western leaders.
First published in Kommersant
All rights reserved by Rossiyskaya Gazeta.