SXSW: Russian investor Milner predicts rosy future for social networks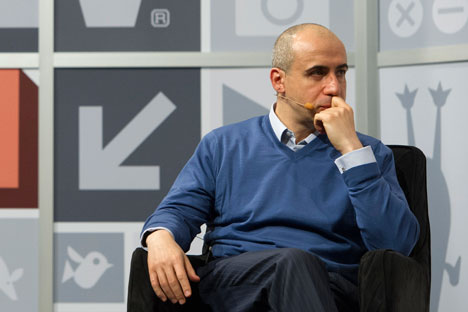 Yuri Milner during the interview on SXSW: "Facebook, Google and Wikipedia have amazing network effects. Chances are that those are long survivors". Source: Getty Images
In an interview at the annual South by Southwest festival in Texas, businessman and prominent investor Yuri Milner explains why he believes online network services such as Facebook, Google and Wikipedia will last for at least another century.
There are not too many Russians who participated in the annual South by Southwest festival in Austin, Texas, this year, but this one is hard to miss. Yuri Milner, a Facebook investor and the founder of DST Global investment fund, was interviewed by Vanity Fair contributing editor Bethany McLean.
During the interview, Milner predicted that Facebook, Wikipedia and Google will last at least a century, because of their particular qualities. "All three have amazing network effects. Chances are that those are long survivors," said Milner, as The Washington Post and Bloomberg reports.
These services are so deeply integrated in our lives that we can hardly imagine how to do without them, Milner believes, doubting if we could live and work as we do now if Google cut off even for a while. In Milner's opinion, Wikipedia will stay because of an absence of competitors.
Yuri Milner became known worldwide after he backed Facebook in 2009. "I saw someone who was clearly a genius; it didn't take me a lot of time to recognize that," Milner said about Facebook's founder Mark Zuckerberg. Milner invested $200 million for a 2 percent stake in Facebook, despite many doubts at the time about it being the right choice.
One of Milner's rules for investing is to be ready to go against public opinion. He explained in the interview: "It's almost a theorem, if you want to get disproportionate returns, to go against flow. Otherwise, returns will not be as high. If everybody thinks it's a great idea, returns would be under pressure… It's a positive indicator if you go against the flow — for not only investors but founders as well. You almost have to have it, if you want to be disproportionately successful."
Some of Milner's other investing rules created what now is called "DST deal." By this type of collaboration, founders retain principal control of the company and investors do not receive a seat on the board. This started with Facebook and was then copied by many other IT companies.
"We make it so the legal documents actually reflect this trust in founders. This came to be called a 'DST-type' deal," said Milner. "We're backing the founders not only emotionally but also in a legally binding way. That was a new element. Not many people were using it just a few years back, but many are using it now."
Meanwhile, on social media and blogs, representatives from the IT industry reacted to Milner's words at SXSW. For example: "Yuri Milner on profit vs purpose. Seems to be theme at SXSW this year. The big idea is a better motivation than money. #sxsw2013," wrote @marratu1 on Twitter.
This report is based on materials from The Washington Post and Bloomberg, Forbes and Vanity Fair.
Read more about Top 50 Russian startups
All rights reserved by Rossiyskaya Gazeta.