Tom Cruise on VKontakte: Hollywood meets Runet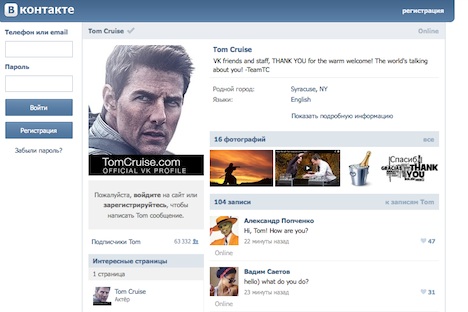 RBTH introduces a weekly column dedicated to the top Russian news in IT and social media. This week: Tom Cruise on VKontakte, blocked-content on Twitter and much more
VKontakte got its first Hollywood star on board! According to the Huffington Post Tom Cruise announced he was joining the Russian social network on Friday from his Twitter page with a tweet that read: "Увидимся там!" ("See you there" in Russian).
As of Monday 25, The Top Gun actor's profile had gained 63 000 followers, many of which commented in English and and took the occasion to welcome the actor on the platform. For his first profile picture Tom picked a poster for "Oblivion," his new film, which will be available in Russian cinemas from April 11, two weeks earlier than in the US.
The news created a buzz both in Russia and abroad. A.P. has confirmed that Cruise is the first Hollywood celebrity to have set up a VKontakte account - a milestone that A.P. links to "Russia's increasing box office clout." Julie Miller of Vanity Fair offered a different interpretation.
"[...]we prefer to think that it is just a genuine way for Cruise to spread his infectious enthusiasm with Russian fans," she wrote. Either way, VKontakte has more than 40 million daily visits, so Tom definitely has chosen the right way to reach out to his Russian fans!
Internet in Russia is growing quickly, at a rate higher than 10 per cent per year. In September 2011 Russia overtook Germany as the market with the highest number of unique Internet users in Europe. Meanwhile Techcrunch quoted a ComScore report according to which 408 million people online in Europe over 2012, with the widest share being taken by Russia at 61.3 million.
EWDN also revealed that the first Russian tweet had been deleted following a report to Twitter by Roskomnadzor, the Russian state agency that oversees IT and mass communications. "In the first three weeks of March, Twitter blocked Russian access to five tweet streams, or Twitter accounts, which have been defined by experts as popularizing drugs, both possession and dealing, and propagandizing suicidal sentiments," EWDN reported.
Meanwhile, Google has refused to comply with a similar request concerning content available on YouTube, which was purchased by the company in 2006, and has brought a lawsuit against Roskomnadzor. The preliminary hearing was held on Friday.
The Guardian dedicated a whole feature to nation-state domain names and advanced an interesting theory about Russian hackers. In "Did Russian hackers reveal a soft spot for the Soviet Union with .su suffix?" the author observes how the .su suffix was used by a group of hackers, allegedly from Russia, who stole and published online confidential financial information of the likes of Michelle Obama, Tiger Woods and Mitt Romney.
Russian technology was discussed not only in connection with its users' increasing world wide web proficiency. Gizmodo appeared to be extremely disappointed when no one in the U.S. was able to take a picture of the meteor spotted across the US East Coast skyline last Friday.
"That means the Russians—equipped with their ubiquitous dash cams—are much more reliable at capturing images and video of meteors than we are," Casey Chan wrote. "The Russians are beating us, people! Is it seriously possible that no one on the entire east coast managed to snag a picture?"
As Christians prepare to celebrate Easter in less than a week, Russian Orthodox believers have just begun to observe this year's Great Lent. The Guardian reported that Russian Church spokesman Vsevolod Chaplin exhorted the Russian population to renounce social media for the 40 days leading up to Easter Sunday. But will Russians succeed in keeping their obsession with Instagram & Co. in check?
A special announcement to conclude...
Twym, the first Russian service that permits to send money via Twitter, debuted at i-Comference earlier in March. The idea was developed by Yandex employees and connects Twitter to Yandex.Dengi. It only takes a tweet with hashtag #twym to send money from one Twi-user to another. Stay tuned and read our special report on Twym, coming soon on RBTH!
All rights reserved by Rossiyskaya Gazeta.