Demand for Russian grain to double by 2030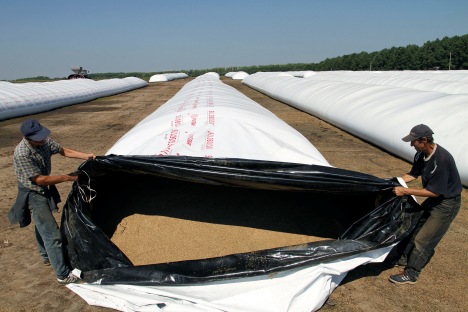 Farmers prepare to store harvested wheat in polyethylene bags at a farm operated in the city of Orel, Russia. Source: Getty Images
Demand for Russian grain might rise to 46 million tons by 2030. Russia's production of grain could also double to 141 million tons by 2030, up from 71 million tons in 2012. To achieve these numbers, Russia would need to upgrade its agricultural technology.
The 46-million ton projection is contained in the long-term forecast for Russia's social and economic development up to 2030, as approved by Russian Prime Minister Dmitri Medvedev. Overall, grain production might increase to 127–141 million tons by 2030, up from 71 million tons in 2012.
Citing the forecast, Interfax reported that the increase in grain production is expected to be driven by the expansion of the total area for grain crops, from the current 106.2 million–111.1 million acres to 115.3 million acres. Domestic grain consumption will rise, too, from 72.2 million tons to 81.3 million tons, of which 46 million tons will be fodder grain.
Existing facilities allow exports of 30 million tons of grain annually, with only 60 percent (18 million tons) being in the high-tech category. That is why realization of the strong export potential will require new port capacity to be established and the port-serving transport infrastructure in the Azov-Black Sea Basin and the Far East to be upgraded.
IKAR General Director Dmitry Rylko said that, while those numbers were ambitious for Russia, they were quite achievable. Even so, energetic efforts are needed for accomplishing this, otherwise the industry could stagnate instead of rapidly growing, while competitors would not stand still on the sidelines, Rylko said.
The long-term forecast envisages growth of Russia's grain production to 141 million tons, under a scenario for accelerated grain-market development. This might be achieved by implementing modern agricultural technology and investing in developing high-yielding grain varieties and pesticides, which should double Russia's average yield, according to the forecast.
The U.S. Department of Agriculture figures indicate that the world produced 2.2 trillion tons of grain last (productive) year, of which wheat (Russia's main crop) accounted for 697 million tons. The USDA reported that global grain exports amounted to 153.3 million tons that season.
First published in Russian in Vedomosti.ru.
All rights reserved by Rossiyskaya Gazeta.