Yekaterinburg Expo 2020 bid highlights globalization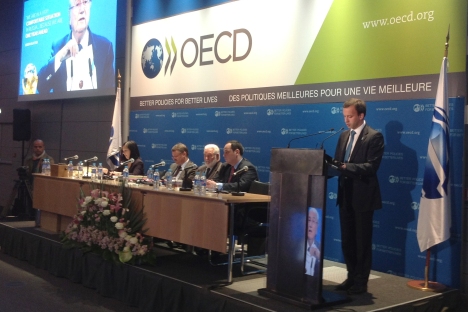 Deputy Prime Minister Arkady Dvorkovich (R) during the presentation of the application of Yekaterinburg to host Expo 2020 at the General Assembly of the International Exhibitions Bureau in Paris.Source: RIA Novosti
At the 153rd General Assembly of the International Expositions Bureau, which was held on June 12 in Paris, the Russian city of Yekaterinburg presented its bid to host the World Expo 2020. Through the expo, the city seeks to become the platform for the creation of "a Global Mind."
Yekaterinburg has built its concept for the World Expo 2020 around the theme "The Global Mind: The Future of Globalization and its Impact on our World."
Russia – and in particular Yekaterinburg, which sits on the border between Europe and Asia – is literally experiencing all aspects of globalization "in real time."
According to the team behind the Russian bid, more than any other nation, Russia is currently ready to host a World Expo event with a theme that explores the positive and negative sides of the process.
Yekaterinburg has been the meeting place of various cultures, religions and philosophical concepts for countless centuries.
For this reason, it has placed a bid to become a platform for combining intellectual effort and technological capacity in search of new and intelligent solutions for managing the Earth effectively.
Countries participating in the exhibition are invited to expand their views of the future of humankind, thereby contributing to "a Global Mind."
Three other cities have presented their bids to host World Expo 2020 – Dubai, Sao Paulo and Izmir (Turkey).
Despite the strong competition, Deputy Prime Minister ArkadyDvorkovich, who headed the Russian delegation to the BIE General Assembly, believes that Yekaterinburg stands a good chance of winning.
"We have already built a reputation as a country well suited to host major international events. Situated on the border between Asia and Europe, Yekaterinburg brings together a diverse mixture of cultural traditions, which aptly reflects the very spirit of world fairs. Furthermore, as the capital of a region with a strong industrial and investment potential, it emerges as an additional market and investment target for many countries that will vote to determine the winning city," Dvorkovich told RBTH.
Dvorkovich, who is also head of the Expo 2020 Yekaterinburg Organizing Committee, went on to observe that, if Expo 2020 is awarded to Yekaterinburg, preparations will not have to start from scratch.
"Much has been done ahead of the BRIC[S] summit, and a lot of effort has been put into the recent Russia-EU summit. Yekaterinburg is also one of the 2018 World Cup host cities, which means that almost all the required infrastructural facilities will be in place by the time the event takes place. Pavilions will remain the only necessary addition, which is the simplest part and does not take as much time and money," said Dvorkovich.
Russia's financial capacity to carry out the projects involved is yet another important reason to award Expo 2020 to Yekaterinburg, according to Erik Bugulov, general director of the Autonomous Nonprofit Organization Expo 2020 Bid Committee.
"The fact is that 60 percent of votes in the bid come from developing countries. Today, the Russian government signed a program allowing some 90 developing countries to participate in Expo 2020 free of charge. We will build and maintain their pavilions at our expense," Bugulov said.
Russian President Vladimir Putin made a personal address to the General Assembly.
RBTH Cast: Katya Zabrovskaya about World Expo 2020 in Ekaterinburg. Source: YouTube
In his televised statement, Putin assured the audience that, if Expo 2020 were awarded to Yekaterinburg, the preparations for Expo 2020 would be treated as a top-priority national project.
The president promised to earmark the funds required to build an exhibition complex large enough to receive 30 million visitors from over 150 countries.
"Russia will ensure the fullest possible compliance with the complete range of requirements imposed by the International Expositions Bureau," said Putin.
All rights reserved by Rossiyskaya Gazeta.