New app to make kids love math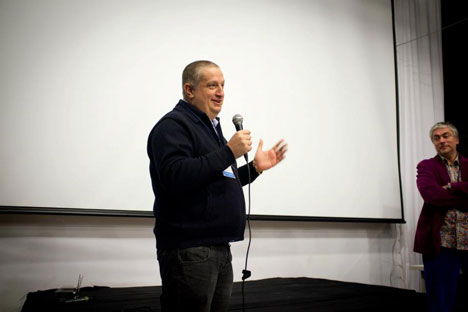 NextStep Entertainment's CEO Alexander Leonov: "It's an animated app where the kid interacts with a cartoon character without feeling self-conscious." Source: Press Photo
The mobile app "Uchilka" has been voted the Chain Reaction competition's best educational startup project of 2013.
The mobile app "Uchilka"—an affectionate Russian colloquial term for a female schoolteacher — has been voted the Chain Reaction competition's best educational startup project of 2013, for its role in helping children learn the multiplication table.
The project has no peers in Russia or abroad. Its developers, project manager Vladislav Gusev and NextStep Entertainment's CEO Alexander Leonov, took a creative approach to the project.
The app offers 10 lessons taught by a virtual teacher named Agnessa Ivanovna. She is an embodiment of the stereotypical Russian schoolteacher: A stern yet kind, bespectacled woman over 45, with a tall hairdo. She is capable of all manner of threats that she never really intends to carry out.
"We had the idea after attending Digital October's Startup Weekend. We reviewed 125 projects over a single day, acting as experts. After the Startup Weekend was over, I was perplexed and slightly shocked, because I hadn't seen anything of interest to me — just clones of Western and existing Russian services," Gusev told RBTH.
Official trailer. Source: YouTube
Third-grade students at a Moscow school were asked to decide what the teacher would look like. They had to choose between a space alien, a robot, an owl and other extraordinary characters, but most kids voted for a regular teacher they know and love.
Agnessa Ivanovna was voiced over by Irina Grishina — an actress every Russian knows as the voice behind Electronic, a kid robot from a famous, Soviet sci-fi movie.
The app works as a dialog — a function made possible by an improved voice-recognition system. The e-teacher is thus capable of not only calling her students by name, but also of keeping up a meaningful conversation.
Completing one lesson takes approximately an hour and a half, and, after the course is finished, the student's parents will receive a diploma and a congratulatory video by email. All parents have to do is test the result.
"We have implemented several innovations. It's an animated app where the kid interacts with a cartoon character without feeling self-conscious. Children tend to feel psychological discomfort in class, whereas, here, they can try their answers more than once — up to three times," Leonov said.
NextStep Entertainment was founded in 2011. Development of Uchilka took a year and a half (with no outside investors), and the project was launched in late March of 2013. The app is now available for smartphones and tablets running iOS or Android; it can be downloaded from AppStore or Google Play. Agnessa Ivanovna charges $3 for her entire course of study.
"We are more than happy with Agnessa Ivanovna's performance. We knew there wouldn't be a quick payoff. There will be money eventually, but it will take time," the app's developers said.
The Uchilka project will be expanding to incorporate new teachers and more subjects, including history, physics, geography, reading and foreign languages. In addition, lessons will be translated into other languages.
"After that, we'll implement augmented reality — something that's talked about a lot, but few people know what it actually is," Leonov said. "For instance, if '2+2'is written on the blackboard, you can see a solution to this problem via your smartphone. Or, suppose you have approached a building and don't know where to go from there. It would be enough to have some kind of mark on that building to be able to check your smartphone and get all the information."
During its two years in business, NextStep Entertainment has launched another successful project — the LastPost "end of the world" app for Apple devices. The company's plans include a global service for pet owners, a healthcare service, and an entertainment project whose details are kept tightly under wraps but is scheduled to hit the market one month from now.
All rights reserved by Rossiyskaya Gazeta.