Uber calls taxi in Moscow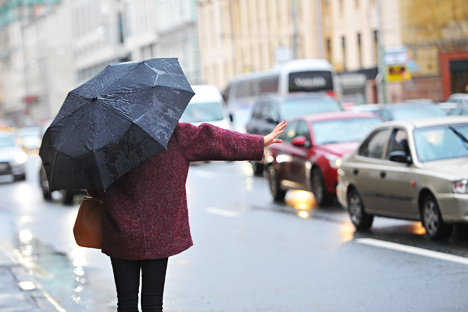 Experts say, Moscow is a huge market in terms of passenger traffic. Source: PhotoXPress
U.S. Internet service Uber, has launched into the Russian market with its services for calling personal drivers of luxury cars. However, according to experts, Uber may be faced with a shortage of cars.
News that Uber, which received more than $250 million in investments from Google Ventures, began spending money on the Russian market was reported by Kommersant, which cited a source familiar with the company's plans.
The news has been confirmed by Paul Fage, the international launch manager in Uber. Moscow appeared on the map of "Cities Served" on the website uber.com. Uber's headquarters are located in San Francisco.
The newspaper's source says that in Moscow, like in other cities where it is available, Uber will cooperate with transport companies using Mercedes S-class cars: there will be hundreds of these next year.
The Kommersant source said that Moscow is not the only Russian city where Uber is going to launch its service. "The company will seek to enter the markets of St. Petersburg and Novosibirsk next year," he said. Mr. Fage refused to discuss this topic, as well as the volume of investments, made by Uber, in the Russian market.
Uber is a service providing personal drivers, working through a mobile application, on a partnership model, cooperating with transport companies. The payment may be made only with a credit card. The service is available in 59 cities of 21 countries, including in Boston, Chicago, Los Angeles, London, Paris, Berlin, Amsterdam, Cape Town, Tokyo, and Sydney.
In August this year, the service attracted $258 million from Google Ventures, which was the largest investment for this fund, while the whole company is evaluated at $3.5 billion. It was announced that the proceeds would be mostly used to launch the service in new markets.
A source close to Uber explains entering Russia by the fact that the national market of taxi services is very promising here, due to the volume. According to GetTaxi, the turnover had reached $9 billion by October of last year.
According to the source, any technology business is characterized by the fact that the leaders control a many times larger share of the market than their closest competitor. A striking example is the free ads service Avito, whose daily audience amounted to 3.314 million people, as of September (estimation of TNS Russia).
There are many mobile services for calling a car in Moscow – Yandex.Taxi, Wheely, GetTaxi, InTaxi, and Rutaxi. These services pay a commission ranging from 5 percent to 15 percent to taxi companies.
Moscow is a huge market in terms of passenger traffic, so the launch of Uber is logical, said Anton Chirkunov, the founder of Wheely, which is the Russian analogue of Uber. According to him, Wheely, which operates in Moscow, St. Petersburg, Perm and London today, has invested more than 50 million rubles into promotion and marketing in the capital city in one year. "In principle, a launch in any city costs us from 15 million to 60 million rubles," he said.
However, the founder of GetTaxi, Shahar Weisser, who has heard that Uber is going to start in Moscow, is not sure that the company will be able to grab a significant share of the Moscow market. To cover the city, at least 500 cars are necessary, while the entire fleet of luxury cars in taxi companies consists of about 1,000 cars.
According to Yandex, Moscow's legal taxis carry out about 500,000 orders per week, and their average monthly revenue is 1.3 billion rubles ($39.5 million). The company expects that next year, online calls for taxis will account for about 20 percent of the total calls for taxis in Moscow.
First published in Russian in Kommersant.
All rights reserved by Rossiyskaya Gazeta.