Davos experts urge Russia to focus on regional development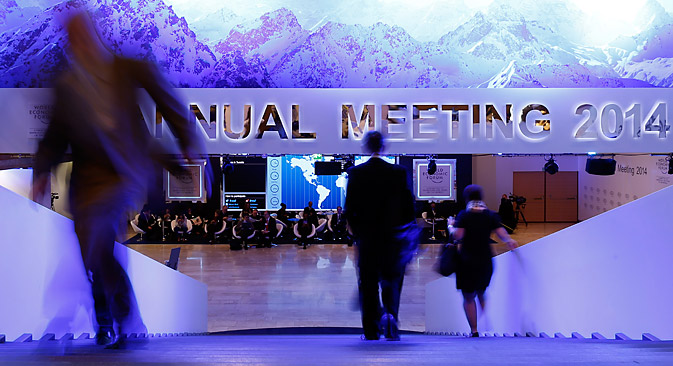 According to a new report, in 11 Russian regions, economic and investment climate indicators are better than the national average. Source: Reuters
A report unveiled at Davos suggests that regional development is the best economic growth strategy for Russia.
In previous years World Economic Forum (WEF) analysts focused on the achievements and problems of Russia as a whole. This year a group of experts led by former Russian Finance Minister Aleksey Kudrin decided to focus on individual Russian regions, which they said should become the new engines of the country's economic growth.
According to a new report unveiled by the Russian division of the WEF Global Agenda Council, "Russia's Regions: Drivers of Growth," in eleven Russian regions, economic and investment climate indicators are better than the national average. They can serve as an example of best practice that should be emulated in the rest of the country, the report said.
"Russian provinces should become the engines of economic growth," said Igor Koval, the head of the investment policy and public-private partnership department at the Economic Development Ministry. "We need to increase the number of regional investment hubs. The mechanisms of attracting investors in order to foster new growth points in the Russian regions include greater cooperation with investment funds and banks, international development institutions, and specialized financial organizations."
"So far, researchers have tended to focus on Russia's institutional weaknesses and its poor business climate," argued WEF founder and president Klaus Schwab. "They tend to forget how incredibly different Russia's regions are. Some of these regions are doing much better than the national average. Over the past decade they have pursued effective institutional reforms and improved their business climate."
Examples of success
Ulyanovsk topped the ranking by the World Bank in 2012 of the Russian cities with the best business climate. Kazan came fifth and Kaluga was seventh. Moscow, which is normally used as an indicator of the business climate in the whole of Russia, came in 30th.
Citing World Bank data, WEF experts highlighted six Russian regions with the best business climate: Ulyanovsk, Mordovia, North Ossetia, Rostov, Tatarstan, and Kaluga.
Ulyanovsk
Every success story has its own recipe. Ulyanovsk, for example, leads the way thanks to the business friendliness of its local government and productive efforts to reduce the administrative pressure.
Speaking at Davos, Ulyanovsk Governor Sergey Morozov said that investment in his region had more than doubled during the past six years from $1 billion in 2007 to almost $2.3 billion in 2013. World-famous companies such as Efes, Mars, Bridgestone, Isuzu, Bombardier, and several others have set up shop in Ulyanovsk Region. About 30 new industrial facilities are now being built there; investment into small and medium enterprises is also on the rise.
Kaluga
Kaluga has been praised for its successful strategy of attracting foreign direct investment, or FDI, and for its large pool of highly skilled labor. The German tire maker Continental and the Chinese maker of auto glass FUYAO opened their new manufacturing facilities in the region in 2013, having invested more than 20 billion rubles ($590 million) in the two projects. In 2012 Kaluga Region attracted about $1.1 billion dollars worth of FDI; investors include such giants as Volkswagen, Volvo, PSA Peugeot Citroen, and Mitsubishi.
Tatarstan
Tatarstan has made an emphasis on transparent regulation, public-private partnerships, and small and medium enterprises. The republic's president, Rustam Minnikhanov, also spoke about efforts to set up engineering centers in the region.
Minnikhanov has held a number of meetings in Davos with the heads of large Western corporations, including Cisco president for Europe, Middle East, Africa and Russia, Chris Dedicoat. The two discussed a proposal to set up a new center for the development of energy efficiency and energy saving hardware and software technologies at the Innopolis special economic zone in Tatarstan.
Minnikhanov also met the chief technology officer of Lockheed Martin, Ray Johnson, to discuss prospects for cooperation in the framework of such projects as SMART City Kazan, the Sviyazh Inter-Regional Multi-Modal Logistic Center, and several other infrastructure projects in Tatarstan.
The WEF report will soon be distributed to the world's largest investment companies. Hopefully, it will encourage them to take a closer look at Russia's regions.
The full text of this report is available in Russian in RBCdaily.
All rights reserved by Rossiyskaya Gazeta.