Russian retailers to start partnership with AliExpress on Singles' Day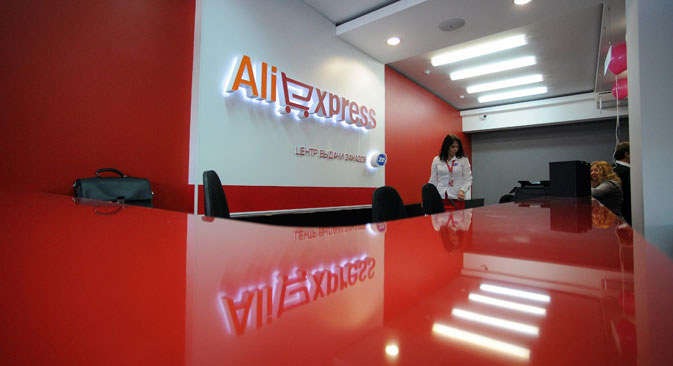 The opening ceremony of a co-branding center issuing orders international online retail platform AliExpress and leader of the express traffic in Russia SPSR Express.
Kommersant
Russian internet-retailers will be allowed to sell their products on AliExpress from November 11, which is marketed as Singles' Day in China. Experts say partnership with the Chinese Internet giant will help Russian e-commerce companies improve sales in Russian regions.
AliExpress, the most popular Chinese online retailer in Russia, will launch a partnership with Russian e-commerce companies and retailers on Singles' Day, which is the Chinese equivalent of Cyber Monday. At the moment, Russian retailers are allowed to use the AliExpress platform on a trial mode.
Russian internet-retailers will be allowed to sell their products on AliExpress from November 11, which is marketed as Singles' Day in China. Products sold by Russian retailers will be placed in AliExpress Mall section, Mark Zavadsky, head of business development in Russia at AliExpress, said. "We plan to attract a new high-end audience that for some reasons was not interested in our service so far," Zavadsky said.
AliExpress' parent company AliBaba hit record sales on Singles' Day in 2014, with gross merchandise value crossing $9.3 billion.
Opportunities for Russian companies
Prospective partners of the Chinese online retailer and industry experts say collaboration with AliExpress presents an opportunity to attract new Russian customers, who were not previously interested in buying online. Dmitriy Alexeyev, head of Russian retailer Multivarka.pro, expects the partnership with AliExpress to help e-commerce companies increase sales in Russia's regions. "AliExpress has highly effective logistics that can be used to deliver purchased goods to regions where delivery risks are too high for other online-retailers," Alexeyev said.
However, some Russian online-retailers are not ready to work with AliExpress. Mikhail Morozov, head of the Internet division in brick-and-mortar retailer Svyaznoy, says that average order at AliExpress in 2014 was around $30. "The regular clientele of AliExpress prefers cheap goods," Morozov said. "We believe that people will buy accessories and the cheapest cell-phones, but the volume of sales in this segment is constantly declining. This is why Svyaznoy will not start selling at AliExpress for the time being."
AliExpress is by far the largest foreign online retailer on Russian market, and had a 55 percent market in the sale of imported goods in 2014, according to Data Insight. The platform had 24 million unique visitors in September 2015, according to global market research company TNS.
Russia has also become the largest foreign market for AliExpress. Traffic estimator Similarweb says 14.4 percent of AliExpress' monthly desktop visitos come from Russia.
This article was first published in Russian by RBC
All rights reserved by Rossiyskaya Gazeta.