On the sidelines of the Russia-ASEAN summit in Sochi, Vladimir Putin met Joko Widodo. Besides the $13.8 billion agreement between Rosneft and Pertamina, the countries announced plans to cooperate further. What steps are Indonesia and Russia taking to follow up on these plans?
After the meeting in Sochi, the business interest from both sides is increasing quite significantly. For example, with Rosneft and Pertamina, after the signing of the main agreement there was another agreement at the technical level. Pertamina officials were here recently and we're expecting them again soon. The cooperation between Rosneft and Pertamina is quite serious.
Indonesian Railways and Russian Railways have signed a MoU. It is not only for the railway in East Kalimantan, but we are looking to extend the cooperation to Java, which is the most densely populated island in Indonesia. Around 55 percent of the Indonesian population live in Java. We have the Jakarta-Surabaya railway, which is about 700 kilometers. At the moment, both countries are trying to figure the best way to cooperate in Java.
What we are looking for is a train service like the high-speed service (Sapsan) that connects Moscow with St. Petersburg. We don't need a 340 km per hour train with very high technology but expensive. There has already been a discussion on how to use the existing railway system. Technically we can have a 200 km per hour train by upgrading the existing system. If you can get to Surabaya from Jakarta in four and half hours with 10 stops, more people will go by train. It's only one hour by flight, but sometimes it takes two hours to get to the Jakarta airport from the city. You need to check in an hour before the flight and then again it takes an hour to get to Surabaya from the airport.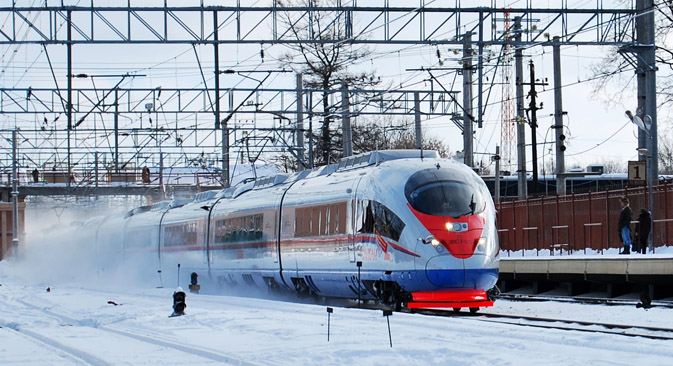 The Sapsan. Source: Lori / Legion Media
Our State-owned Enterprise Minister has already traveled on the Sapsan from Moscow to St. Petersburg.
We want to have a similar system and I believe the tickets would be affordable for the public.
The Sapsan uses a German locomotive. Will the Indonesian Railways be looking for a Russian or German locomotive?
That is up to the technical people. Russia has experience with managing railway systems. You have more than 120,000 km of railway lines, along with the electrichkas (suburban trains).
I am also confident that Rusal's plans in Indonesia will get materialized.
Are there any plans to create a platform to promote business ties and investment between the countries?
I have been in Moscow for exactly three months and so far I have received some members of Indonesian business circles who have had dealings with Russian companies.
There is this businessman who bought gas-powered electricity generators. The generators are technologically advanced but still cheaper than the western products.
Recently a businessman purchased two helicopters for Papua. They have the capacity to carry 5 tons. We need such helicopters especially for eastern Indonesian regions like Papua.
At the embassy, we are planning an annual event. We plan to hold an Indonesian festival at the Hermitage Garden on August 20-21. This festival will feature an Indonesian trade expo, and we have also invited Russian companies. More than 100 businessmen are expected to participate. There will be cultural programs and we are inviting locals to participate in them. We will also set up food stalls. There will be fashion shows featuring Batik.
On August 19, we will organize a business-networking event. We have a list of Indonesian businesspeople, coming for the festival and we will invite their Russian counterparts for the networking event.
Indonesia will host its biggest expo on October 12-16, 2016 in Jakarta. Last year, 50 Russian businesspeople took part. My target this year is 75. We'd like to invite businesspeople from Volgograd, Novosibirsk, Kaliningrad, St. Petersburg, Astrakhan and other regions.
What kind of business cooperation can we see between Indonesia and Astrakhan?
They are very good in shipbuilding. They also produce fertilizers, and even salt. We import a lot of salt. Indonesia can export furniture, footwear and garments. It takes two to tango. We'd like to see benefits for both countries.
You also mentioned Volgograd…
Every time I go to a region, I meet the members of the local chamber of commerce as well as the local government, and they are very interested in strengthening our cooperation.
During the festival, the St. Petersburg Chamber of Commerce will sign a MoU with the Yogyakarta Chamber of Commerce. This is one step before a sister-city agreement. Astrakhan is also interested in having a sister-province agreement with South Sumatra.
We don't want cooperation to just be on paper. We'd like to start with business-to-business relations. We start with the Chamber of Commerce of Astrakhan and the one in Sumatra.
I am going to Kazan soon. The city is very important, as it has a Muslim majority.
We also have an offer from a Russian Muslim association in Moscow. They built the first mall for Muslims, where all products sold are halal-certified. The mall is in the outskirts of Moscow. They would like to invite Indonesian businessmen to take part. There will also be space for restaurants. I hope that it will have the first Indonesian restaurant in Russia. I have got a good response from businessmen in Jakarta.
How do Indonesians perceive Russia?
I noticed that there are wrong perceptions about Russia in Indonesia and about Indonesia in Russia. Indonesians still think of Russia as the Soviet Union. Russians know little about Indonesia, except when it comes to Bali.
Sukhoi-35 fighter. Source: TASS
I think the timing of our president's visit to Russia was very important. There were almost 200 businesspeople in his delegation. Since then more Indonesian businesspeople are coming to Russia. There is a growing interest for industrial products, machinery and electric equipment. Price-wise, Russian products are very attractive for Indonesian businessmen.
We are keen to exports CPO (Crude Palm Oil) to Russia. We also want to export footwear and furniture. During the first four months of 2016, our bilateral trade increased by 12 percent to $770 million.
The trend is positive despite the fact that the global economy is declining at the moment.
The number of Russian tourists to Indonesia increased by 21.4 percent in the same period compared to last year. This is mainly because of the visa-free policy that we offer to Russian tourists.
We also want to have a reciprocal visa agreement with Russia so that it can be easier for Indonesian tourists to visit Russia. This will help with people-to-people relations. Ten percent of the Indonesian population is upper middle class. 25 million is not a small number.
Are they ready to travel so far to visit Russia?
The middle class prefers to travel to Western Europe. Singapore and Malaysia are also popular destinations as they are very close. But now they are looking at other countries and Russia is a new destination as they find something very unique and very different from the rest of Europe.
Recently I went to Arbat to buy souvenirs. I was surprised when the stall owners said 'apa kabar' (a common Bahasa greeting meaning 'how are things?'). They knew I was Indonesian. Many Indonesians visit Arbat, Ismailova and souvenir shops in St. Petersburg.
How many Indonesian tourists visited Russia this year?
Around 4000. It's small number but it's increasing. The problem for them is that it is not easy to get a visa. The Russian government has promised to make the visa process for Indonesians easier and that's good for people-to-people relations.
Indonesian tourists may like to visit Astrakhan…
Absolutely. They would also like Astrakhan. When I visited the city, I noticed that there are 150 ethnicities there, making it a mini Russia. It is also easier to find halal food in Astrakhan. But the area is not well known in Indonesia. For Indonesians, Moscow is number one. The typical picture of the Kremlin…Number two is St. Petersburg. More people know of Sochi because of the F1.
Places like Kazan and Astrakhan need to be promoted.
What about Russia as an education destination for Indonesians?
I met the governor of Astrakhan and he said the region's universities would participate at the education fair in Jakarta this year. I told him that every time I go to the education expo, it's full. There is a big middle class in the country.
During the first four months of 2016, our bilateral trade increased by 12 percent to $770 million.
For Indonesians, the U.S. is the favorite destination along with Western Europe and Australia. There are more than 20,000 Indonesian students in Australia and it's very expensive.
Dormitories only cost around 1800 roubles (US$ 28) a month in Astrakhan and the quality is one of the best in Russia. In Australia it costs about US$600 a month. The tuition fee in Australia is around US$15,000 per year and in Astrakhan it is US$1600.
The quality of education is also very high in Astrakhan. The region has good universities for engineering, oil and gas engineering and geology.
What about other Russian cities and other courses?
Kaliningrad's university is very good for maritime science. There's St. Petersburg State University and Moscow State University. We also have around 20 students at the Far Eastern State University in Vladivostok and another 20 in Kazan. We have two students at the Nuclear Technology Institute in Moscow (MEPhI). The future is in nuclear energy. We have 100 students specializing in railway engineering.
Rosneft also wants to get involved in increasing the quality of our human resources.
How many Indonesians students are enrolled in Russian universities?
About 300. It's a very small number. I hope more Indonesian students will come to Russia. Besides being cheap and providing good quality education, Russian universities are multicultural.
Indonesians are sensitive about food and getting halal food is important. The Russian language is difficult for foreigners and students need to do a one-year course in the language.
Kazan launched Russia's first Islamic Bank and is looking for Indonesian investment. Would Indonesia be interested?
Yes. Indonesian officials have been to Kazan and advised the government about Sharia banking practices.
To be honest, although we are not the first in the region when it comes to Islamic Finance, the concept is growing in Indonesia.
Kazan is important for us. I will meet the president of Tatarstan. The potential is there.
Indonesians don't know that Russia has the largest number of Muslims in Europe. They still think of Russia as the Soviet Union. When I tell people that there are one million Muslims in Moscow, they get surprised. We have to deal with the perception problem.
I am in touch with the Russian Ambassador in Jakarta and we exchange messages on WhatsApp. We try and see how we can promote mutual understanding.
There have been rumors that price-issues are holding up Indonesia's purchase of Su-35 aircraft. Is this accurate?
I guess the price is not the big issue. The Indonesian government is committed to acquire the Sukhoi-35 aircraft. With our current budget, we will most likely buy 8 aircraft. Initially we were thinking of one squadron.
We are also interested in buying 2 Kilo-class submarines and the Be-300 amphibious aircraft for firefighting. We are also looking at military cargo aircraft.
Now this is in the hands of the Minister of Defense. The sale of the Sukhoi aircraft is just a matter of technicalities.
Will the sale of the Sukhoi aircraft take place this year?
I believe so. In Indonesia, there is a law regarding the transfer of technology and the offset scheme. I am not very well versed about the details.
We realize the technology is highly advanced and the agreement to transfer it will take time.
The Indonesian Defense Minister has already been here and I don't see any problems with the deal at the highest levels.
An important development that has received little media coverage was an intelligence sharing agreement between Russia and Indonesia.
It is an information-sharing agreement. The agreement calls for sharing information that will help prevent terrorist attacks.
5 MoUs were signed in Sochi: One on defense cooperation, two MOUs on archival cooperation, on cultural cooperation, and a joint communique against illegal fishing.
There has been close contact between intelligence officers, as we clearly have the same problem when it comes to terrorism. No country is immune to terrorism at the moment.
We are now in the process of upgrading our relationship to a strategic partnership. This is the highest level of cooperation.
We are also starting the process of negotiating a free trade agreement with the Eurasian Economic Union.
Are we looking at a timeframe to sign a strategic partnership agreement?
The signing will be done by the heads of states when they meet.
Are there any plans for such a meeting?
For us, the sooner the better. The heads of state have their own agendas and a busy schedule. It is about finding the right time ad we are working on it.
Is there anything else that you'd like our readers to know?
We also have a mechanism called the joint bilateral commission, headed from our side by the Coordinating Minister for Economic Affairs and the Trade and Industry Minister of Russia.
We're also very happy with the enthusiastic response that we are getting for the Indonesian festival here in Russia.
We're also getting a good response for our initiatives from small and medium enterprise and businessmen who want to open restaurants and mini markets in Russia.
All rights reserved by Rossiyskaya Gazeta.