Ambitious government plan aims to triple Russia's car exports by 2025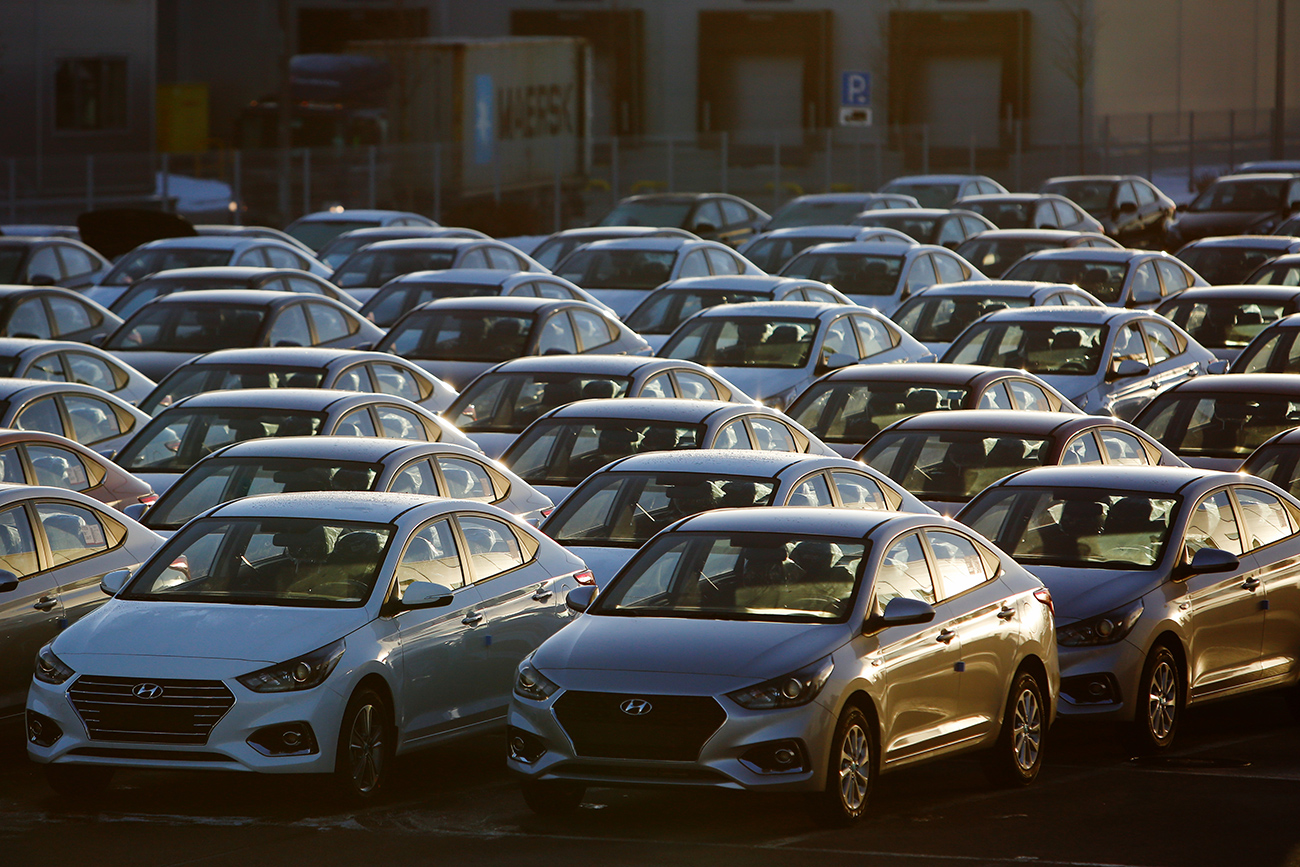 The main export markets for Russian-assembled vehicles of international brands are the CIS and the Middle East.
Mikhail Kireev/RIA Novosti
Russia hopes to export more vehicles as the domestic market shrinks. The priority markets are Iran, Lebanon, Jordan, Germany, India, China, Latin American and African countries.
The Russian Ministry of Industry and Trade proposes using preferences and subsidies to stimulate automotive exports against the background of declining sales on the domestic market. A draft development strategy for the sector through to 2025 was posted (in Russian) on the ministry's website on June 16.
Export growth: Desires and reality
The strategy lays out two scenarios. In 2016, Russian automotive exports amounted to $2.4 billion. The conservative scenario calls for this figure to reach $4.9 billion by 2025. That's 240,000 vehicles per year, or 10 percent of all vehicles built in Russia annually. Russia should also be exporting $1.6 billion worth of automotive components per year. Under the ambitious scenario, exports are to more than triple to $7.8 billion for vehicles (up to 400,000 units or 16 percent of overall output), and should reach $2.5 billion for vehicle components. The former scenario mentions up to $2.4 billion worth in state support for the industry; the latter cites $3.7 billion.
The program calls for state support for both national manufacturers and international companies which export vehicles built in Russian factories.
The document reads that for Russian companies, the priority export markets are the CIS, the Middle East (Iran, Lebanon, and Jordan), as well as Germany, India, China, and a number of African and Latin American countries. For international automotive manufacturers, these are the CIS, Iran, Lebanon, Turkey, South Africa, Egypt, and Tunisia.
The new strategy aims to make up for decline in sales on the domestic market over the 2013 to 2016 period. The document reads that in 2016, 1.5 million Russian-built vehicles were sold within the country, or less than half of the 2012 level when the market was booming. Automotive exports had shrunk by 32 percent since 2013, from $2.2 billion to $1.5 billion.
The strategy does not propose any revolutionary measures, says Evgeny Eskov, editor-in-chief of industry portal AutoBusinessReview: "It will probably help increase exports overall, but will hardly be able to fully compensate the Russian market's losses."
The strategy will keep Russian automotive manufacturers afloat but is unlikely to improve the situation in any significant way, notes Anna Bodrova, senior analyst at brokerage company Alpari: "Nothing can be done about the average Russian's minimum purchasing power, which has been declining for 29 months in a row. This is why the ministry wants to export more."
Tax rebates for international car makers
The ministry proposes signing long-term agreements (for seven to 10 years) with international automotive concerns to build major assembly lines in Russia with an annual output capacity starting at 80,000 to 100,000 vehicles. This is expected to ensure such enterprises' basic workload, with a view to subsequent localization of vehicle components.
At present, Russia hosts assembly lines belonging to Toyota, Nissan, Ford, Renault, Mazda, Hyundai, and other international companies. The Ministry of Industry and Trade reports that these facilities account for 45 percent of all vehicles built in the country by value.
The main export markets for Russian-assembled vehicles of international brands are the CIS and the Middle East. For example, Hyundai exports its Russian-built vehicles to the CIS, Georgia, Tunisia, Algeria, and Lebanon. Russian-assembled Renault vehicles are exported to Algeria and Vietnam.
Analytical agency Autostat reports (in Russian) that Nissan exported 3,153 Russian-assembled vehicles to Belarus, Kazakhstan, Azerbaijan, and Ukraine in 2016. A total of 945 Russian-built Datsun vehicles (a brand owned by Nissan) were delivered to Lebanon, Belarus, and Kazakhstan last year.
As an incentive for international car makers to subcontract Russian component providers, the ministry proposes introducing a system of tax rebates for exports to be used for offsetting import duties. This measure is expected to help increase imports of Russian-assembled international car makes to 70,000 vehicles by 2025 under the conservative scenario, and to 150,000 under the ambitious one.
If using any of Russia Beyond's content, partly or in full, always provide an active hyperlink to the original material.