At the beginning of August a brand new Boeing 787-10 aircraft drew a huge outline of itself on a map in America's skies, as an endurance test for its new Rolls-Royce Trent 1000 engines. As Boeing is an American company very few people know that a significant number of the aircraft's features were in fact developed by Russian engineers in Moscow.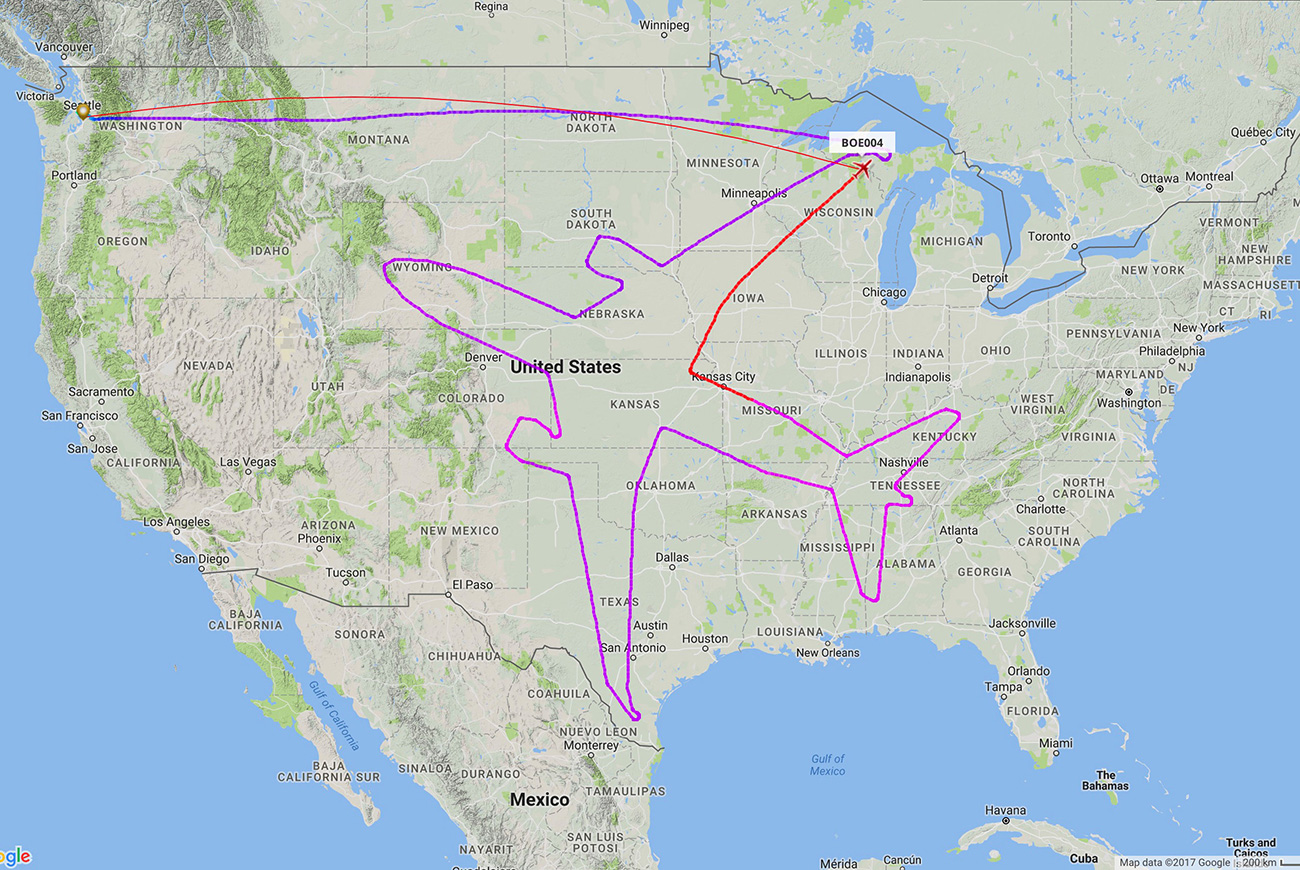 The outline of an airplane emerges over the map of the United States, as Boeing Dreamliner 787-8 flight BOE004 makes a special return route from Seattle / Reuters
Take the 787 mentioned above. Its nose section, interior components, systems installations (such as environment control system, fuel, electrical and hydraulics systems), pylons, wing to body joint, and wing control surfaces were designed by the engineers of the Boeing subsidiary in Russia – the Boeing Design Center (BDC) that employs 1,200 aerospace engineers.
And the 787 is not the only airplane that was developed here. The largest design center for computer-aided design of aerospace structures outside the U.S., the BDC, took part in hundreds of Boeing projects including:
767-200SF

747-400BCF

737-900ER

777-300ER/200LR

747-400LCF

747-8F/-8I

787-8/9/10 Dreamliner
Furthermore, major Russian contributions - besides 787 components - also include airframe, interior, and systems design for the 747-400 BCF, 777-200LR and 777-300ER models, as well as the design of the 747 LCF (Large Cargo Freighter).
Currently the BDC is working on fuselage primary structures as well as wing leading and trailing edges for the upcoming 777X series.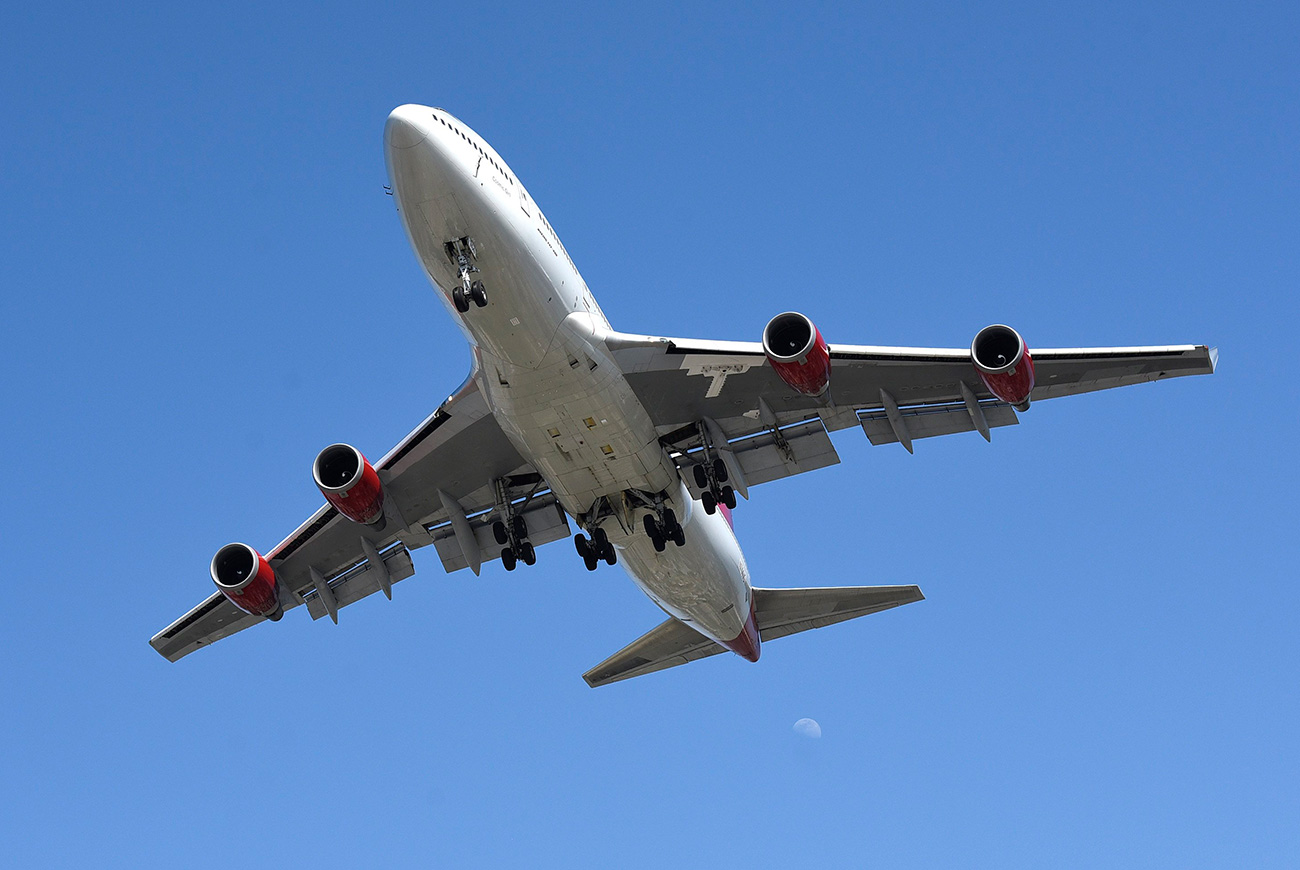 Virgin Orbit's modified Boeing 747-400 carrier aircraft, Cosmic Girl / Bob Riha, Jr. / Getty Images
Boeing is not the only corporation in the global aerospace industry that benefits from Russian expertise in engineering.
Airbus, the European manufacturer of commercial airplanes, also has its design center in Moscow. Founded in 2003 as a joint company by Airbus and KASKOL Group (later joined by AFK Sistema), the Engineering Centre AIRBUS in Russia (ECAR) was the first to be created by the company outside of the EU.
So why do foreign companies keep cherry picking Russian talent? There's a number of reasons for that, says Alexander Kireytsev, general director of ECAR.
"The Russian engineering school is widely recognized around the world and our specialists have outstanding qualifications," he told RBTH. "Plus, at that time [in 2003] Airbus was eager to establish ties with Russian producers and the creation of an engineering center was one of the ways to do that. The final decision was to produce [some of the] components for Airbus planes in Russia and we have been doing this successfully ever since."
Indeed, the European planemaker has been working with such Russian firms as the aircraft manufacturer Irkut Corporation, gear manufacturing company Hydromash, and the Russian titanium producer VSMPO-Avisma.
The latter also cooperates with the American Boeing. Their joint venture in the Urals currently carries out die-forgings for the 737, 777 and 787 Boeing series. Back in December 2016, the companies agreed to build a second plant in the Titanium Valley Special Economic Zone, which will be opened in 2018.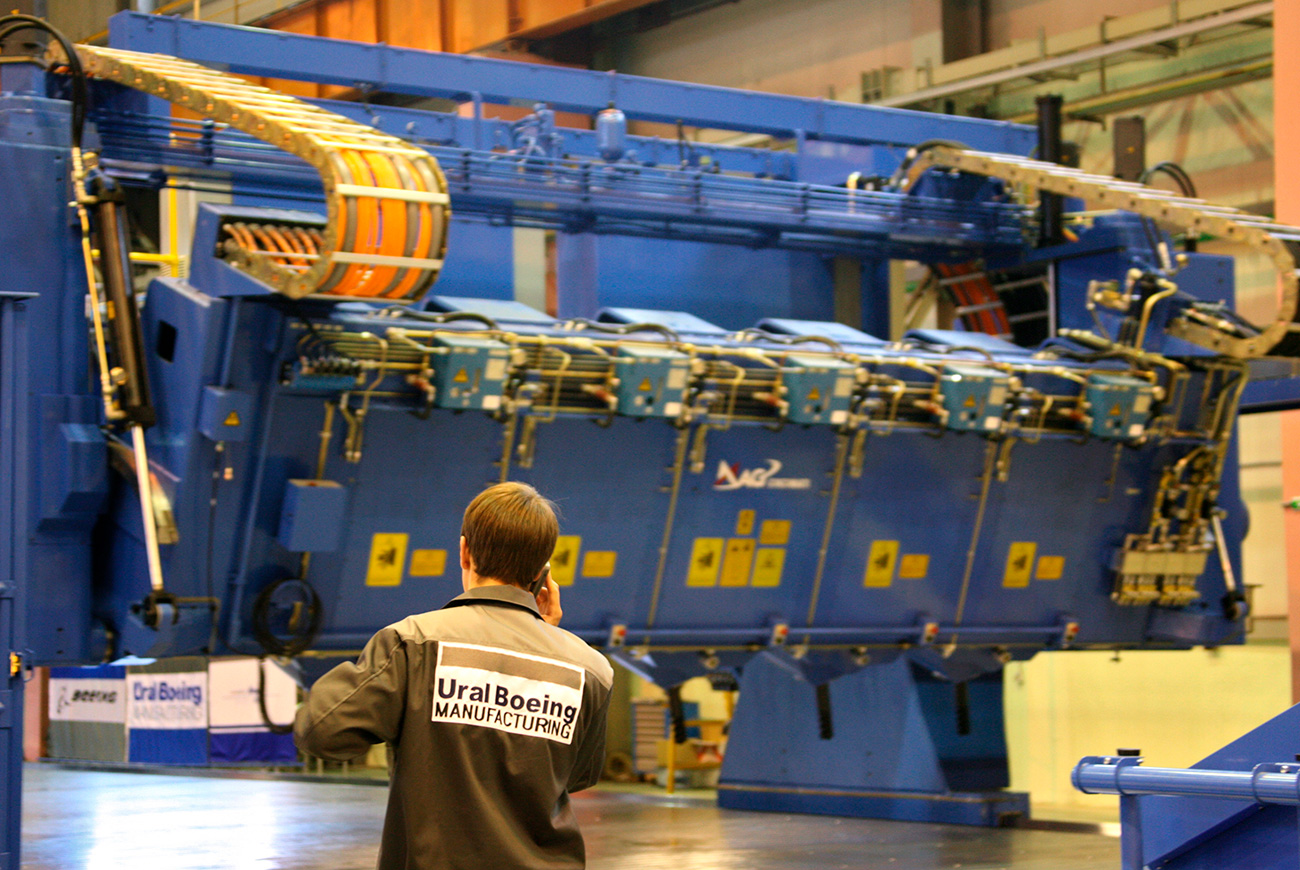 Setting up equipment on the shop floor of Ural Boeing Manufacturing (UBM), a joint venture of Boeing and VSMPO-Avisma Corporation in the town of Verkhnyaya Salda in the Sverdlovsk Region. / Pavel Lisitsyn / RIA Novosti
"It is hard to assess the [exact] contribution of our center to the final product of Airbus, but one thing that I can say for sure is that today over 4,000 planes with our designs fly in the sky," Kireystsev points out. "We also do a lot of projects for companies in other industries, including nuclear energy, the railway industry, and mechanical engineering."
Over the past years, Russian experts from ECAR contributed to all series of Airbus planes, including:
A320/A319/A321 serial

A320/A319/A321 Sharklet

A320/A319/A321neo

A321 Cabin Flex

A330-200/300 serial

A330-200 GMF

A330neo

A350XWB-900

A350XWB-1000

A380
More than 120 projects were performed. According to Kireytsev, 80 percent of the structure engineering work on the new A330-200 GMF (General Market Fighter) was also carried out by ECAR engineers.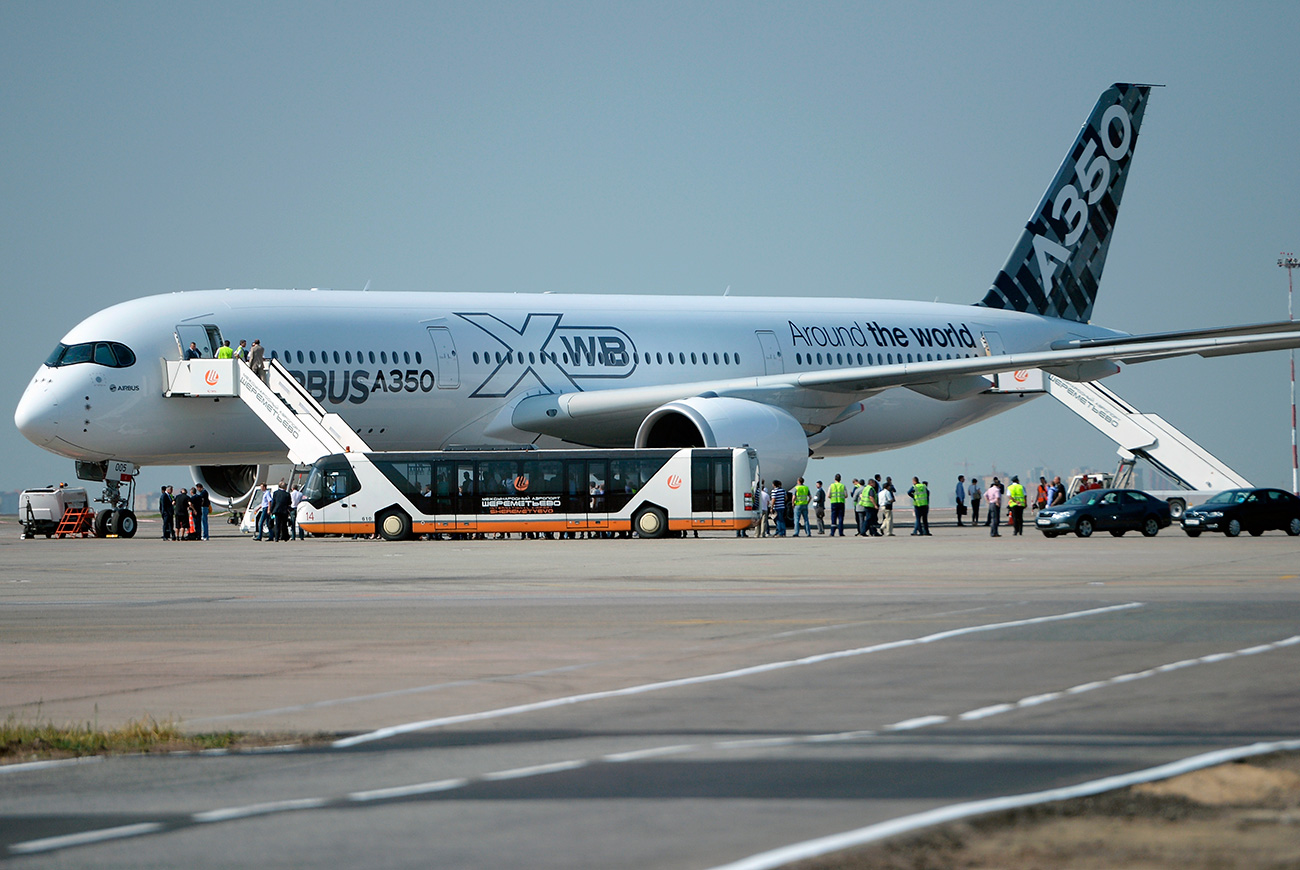 The long-range passenger plane Airbus A350 XWB / Vladimir Pesnya / RIA Novosti
The brand new A350 XWB (eXtra Wide Body) passenger jet, the main rival of the Boeing Dreamliner, was also a project that the Russian center participated in from the very start.
"We have worked on integration of the rear sections of the fuselage, developed modules for fixing systems and luggage shelves, interior and other smaller features of the airplane," Kireytsev told RBTH.
According to him, while working on this project the Russian team came up with a number of inventions and received praise and awards from Airbus' top management. Unfortunately for Russia's air industry, all patents, of course, were registered with the European company.
Among the 200 permanent employees working for ECAR a large part of them are graduates of the Moscow Aviation Institute (MAI), Bauman Moscow State Technical University, and Tsiolkovsky Russian State Technological University (MATI) (now part of MAI). The situation is similar in the Boeing Design Center located in Moscow. 250 permanent employees work there as well as 1,200 contract engineers from Russian and Ukrainian engineering bureaus (Ilyushin, Sukhoi, Khrunichev) and private companies (NIK, Progresstech). The majority of permanent staff working at Boeing and Airbus centers in Moscow, including general directors, are Russian citizens.
If using any of Russia Beyond's content, partly or in full, always provide an active hyperlink to the original material.