It's good to (car) share: Why Moscow residents are crazy about the service
Getting Russians to trade in their wheels for short term rented vehicles may seem like an impossible task, but car sharing is seriously catching on in the country.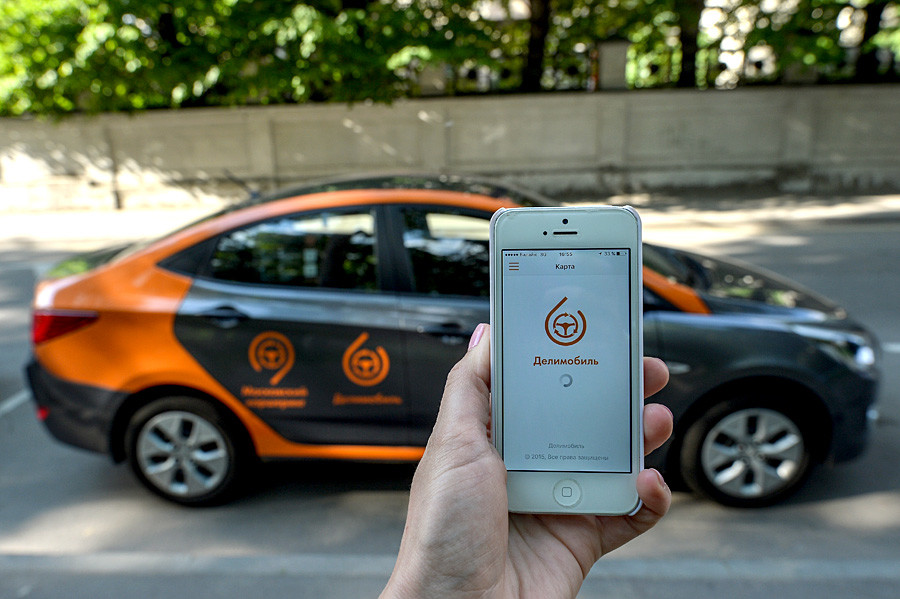 From time to time, Moscow resident Nikolay Murza drives to work in a Mercedes CLA.
"Mercedes is like Apple [tech company]. The cars are expensive, but they grab attention, the functions are intuitive and user-friendly," Nikolay said. But he is not a high roller – he's a design engineer and a regular user of car sharing services. He chooses not to squeeze onto a crowded Metro train during his daily commute – testing nice cars and writing reviews has become his hobby.
One of the biggest Russia's car sharing company – Delimobil – was founded in 2015, offering 100 cars for minute-by-minute lease in Moscow. In two years its fleet has grown to 1,500 vehicles. With the booming popularity of the service, there are now six similar companies vying for clients in the Russian capital – with two more in St. Petersburg.
According to Forbes, last year the car sharing market in Russia's capital quadrupled. This year, it's expected to grow another 70 percent. Potentially, the number of cars in the sharing service can blossom from 10,000 to 15,000 from the 2,650 currently available. So, why is it such a rapidly expanding business? Users have shared their views with Russia Beyond.
To test a car
Moscow drivers say they're attracted by the variety of cars offered through car sharing. Whilst a year ago car sharing was still very much in its development stages, now you can see brightly colored cars on every corner, they note.
The service offers the possibility to try out a new car for an equivalent of a large coffee at Starbucks.
"For 350 roubles (about five euros) I can drive home from work. This is enough to understand if I like the car, or if it's so-so but fine for a short trip," regular car sharer Alex Mikhailov says.
It's cheaper than paying for parking
According to PWC research, parking accounts for up to one third of expenses for owning a car in Russia. The cost of municipal parking in the center and even some distant regions of Moscow varies from 40 to 200 roubles per hour. This means the average car owner spends rather a lot on parking - and if your car gets towed for overstaying, it costs even more to get it back!
Despite the prices, it's often hard to find a free space in Moscow, where the number of registered cars exceeded eight million this year. In efforts to reduce traffic the government offered special parking rates for car sharing companies. For users, the parking fee and basic insurance is included in the rate. They can also opt-in for a premium insurance with smaller franchises for a higher fee.
Test drive a Ferrari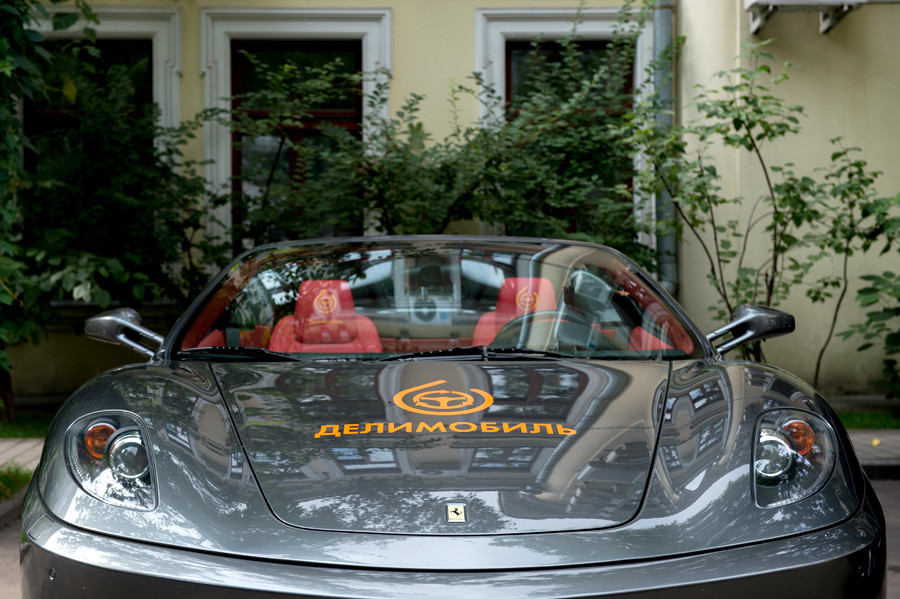 Ferrari car of the Delimobil carsharing service
Anton Belitsky/Global Look Press
For users in Moscow, Delimobil offers the chance to win a two-hour ride in a Ferrari with an instructor. The so-called DeliFerrari appeared on the streets of the capital for the first time in April 2016. At first, the company offered the most active user of the month a test drive in a sports car. Later, the winners were selected randomly every week. This September Delimobil organized a raffle for its second anniversary through VK, the Russian social network. The winners received bonus points, a chance to drive an Audi TT for a day, and a ride in a BMW or Ferrari.
Another car sharing company –BelkaCar – launched a business class car sharing service in Moscow in August 2017. One hundred Mercedes-Benz CLAs are available for drivers who are at least 25-years-old and have been on the roads for no less than five years. The price per minute is double that of a regular car, however, the company has an ambitious plan to double its fleet of business class cars by the end of 2017. Easy Ride, the youngest operator in Russia, offers solely business class Kaptur crossovers.
To choose your own route
Many Muscovites don't trust taxi drivers, claiming some of them choose longer routes to charge extra, or simply because they don't know the city well enough. On the other hand, car sharing gives the pleasure of driving oneself while being able to choose the best route.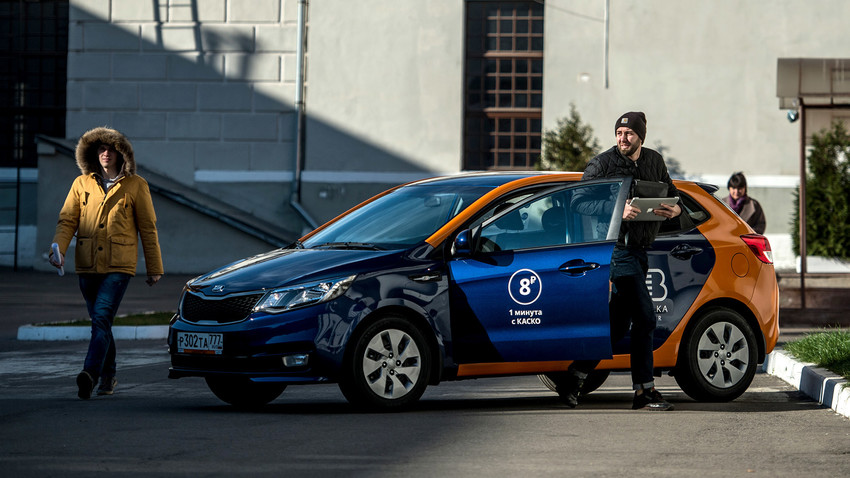 Belkacar carsharing vehicle
Evgenya Novozhenina/RIA Novosti
Out of curiosity
In contrast to most European countries, in Russia users don't have to pay a membership fee to car share. It's enough to provide an operator with a copy of your passport, a driving license, and a bank account to register.
Finding a free car became even easier after one of Russia's biggest internet companies – Yandex – launched the Yandex.Carsharing app. It shows available cars on a map from five Moscow companies and two in St. Petersberg. With more and more cars signed up for sharing, even people who own a car are giving the service a go – simply out of curiosity. Why not try unlocking a car with the app, choosing different models, and driving to the airport before parking without paying a fee?
Currently, car sharing companies are working on expanding their business models to other Russian cities. Early in October the service started operating in Ufa. In the coming months car sharing will also appear in the fifth largest Russian city –Nizhny Novgorod.
If using any of Russia Beyond's content, partly or in full, always provide an active hyperlink to the original material.