Russian micro-circuit chips for India's space programme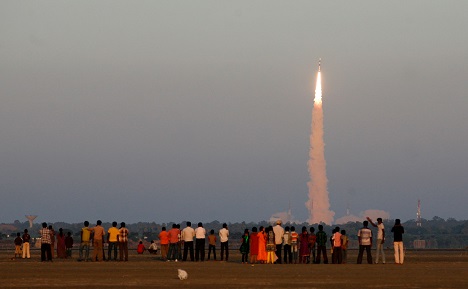 ISRO's Satish Dhawan Space Centre in Sriharikota. Source: AP
Private contractors for the Indian space programme are in talks with 'Angstrem,' the Russian company specializing in manufacture of micro-electronics, for supply of radiation-hard chips. Supplies could begin as early as September.
"Angstrem," the Russian company which manufactures micro-electronics, is in discussions to finalise the supply of around 10,000 pieces of radiation-hard chips for the Indian aerospace industry. The contract could be worth $ 200,000.
Angstrem has, at the moment, manufactured and sent for testing several products for spacecraft control systems and launch vehicles. The company hopes that serial deliveries will begin as early as September this year.
Izvestia was informed by Angstrem that the company itself came up with the proposal to an Indian private company, contracted by the Indian Space Research Organisation (ISRO) Space Agency.
The Indian space programme is based on its indigenous design, but the electronic-component base is acquired mainly abroad (so, incidentally, is the case in the Russian Federation).
Angstrem revealed that Russian chips tests will last until September. If they are successful, there will be a contract for serial deliveries. The cost of a chip ranges from $ 1 to $ 20. Given the size of the prospective buyer, the shipments will be worth approximately $ 200,000.
Indian companies are tough and difficult negotiators in terms of business, said Anatoly Korkush, head of "GeoStar Navigation."
"If they buy a test batch from 'Angstrem', it can already be considered a victory. What is important is the precedent, and the fact that they will choose the Russian design as a reference. As a rule, relations with the Indian partners come to an end after they buy a test batch because Indians try to do everything on their own as much as possible. It would be difficult to count on broad international cooperation in this case. But at the moment 'Angstrem' has everything under control with the orders, and the budgets, so the contract with India would simply be a plus to their image," Korkush said.
According to Svetlana Apollonova, Chairman of the Association Board of manufacturers of electronic equipment and appliances, the conclusion of this contract demonstrates the rapid development in the Russian production of micro-electronics.
"Two years ago, specialists talked about the poor state of the market, radiation-resistant chips had hardly been developed", said Apollonova. "And now we are going for export, capturing new markets. Moreover, it shows a fair competition: the United States is the leader of micro-electronics, they have never imposed any sanctions against India. But at the same time, India is buying from us."
First published in Russian by Izvestia.
All rights reserved by Rossiyskaya Gazeta.