Russia's drone sub has Pentagon spooked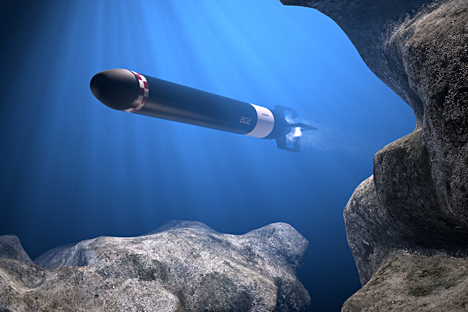 Underwater torpedo.
Shutterstock/Legion Media
The Pentagon has raised alarm at prospects of Russia building a drone submarine which apparently could attack harbours and strategic bases.
Russia is apparently building a drone submarine designed to launch nuclear weapons against U.S. harbours and coastal cities, Pentagon officials warned, according to a report in The Washington Post.
The Pentagon has code-named the drone "Kanyon," an indication that the weapon is a structured Russian arms programme. The warship, the report said, could be used in the event of a nuclear conflict between Russia and the United States, to attack American harbours and strategic bases with unmanned submarines.
"This is an unmanned sub that will have a high-speed and long-distance capability," said an official, who noted that the drone development is years away from a prototype and testing.
According to the sources, the submarine is to be armed with a nuclear warhead ranging in size to "tens" of megatons. The destructive power of one megaton would be the equivalent of dozens of those of the Hiroshima and Nagasaki atomic bombs.
Russian Navy chief Admiral Viktor Chirkov said in summer 2014 that integration of potential robotic systems into the fleet is "envisaged by the rearmament plans."
These plans have been included in Russia's State Armament Programme until 2020. The Defence Ministry is currently working on plans for the "Creation of Potential Military Robotics until 2025" programme and is developing the concept of using robotic systems for the period until 2030.
First published in Mir Robotov.
All rights reserved by Rossiyskaya Gazeta.