Iran declines T-90s from Russia, to build own tanks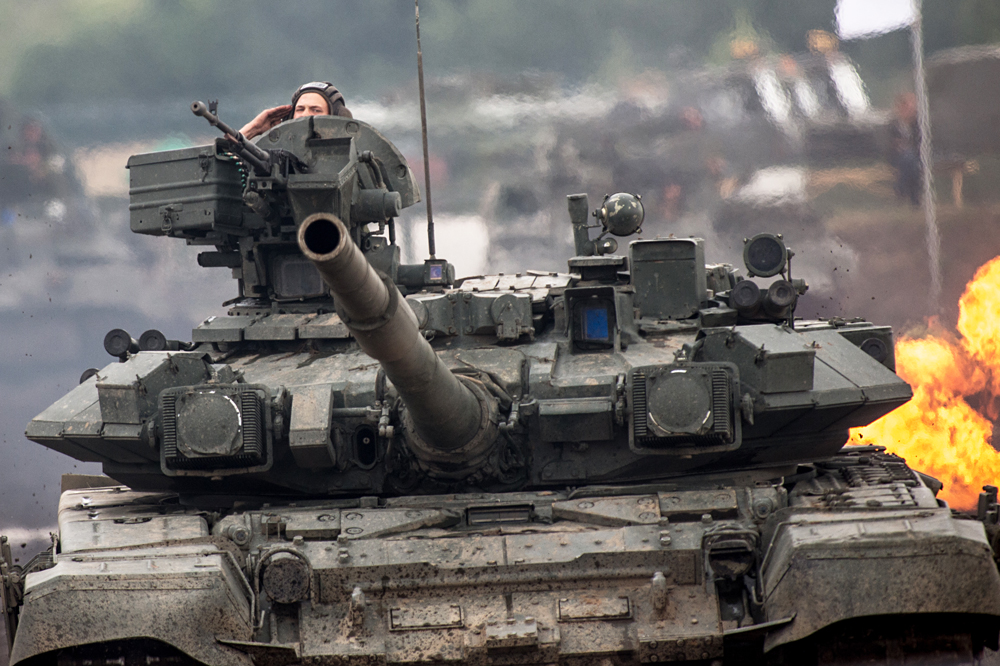 A T-90 tank participates in the specialized military equipment show held as part of the "Invincible and Legendary" military patriotic program during the Engineering Technologies 2014 international forum in Zhukovsky near Moscow.
Ramil Sitdikov/RIA Novosti
Iran has announced that it does not plan to buy T-90 tanks from Russia any more, setting off speculation about what it plans to bolster its depleted tank arsenal. Russian analysts look at what options Tehran has and ask whether Iran can build a comparable battle tank.
Ahmad Reza Pourdastan, Commander of Iran's ground forces, said on February 2 that his plan to buy a shipment of T-90 tanks from Russia did not find support among the country's military leadership.
"We informed the General Staff of the Iranian Armed Forces that the T-90s are in our interests. However, considering Iran's possibilities, the issue of buying the T-90 tanks was taken off the agenda. We intend to produce our own tanks," RIA Novosti cites Pourdastan as saying, according to the Mehr News Agency.
Pourdastan had said in December that ties between the Iranian and Russian militaries "had been established and that Iran plans to buy the T-90 tanks."
The T-90 is Russia's principal military tank. Between 2001 and 2010, it was the best-selling tank in the world, particularly because of supplies to India.
A new tank based on a Soviet model
According to available sources, Iran's ground forces have around 1,500 tanks of various kinds. The most modern tanks in the Iranian armed forces are the Soviet T-72s, of which Iran has 480, and the Iranian 'Zulfikar' (based on the T-72), of which there are 150.
Igor Korotchenko, director of the Moscow-based Centre for Analysis of World Arms Trade, Iran can autonomously reproduce only old models, but it cannot build and design contemporary machinery.
"Without the Uralvagonzavod plant, Iran cannot produce a T-90 type tank. Perhaps they'll make something based on the T-72," he said. "No one will give them armoured technology. They will make their own tanks but we don't know how successful they'll be."
"Decades are required to create your own school," said Korotchenko. "Iran doesn't have these possibilities. Many countries have tried producing tanks; India, for example. In any case, the T-90C is without competition, which is why they buy it and produce it serially. It is the same thing in this case."
Chinese technologies for Iran
"Sanctions against a country have a strange effect," said Vadim Kozyulin, Director of the Russian Centre for Political Research. "Many countries that did not have a military industry have created one as a result of sanctions. This is what happened with Iran".
Tank construction is not a simple area, said Kozyulin, pointing to the fact that India "still has not produced a decent domestic tank."
"Neither do we know anything about a good Iranian tank. We only know what kind of technologies they have there. I suppose they have been able to form an engineering team that they are proud of. Perhaps even by having attracted foreign specialists," he said.
"Maybe someone is helping them, providing them with technologies," continued Kozyulin. "Maybe they'll buy some technologies from China. China believes that today it is in a position to produce the best tank in the world. If you listen to representatives of the Chinese military leadership, you get the feeling they think that their tanks are better, according to their parameters, than all foreign equivalents."
"But the Iranians can amaze us in the most diverse areas of military production. Perhaps this is another Iranian surprise," said Kozyulin, adding, however, that this was very unlikely. "Iran doesn't have a school. That is why the secret behind their choice is foreign technology mixed with Iranian money."
First published in Russian in Vzglyad.
All rights reserved by Rossiyskaya Gazeta.