Missile trains to counter U.S.' new European defences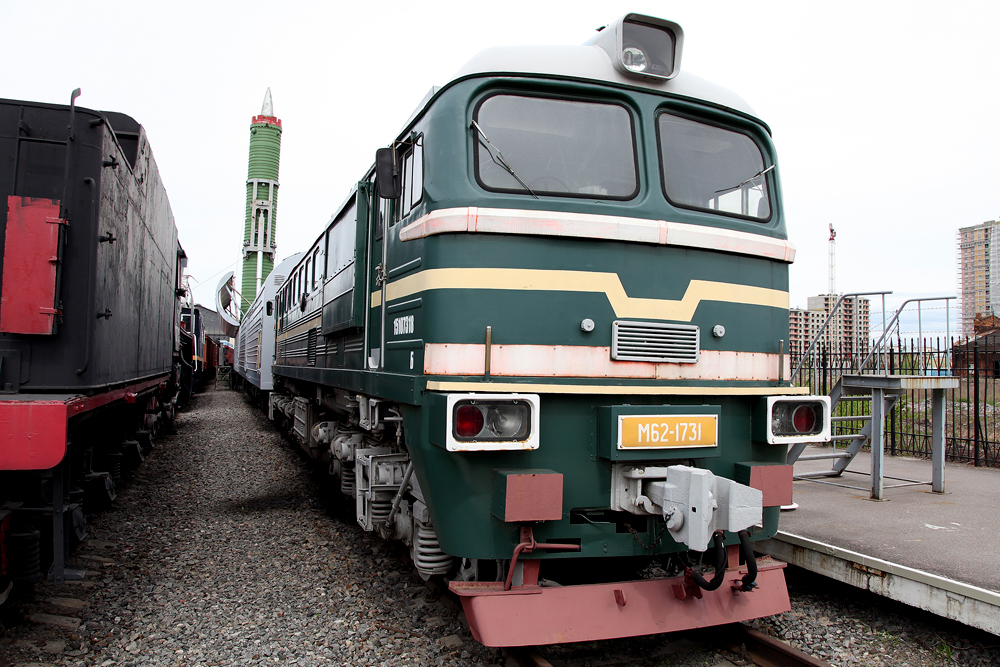 Military railway missile complex 15P961 Molodets with RT-23 UTTKh ICBM.
Vitaly V. Kuzmin
To counter the threat from the new US missile system across Europe, Russian military trains are set to be equipped with new light intercontinental ballistic missiles (ICBMs), which are more difficult to detect from space.
Russia is reviving the production of military trains with missiles, which the military calls combat rail-based missile systems.
The new Barguzin rail-based missile system will be deployed by the Russian armed forces in 2020. They will be equipped with six missiles, Colonel General Sergei Karakayev, Commander of Russia's Strategic Missile Forces, said.
The Russian leadership's decision to revive production of the rail-based missile shield can be viewed as yet another response to the deployment of the U.S. missile defence system in Europe. The US shield can launch Tomahawk long-range cruise missiles, in addition to interceptor missiles. Moscow considers the system a threat to its own security.
New train-based missile
Three divisions of rail-based combat missile systems (four regiments in each and 12 trains carrying three Molodets strategic missiles) were in service in the Soviet/Russian Strategic Missile Forces between 1984 and 2007.
The new rail-based missile systems will be equipped with the MS-26 Rubezh multiple-warhead missile, which is lighter, but no less efficient than the Molodets.
The Rubezh has been designed and built by the Moscow Institute of Thermal Technology, which has designed all the country's domestic solid-fuel strategic missiles, like the Topol-M, Bulava and Yars.
The earlier rail-based combat missile system shields were in service from 1984 to 1994, entering their route from Kostroma (200 miles northeast of Moscow) and Penza (400 miles southeast of Moscow) regions, as well as from Krasnoyarsk (2,500 miles east of Moscow).
But in the early 1990s, under an agreement between Soviet leader Mikhail Gorbachev and British Prime Minister Margaret Thatcher, the missile trains were immobilized and did not leave bases where they were stored. In 2007, they were completely taken out of service.
Why were they discontinued?
The solid-fuel rocket missile Molodets, which was produced by the Pavlograd Mechanical Plant in Ukraine (then part of the USSR), did not have a very long service life (the warranty coverage from the plant quickly expired). After the Soviet Union collapsed and Ukraine signed the START I treaty in 1992, Kiev was not allowed to produce strategic missiles. There were no other train-based missiles with which to replace them.
Missile trains were also very heavy (just one missile weighed over 110 tons) and required three locomotives to pull them. Additionally, maintenance crews had to be called out to strengthen railway embankments each time the trains were used; a constant irritant to the management of the Ministry of Railways.
However, to their advantage, combat rail missile systems were indistinguishable from conventional refrigerated trains on the ground, though they were identifiable from space. No other freight train had three diesel or electric locomotives.
The new Rubezh missile, to be used on the Barguzin, is much lighter than the Molodets, so one missile will be placed in one rail car. As a result, the train will be lighter and have no tell-tale signatures such as three locomotives. The load on the railway network will also be lower. When you consider the enormous size of Russia's rail network, these trains will be extremely difficult to locate.
Incidentally, the United States was the first to create the first rail-mobile missile system in the early 1960s. But Washington gave up on the idea because the rail network in the United States was not as extensive as in Russia. Also, the cost of a missile train was much higher than that of silo basing for Minuteman missiles.
Compliance with New START
The Barguzin rail-based missile systems will not conflict with Russia's obligations under the New START treaty. The agreement requires each party to have no more than 700 deployed carriers and another 100 in storage facilities.
The Russian arsenal amounted to 521 strategic missiles on April 1, 2016, according to official data of the U.S. Department of State. Hence Moscow's ability to compensate for decommissioned missiles is high.
Additionally, the New START expires in 2018, and it is unclear whether it will be extended.
All rights reserved by Rossiyskaya Gazeta.