New device to help National Guard detect intruders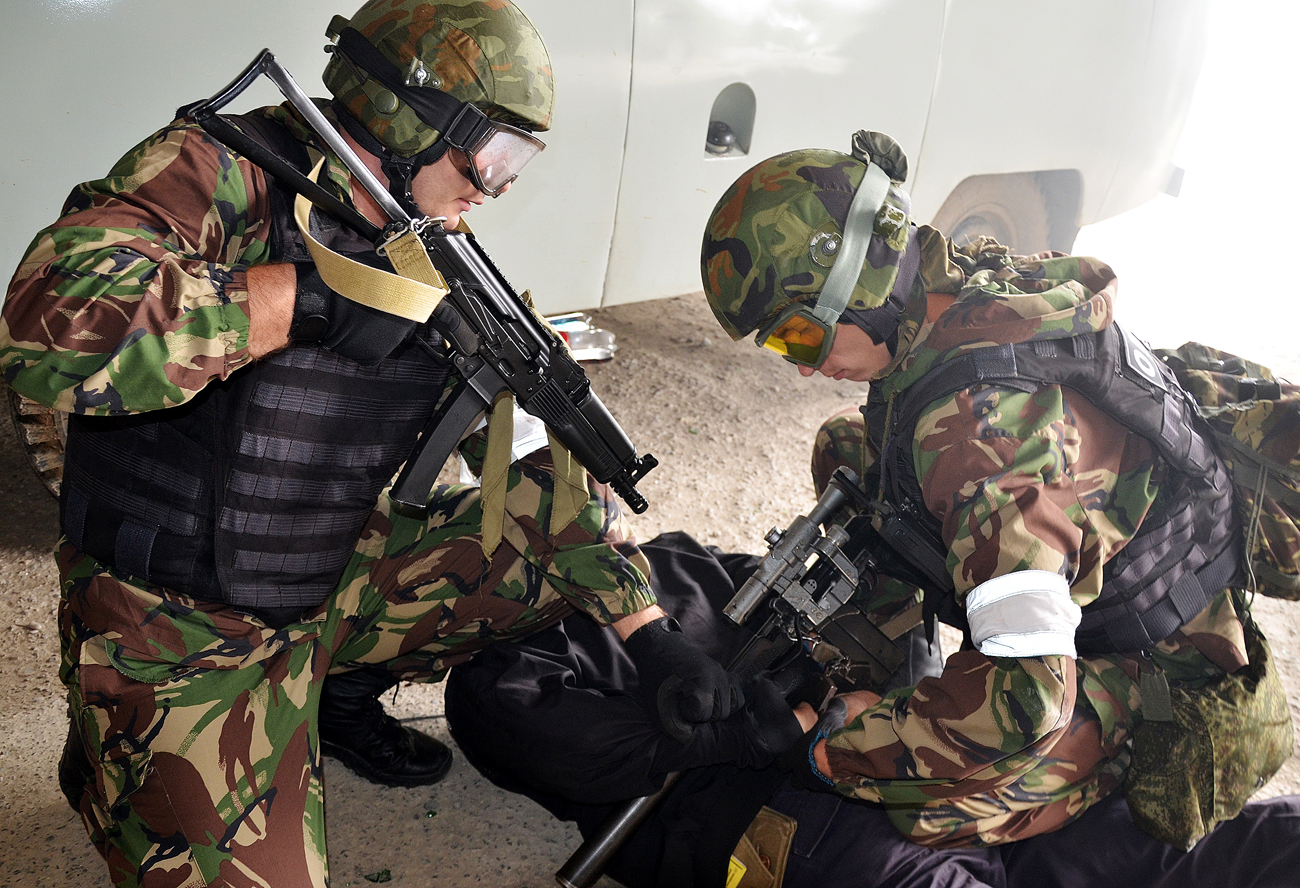 The locator will significantly reduce the number of attacks by extremists using explosive devices.
Dmitry Rogulin / TASS
A hand-held locator which easily detects homemade bombs, cell phones, listening devices, and even hidden SIM-cards will be made available to the National Guard to bolster security.
The Federal National Guard Troops Service (FSVNG) will soon be equipped with a unique new device. This hand-held device not only reveals weapons and improvised explosive devices hidden under clothing, it can also find tiny electronic bugs and hidden cameras that cannot be detected by normal metal detectors. The availability of such inspection devices will significantly reduce the number of attacks by extremists using explosive devices.
The latest hand-held NR-CHP locator, developed by the STT Group of Companies, can detect electronic devices the size of a small cell phone at a distance of more than a metre. It can detect SIM-cards, USB-drives and other electronic components of similar size half a metre away.
"We have now completed testing the NR-CHP inspection locator. It fully meets the assigned characteristics," Nikita Tkach, Head of Special Works Department at STT Group, told Izvestia. "Early next year, we will start shipping this product to the National Guard. Earlier, other Russian law enforcement agencies have purchased our product."
Externally, the NR-CHP radar resembles a truncated cone with a plastic handle and LED indicators. The device has no external connectors or moving parts, which makes it watertight and resistant to impact. This will allow National Guard personnel to carry out inspections and monitor crossing points, regardless of the weather conditions.
An official using this radar receives information about detected objects through audio signals, sent out by a special notifying device. It produces two types of signals – the first when a semiconductor element is detected, and the second, when corrosive elements (i.e., iron and its alloys) are detected.
This inspection radar works on the principle of a non-linear locator – it emits an electromagnetic wave and detects multipath double and triple frequency signals, which can only be produced by semiconductors chips. It does not matter whether the detected device itself has been turned on or not. So an attacker cannot smuggle a dissembled bomb.
"Lately, there has been a sharp increase in 'explosives' terrorism, using home-made bombs that are placed in public places. At the same time, the very explosive devices are being improved, they use fewer components that can be detected by conventional metal detectors," Military analyst Alexey Khlopotov told Izvestia.
He said the most effective method to detect improvised explosive devices is by using nonlinear locators, which detect semiconductor components of bombs.
"Among such devices are the British ST-400 and the American Orion 2.4, but these are expensive and fragile units," Khlopotov said. "That a domestic producer has not only developed its own version of such equipment, but also added a sealed shockproof body, without adding to the weight, while maintaining similar functionality of the best Western models, is highly characteristic of our developers."
First published in Russian by Izvestia.
All rights reserved by Rossiyskaya Gazeta.