Arab funds raising investments in Russia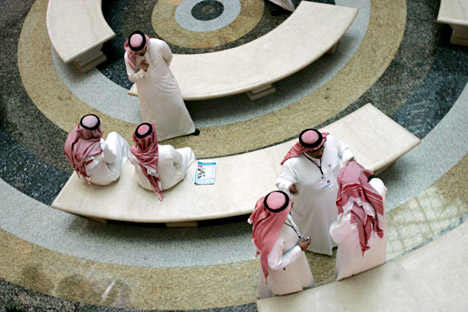 Sovereign wealth funds from GCC countries are making a beeline for Russia. Source: Getty Images
Getty Images
Kuwait's sovereign investment fund is investing an additional $500 million in projects in Russia in partnership with the Russian Direct Investment Fund (RDIF). Analysts say Arab sovereign funds are hedging against falling oil prices by investing in Russia.
The Kuwait Investment Authority plans to invest an additional $500 million into the Russian economy. It has signed an agreement to that effect with the Russian Direct Investment Fund (RDIF), a special investment fund set up by the Russian government in 2011 to attract foreign investment into the fast-growing sectors of the Russian economy. This $500 million investment will raise the amount of Kuwaiti investment in Russian projects by 100%. The Kuwaiti fund invested $500 million in Russia in 2012.
"The RDIF is the first and only fund to have raised over $20 billion worth of long-term investment into Russia from major Middle East sovereign funds," a RDIF spokesman told RIR.
Funds from all the Gulf Cooperation Council (GCC) countries are investing in Russia. RDIF works together with the Mubadala fund from the UAE, the Mumtalakat fund from Bahrain, Qatar Holding, and the Saudi Arabian Public Investment Fund.
Growing interest in Russia
Arab investors have developed an interest in Russian assets because of the falling oil prices. "Increasingly, their national wealth funds are acting as saviours of their economies," said Vladimir Rozhankovsky, head of research at the Okey Broker investment company. Classic investment instruments, like Western stock exchanges, no longer ensure high yields, he said.
The almost 50 % depreciation of the ruble in the second half of 2014 has considerably increased the rate of returns offered by industrial projects in Russia, said Pavel Salas, managing director of еТоrо. Over the course of five to seven years, returns on investments in Russia could touch 120-130 percent, he opined.
Arab funds also look at strategic interests when investing in Russia. "In recent years, Arab funds have been investing mainly in infrastructure projects and sectors that are related to the processing and transportation of oil," said Denis Belyaev, partner with DS Law. Arab investors become aware of price forecasts for Russian energy products and can thus adjust the price of their own oil and gas products.
Promising sectors
For religious reasons, Arab funds cannot invest in certain sectors, such as banking or debt instruments, says Anton Tabakh, director of regional ratings at the Rusrating rating agency. They mainly invest in transport infrastructure, construction, real estate and retail, he said.
"Investment in infrastructure may prove extremely lucrative, thanks to China's Silk Road Initiative, a large part of which will be running through Russia," said eToro's Salas.
Another popular area for investment is high-tech projects and commercial real estate, since the return on investment is higher in these segments in Russia when compared to Europe, said Daniil Karikov, managing partner of the Karikov Group. Also, distribution costs are lower in Russia.
Arab funds started investing in Russia six years ago. In 2010, the UAE port operator Gulftainer set up a $500-million fund for investment in infrastructure projects in partnership with the Rostec state corporation. Gulftainer became a co-owner of a terminal at the Ust-Luga port. Rostec also partnered with the UAE's Damac development holding to launch a $300-million fund for investment in real estate projects.
All rights reserved by Rossiyskaya Gazeta.