Russian Science Day at Delhi's RCSC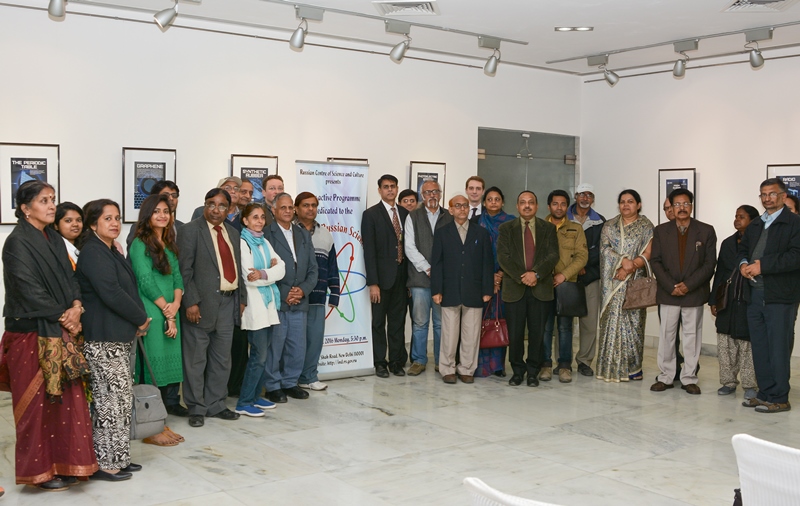 Day of Russian Science was marked in New Delhi.
RCSC
The Day of Russian Science was marked at the Russian Centre of Science and Culture (RCSC) in New Delhi on February 8, 2016. Eminent scientists were among those who participated in the event.
The Russian Centre of Science and Culture (RCSC) in New Delhi commemorated the Day of Russian Science on Monday, February 8.
C. B. Devgun, President Science Popularisation Association of Communicators and Educators (SPACE), Dr T.V. Venkateswaran, Scientist "F", Department of Science and Technology, Vivek Singh, OSD, Department of Space, Government of India, and Alexander Zhmyrev, Head of Science and Technology, RCSC, were among those who took part in the inter-active programme organised for the event.
Zhmyrev underlined the significance of the Day, dedicated to the anniversary of establishment of the Russian Academy of Sciences. With a multi-media presentation, he paid tribute to the signal contributions made by outstanding Russian scientists in different faculties, who became Nobel Laureates.
C.B. Devgun. Source: RCSC
Devgun underscored the landmark achievements in science, and space science in particular, and lauded the unique global position of the former Soviet Union and Russia; in creating history as a pioneer in rocket launches, sending a Man into space, a woman cosmonaut into space, numerous ambitious space projects and joint international space explorations. Citing his own experience of covering the Solar Eclipse in Siberia, he commended the scientific quest, spirit and consistent hard work and dedication of Russian scientists.
Singh outlined vital Soviet and Russian help and support to India's space programmes in chronological order, focusing on Soviet cooperation in India's remote-sensing rocket launches, launching of Aryabhata, Bhaskara-I, and Bhaskara-II satellites, students satellites, Indo-Soviet joint space travel, the Brahmos project and a series of joint space programmes on a wider perspective aimed at the country's scientific developments.
Keeping in view the crucial role of science in the life of humanity, Dr Venkateswaran emphasised that as close friends and strategic partners we should have a clear perception of making a philosophic approach to science in its exploration and application in everyday life.
The official part of the programme was followed by the screening of a documentary, "Our Celestial Neighbours: Far and Near," prepared by Vigyan Prasar.
All rights reserved by Rossiyskaya Gazeta.