Polyethylene bone implants offer new hope to patients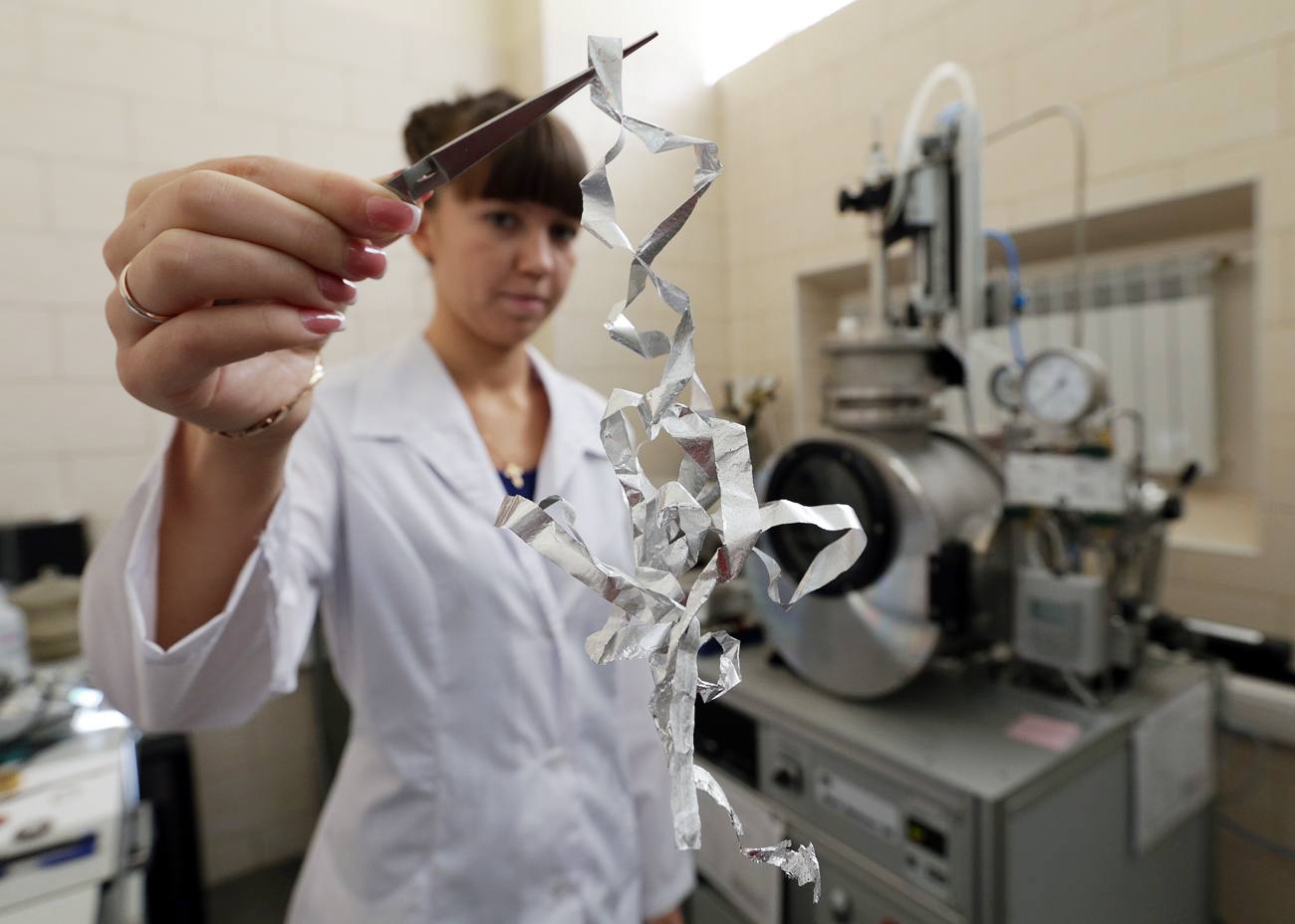 A lab worker at the research laboratory for non-organic nanotubes and graphene at the MISiS National University of Science and Technology. Source: Artyom Geodakyan/TASS
Bone replacement implants made of polyethylene, developed by Russian scientists, offer hope to patients of swifter recovery and reduced costs. These take root more readily in the body and allow tissue and blood vessels to grow into them.
Scientists from the National University of Science and Technology (MISiS) have developed implants that mimic the structure of bone tissue, and help repair damaged flat bones such as blades, skull and pelvis. They also fill areas where bone tissue is missing after an injury or cancer.
The new implants are made of ultra-high-molecular-weight polyethylene — a biocompatible material already widely used in medicine. The new implants comprise two layers. As in organic bone tissue, these implants have a solid layer that is most durable and resistant to external influences. Blood vessels and tissue, however, can grow into the light porous layer allowing the implant to settle in the body quicker.
Plastic bones
"Most existing implants are made either of ceramic or synthetic material, and consist of either only a porous layer or only a solid one," said Fyodor Senatov, PhD in physical and mathematical sciences and one of the developers of the implant. "Our implant's main advantage is that it's both porous and elastic, and thus resistant to cracking."
Ultra-high-molecular-weight polyethylene is elastic, which allows the surgeon to modify and cut the bone implant during surgery.
"This might be necessary if, for example, damage to the bone tissue is severe and cannot be clearly identified during an MRI or CT scan," Senatov said. "So, instead of filing the bone down to adjust it to the implant, it is better to file the implant and preserve the bone as much as possible."
The outer, solid layer of the implant is saturated with antibiotics to prevent infection after surgery. The inner porous layer is inoculated with the patient's bone marrow cells, which in turn speeds up the implant's fusion with body tissues.
Reducing costs
"This breakthrough will lead to a dramatic reduction in the number of post-operative septic complications," said Mikhail Kiselevsky MD, another of the developers. "Thus, there will be a significant reduction in the cost of care for the patient during rehabilitation."
The implant is already in preclinical studies, and has been successfully used to heal a bone defect in laboratory mice and rats. Clinical trials will begin after the full cycle of preclinical tests is completed, and take around five years.
When the clinical trials are complete, the state-owned pharmaceutical company GosZMP plans to produce a pilot batch of the implants for free distribution to veterinary clinics.
Meanwhile, the scientists have filed several patent applications in Russia, and are expecting to soon get an international patent.
The implants are likely to be popular in Russia where demand is high — around 60,000 surgeries are performed in the country each year to replace flat bone defects.
All rights reserved by Rossiyskaya Gazeta.