Space agencies from BRICS sign cooperation protocol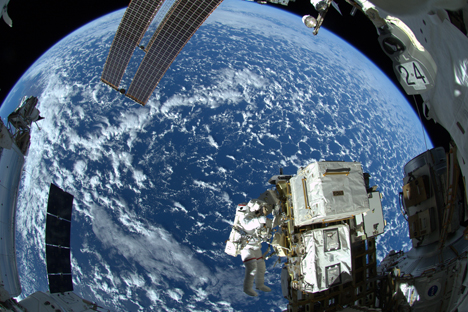 Russia cooperates closely with Brazil, India, China and South Africa in the field of space exploration. Source: NASA
BRICS Space agencies have signed a protocol of the peaceful use and exploration of space at a meeting in Zhuhai (China).
Representatives of BRICS (Brazil, Russia, India, China, South Africa) space agencies discussed a draft document on joint use of data constellations from earth remote sensing (ERS) satellites, and signed a cooperation protocol on the use and exploration of outer space for peaceful purposes, at a meeting in Zhuhai (China), the Russian Space Agency said Monday.
"The document that we are developing will be a mechanism that will facilitate cooperation in the abovementioned areas (peaceful space exploration and a system for sharing ERS data), and I hope that we will soon finalize it," Igor Komarov, General Director of Roscosmos was quoted as saying.
Komarov, General Director of the Russian Space Agency attended the meeting. José Raimundo Coelho, President of the Brazilian Space Agency, Wu Yanhua, Deputy Chairman of the China National Space Administration and Dr. Potlaki Maine, acting Executive Director of the South African National Space Agency, also attended the meeting. A representative from the Indian Space Research Organisation was India's representative.
Roscosmos supported the Chinese initiative to share ERS satellite systems and related ground infrastructure to benefit all BRICS countries.
"Russia cooperates closely with Brazil, India, China and South Africa in the field of space exploration. Nevertheless, today we are taking a step into the future. I am convinced that the joint efforts on the use of ERS satellite constellations by the BRICS countries will serve us all, in terms of disaster management, environmental protection and for the sustainable social and economic development of our countries," said Komarov.
The unified geographically distributed information system (UGDIS) of ERS consists of 13 large centres, which are located throughout Russia – from Kaliningrad to Khabarovsk, including in the Arctic zone (Murmansk and in the future – Dudinka and Anadyr). The new system will coordinate all their work with domestic remote sensing spacecraft. This will allow planning of the shooting, receiving and processing of data from the spacecraft complex, without additional resources being needed.
The Russian orbital group has seven remote sensing satellites already in operational mode, providing all kinds and shooting modes, including hyperspectral. Another unit is currently at the flight testing stage, and is operating in the test mode.
First published in Russian by RIA Novosti.
All rights reserved by Rossiyskaya Gazeta.