The teaching of Russian as a foreign language (RFL) is one of the most popular subjects among foreign students coming to study in Russia. It is present on the curriculum of practically any large university that has a philological department.
Having completed this program, a student does not only become proficient in Russian but is also qualified to teach it as a foreign language.
Maria Lebedeva from the Pushkin Institute of the Russian Language tells RBTH about pitfalls that await students of Russian and about what future teachers of Russian are taught.
What are students likely to find difficult when learning Russian?
When it comes to the language itself, students, who before their arrival in Russia, have never learnt Russian will have to tackle three areas: phonetics, vocabulary and grammar.
For example, the Russian sound [ы] presents no difficulty for native speakers but is a nightmare for most foreign students. Soft and hard consonants are also a minefield because in Russian they are used to differentiate words, e.g. мат [swear language] and мать [mother], брать [to take] and брат [brother].
In vocabulary, the challenge is not only to learn new words but also to grasp their collocations. For example, native speakers of English will have to remember that in Russian we say "strong rain" (сильный дождь)rather than heavy rain, or "stiff tea" (крепкий чай) rather than strong tea, and that our grass is not long but tall (высокая трава).
Also, Russians wash their head (мыть голову) instead of their hair.
As for grammar, I think the most difficult areas are verbs of motion and verb aspects. For a native Russian speaker, there is no difficulty here, we use the right forms without even thinking: Сейчас я иду наработу [I am on my way to work]. But: Каждый день я хожу на работу [Every day I go to work]. Or: Каждый день я иду на работу пешком, а возвращаюсь на такси. И когда волнуюсь, я покомнате хожу [Every day I walk to work but I take a taxi back. When I am anxious, I pace around the room].
If you ask an ordinary Russian native speaker to explain why they say иду in some cases and хожу in others, they will not be able to explain. At more advanced stages, in addition to the идти-ходить pair, students have to tackle the verbs: прийти, уйти, отойти, перейти, зайти, обойти, пройтись and so on.
What does a teacher of RFL need to know?
In addition to a detailed study of the language system and teaching methods, future teachers usually familiarize themselves with the intricacies of teaching different aspects of the language: vocabulary, phonetics, grammar; of teaching students how to work with text as well as specifically reading, writing, listening and speaking.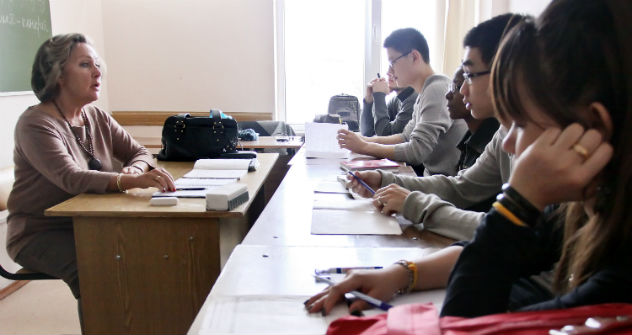 Foreign students study Russian. Source: ITAR-TASS
Future teachers of Russian also complete programs in ethno-linguistics, cultural and regional studies. There is an important new trend – language teaching with the use of digital technologies – so RFL programs usually feature it too.
What are students taught?
In addition to traditional Russian grammar courses and language practice, different universities offer less conventional programs. For instance, a Russian-language film club, Russian dance classes in Russian, drama studios, and discussion clubs. There are also dedicated programs in business Russian, Russian for tourism, diplomacy, and medicine.
How long does a comprehensive Russian course take to complete?
It is believed that to reach the B1 (threshold) level, it takes 460 academic hours, i.e. six to seven months of intensive studies (six academic hours a day four times a week). Having said that, it is obvious that the number of hours can vary depending on conditions, schedule, students' native language and ability.
If by a "comprehensive course" you mean reaching the C2 (near-native) level, then calculating the exact number of academic hours is more difficult here. One has to admit that for the majority of foreign students this level is unattainable.
At what level can a student read Tolstoy in Russian?
It depends on the text: "After the Dance" and "War and Peace" are two different things. At the C1-C2 level, reading his best-known novels is difficult but possible. But they need to be read with a dictionary and commentaries. Incidentally, this is what I would recommend to many native Russian speakers too since we no longer know what many of the obsolete words mean.
What are the good places to learn Russian in Russia?
Judging by my experience and my colleagues' opinion, the best places are the Moscow State University, the Peoples' Friendship University of Russia, the St Petersburg State University, and the Pushkin Institute.
And in other countries?
Russian speakers are very well trained in Estonia and Finland, Germany and Austria, Italy, Hungary. In the USA, there are many wonderful experts in the Russian language and students who study RFL there are very well trained, in my experience.
Traditionally, Slavic countries – Bulgaria, Slovakia, the Czech Republic, Poland – have a very strong school of teaching Russian. Also, China, as well as Vietnam and South Korea have many excellent centers and schools that teach RFL.
Much attention is now being paid to the professional support of RFL teachers abroad, with long-established schools and centers being revived and new ones being opened. Therefore, I think that in the near future we shall see the Russian language strengthening its positions abroad, with teachers paying more attention to their professional growth and developing ties with the leading RFL teaching centers in Russia.
All rights reserved by Rossiyskaya Gazeta.