In Russia, one always has attractive life options!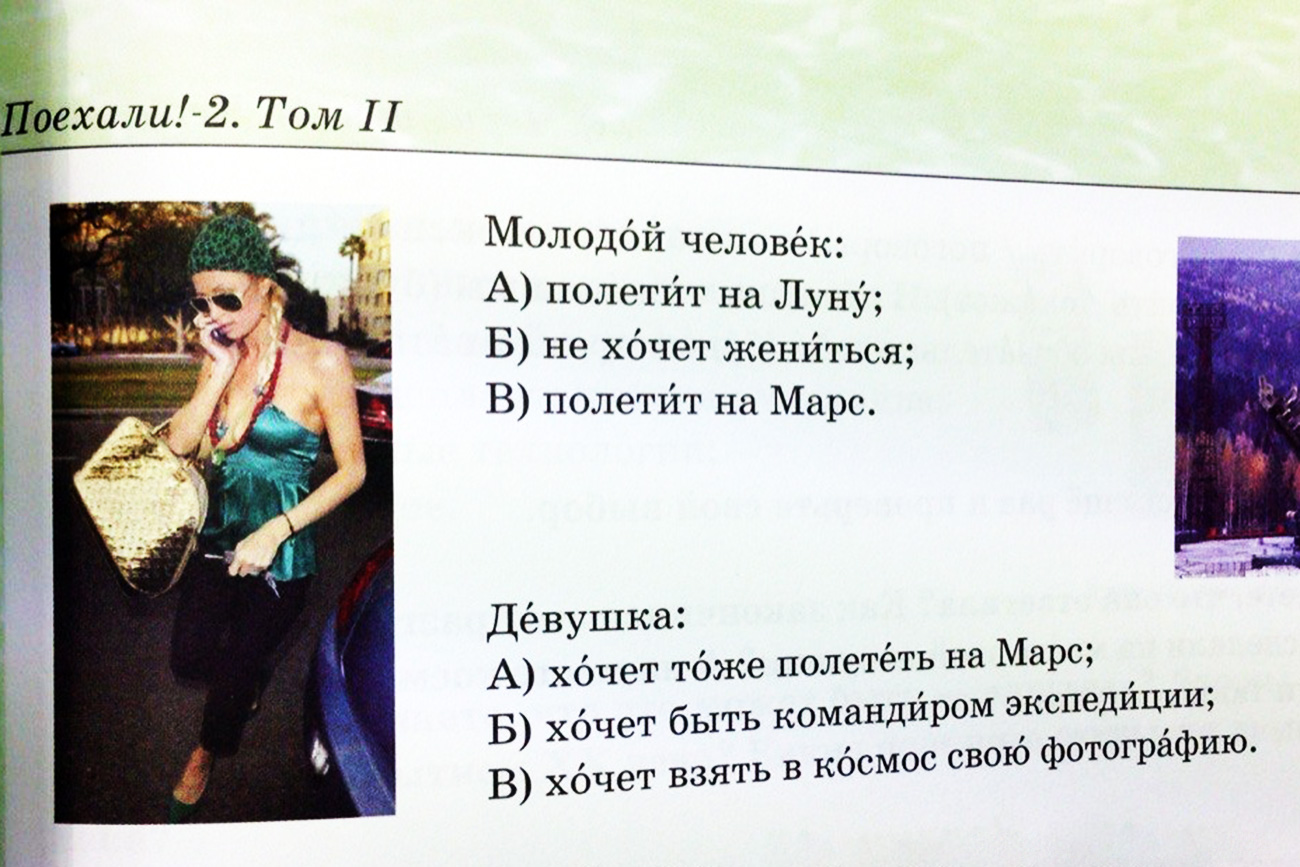 Photo: Daria Sokolova
A man:
A) Will fly to the Moon
B) Doesn't want to be married
C) Will fly to Mars
A woman:
A) Also wants to fly to Mars
B) Wants to be the commander of an expedition
C) Wants to take her photo to outer space
But sometimes it's hard to trust people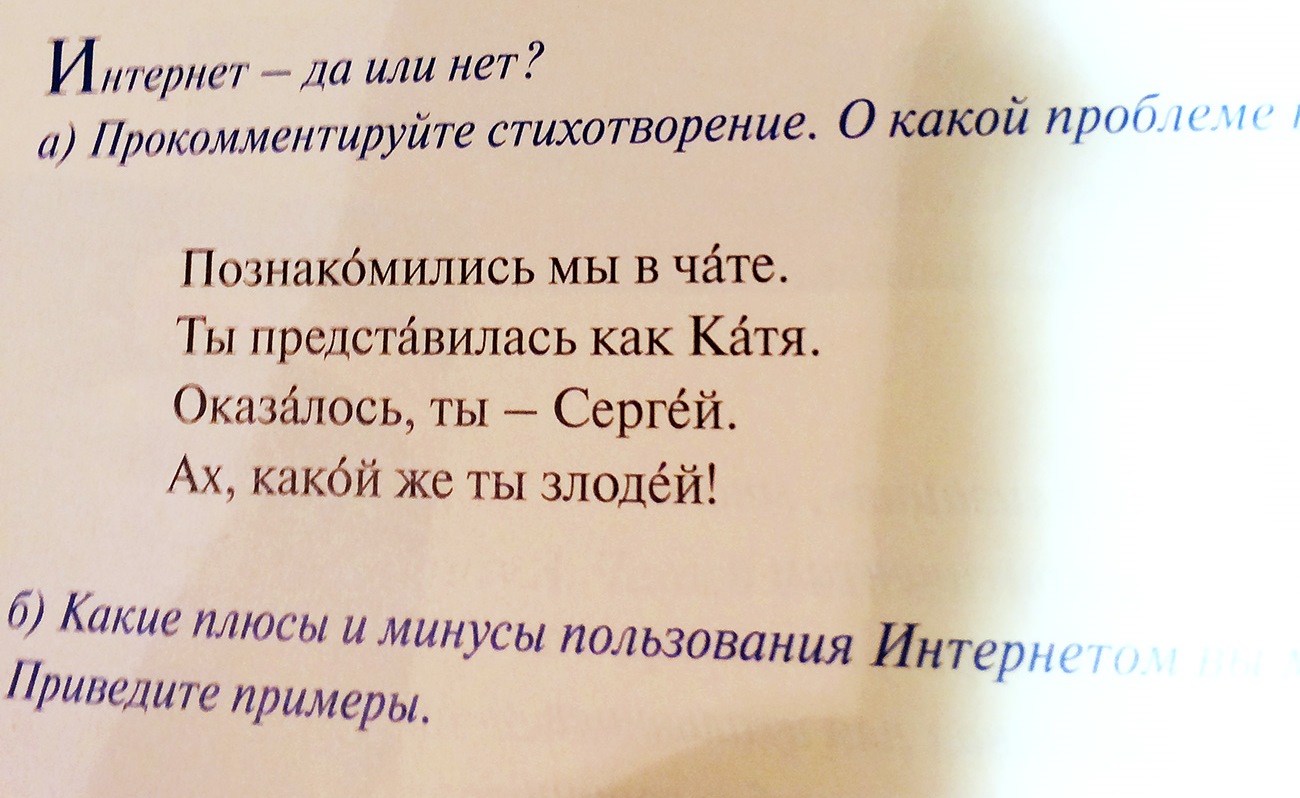 Photo: Anna Sorokina
We met on the Internet,
You introduced yourself as Katya,
But it turned out you are Sergei,
Ah, you are a villain!
Local soccer players have peculiar career goals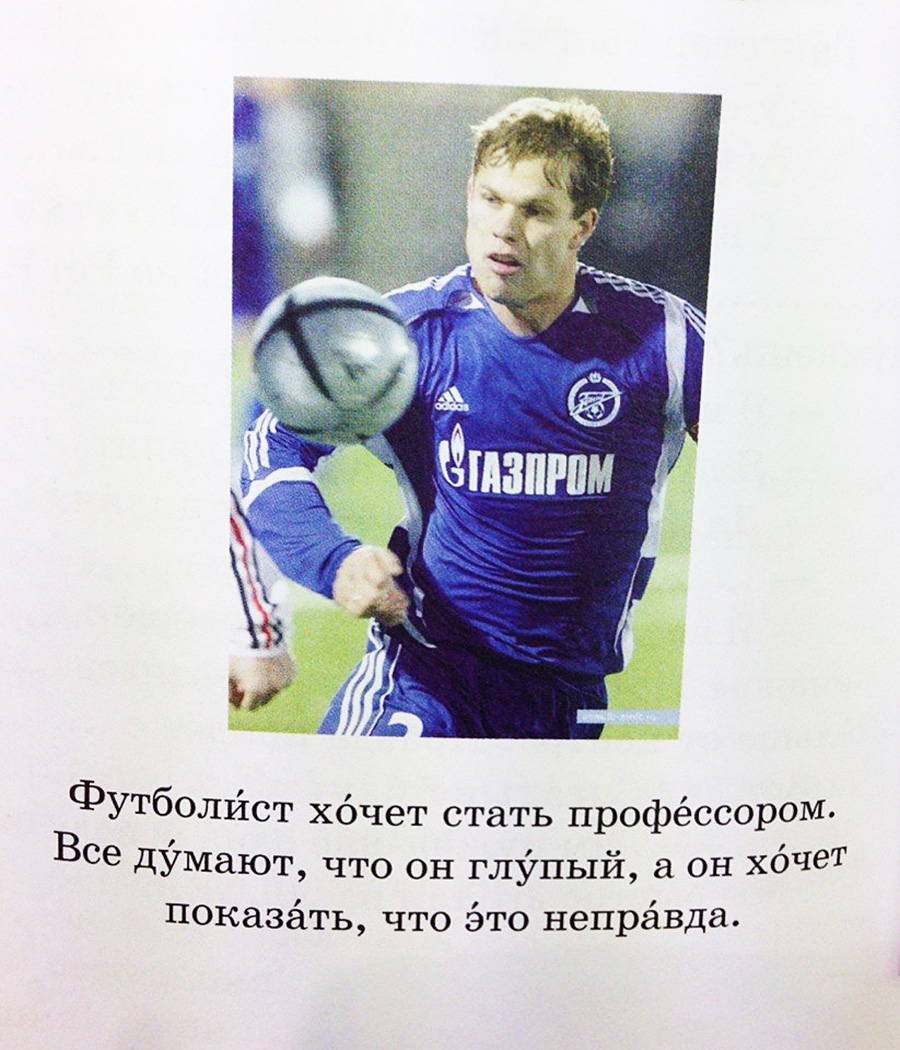 Photo: Daria Sokolova
A soccer player dreams of becoming a professor. Everybody thinks he is stupid, but he wants to show them it's not true.
Don't be afraid to try something new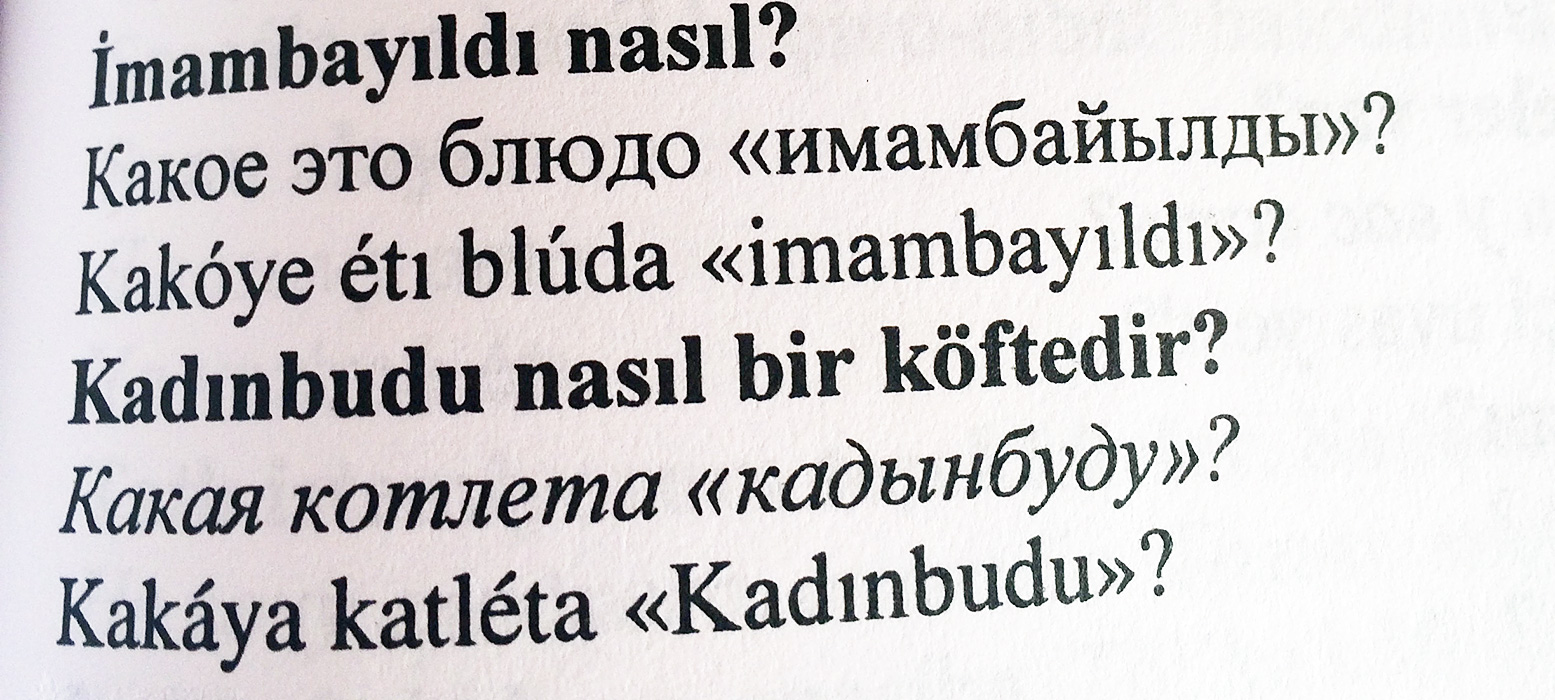 Photo: Anna Sorokina
What is the dish named "imambayildi?"
Which cutlet is"kadinbudu?"
(We would like to know that, too!)
BBQ parties are fun if you can afford them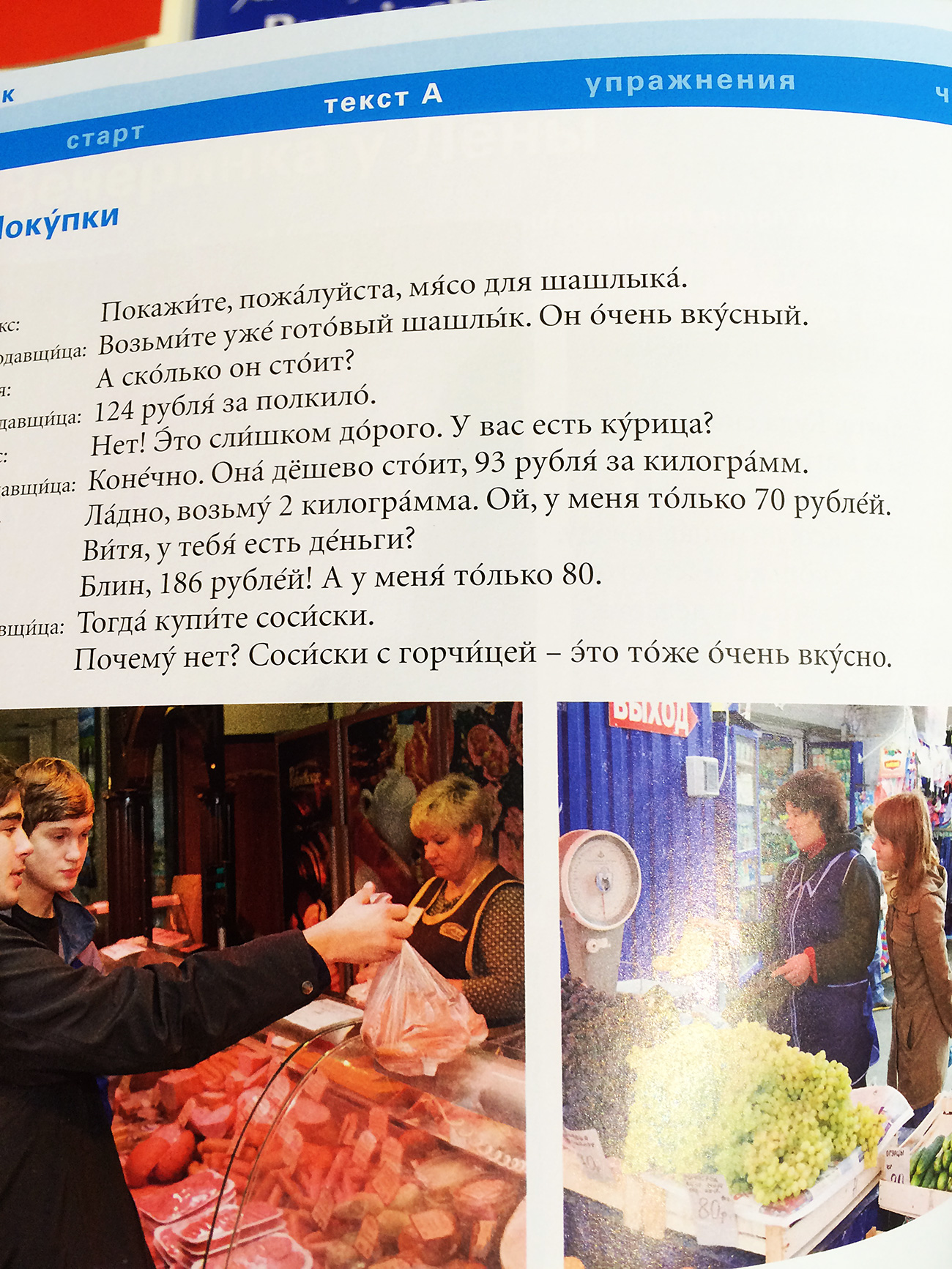 Photo: Anna Sorokina
-Can I have a look at the meat for shashlik?
-Just take the cooked shashlik instead. It's very delicious.
-How much does it cost?
-124 rubles ($2) per half kilogram.
-No! That's too expensive. Do you have chicken?
-Sure, it's cheap, 93 rubles ($1.5) for one kilogram.
-Ok, I'll take two kilograms. Oh wait, I've got only 70 rubles ($1.1).
-Vitya, do you have money?
Man, the total price is 186 rubles ($3)! And I have only 80 ($1.3).
-Then, pals, you can take sausages.
Why not? Sausages with mustard are also very tasty.
Get creative with your studies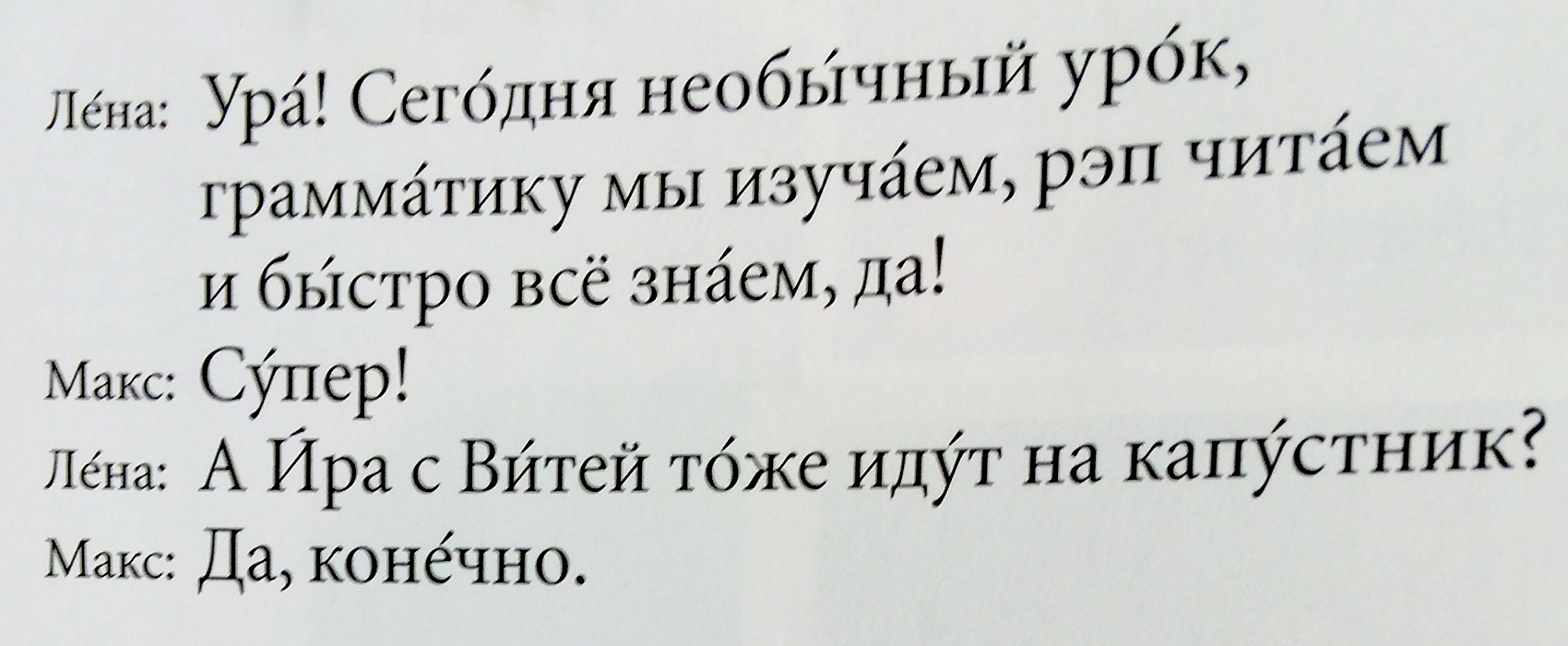 Photo: Anna Sorokina
-Yay! Today we're having an unusual lesson, we will study grammar by rapping and that's how we will learn everything quickly, yo!
-Super!
-Will Ira and Vitya also attend kapustnik? (literally "cabbage festival" - sketch show prepared by friends and performed to each other. It includes activities like dancing and singing).
-Yes, sure.
In fact, Russians just read rap all the time it seems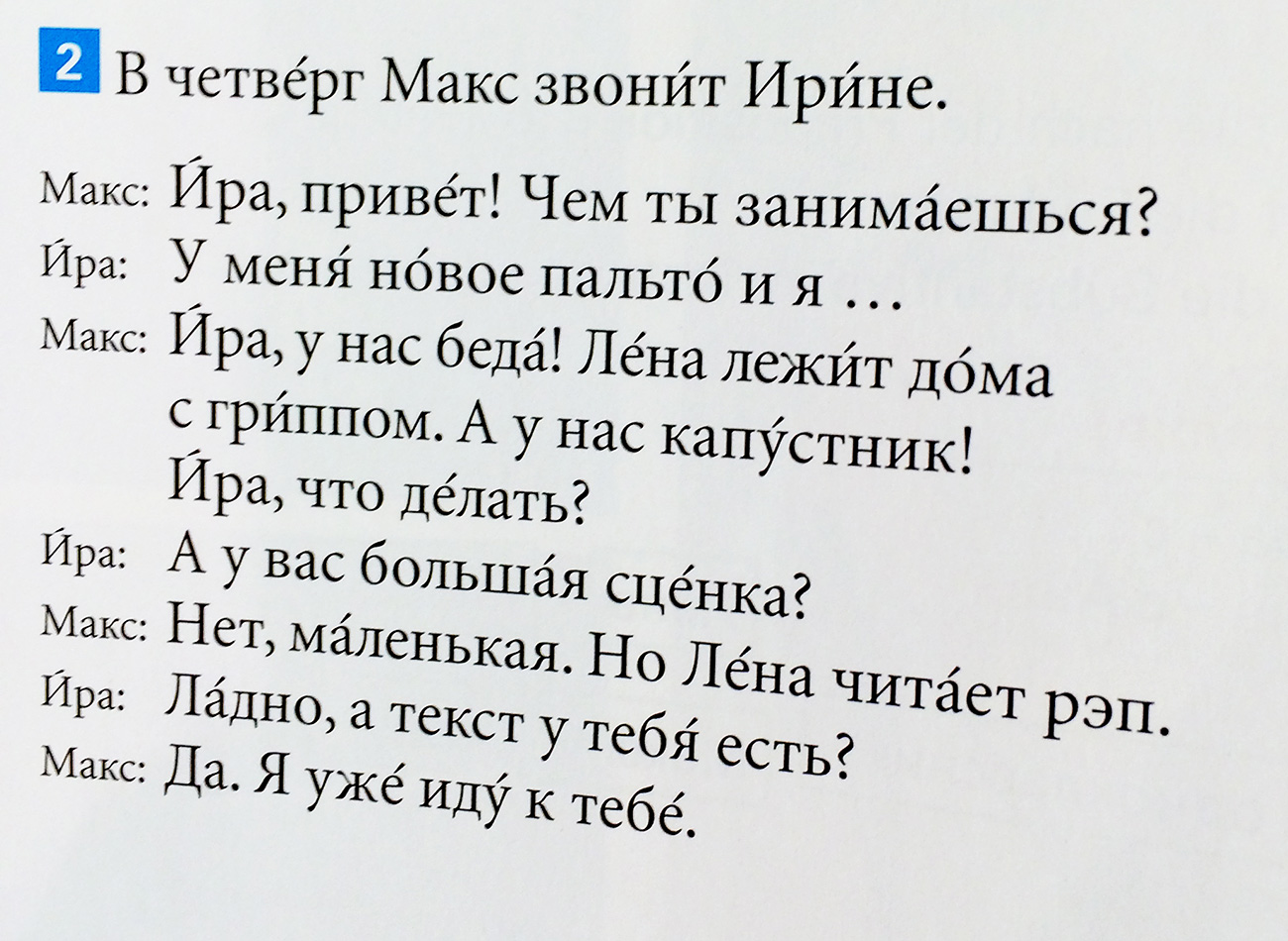 Photo: Anna Sorokina
-Hello, Ira! What are you doing?
-I've got a new coat and now I…
-Ira, we are in a trouble! Lena is sick at home. She's got a flu. And the kapustnik is due soon! Ira, what shall we do?
-So do you perform a long scene?
-No, a small one. But Lena is rapping in it.
-Ok, do you have the text?
-Yes. I am already on my way to you.
'Comrade' is a really casual way of addressing anyone (actually, it's not)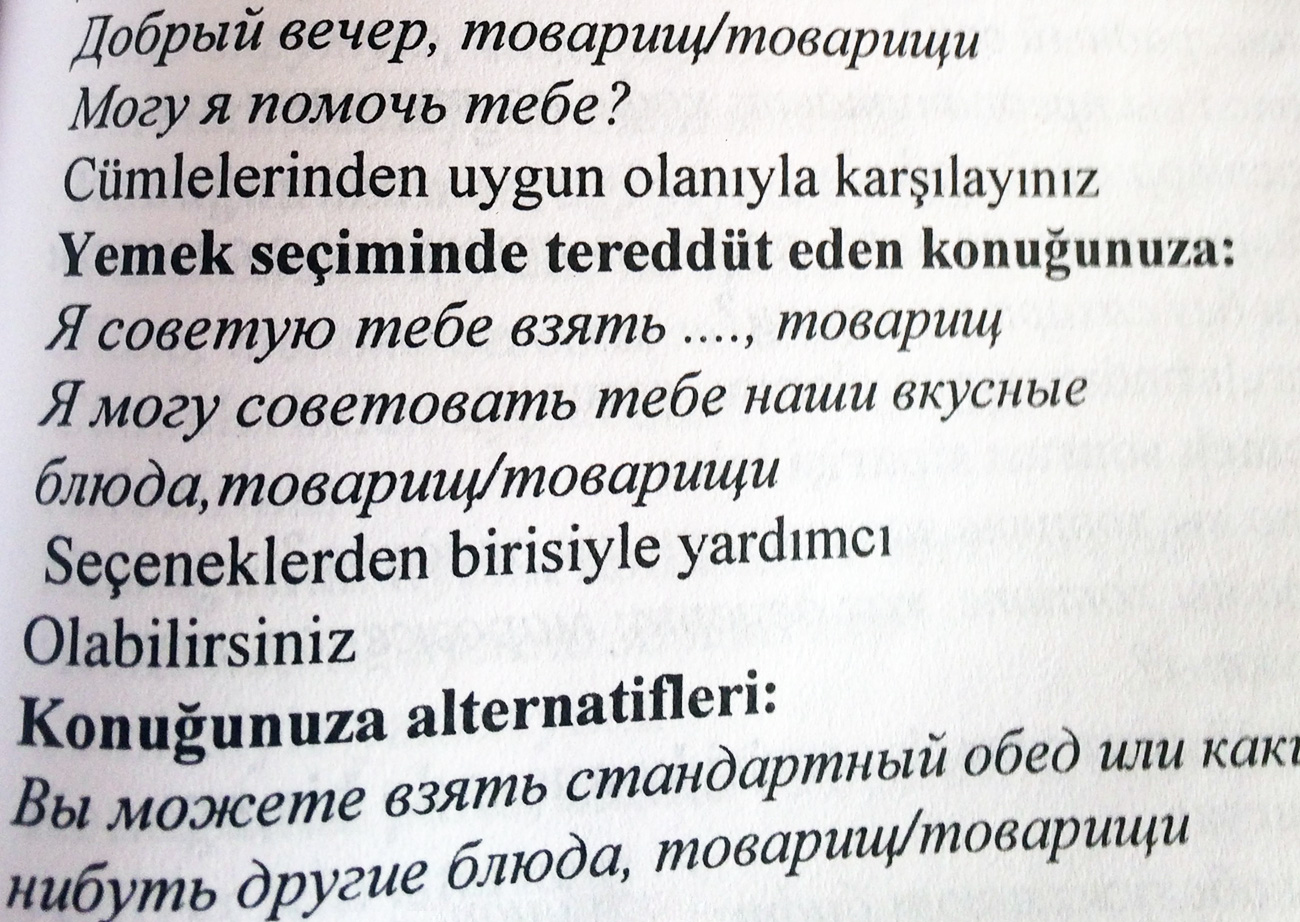 Photo: Anna Sorokina
-Good evening, comrades! Can I help you?
-I recommend you to try our tasty dishes, comrade!
You may love Moscow or you mom, but firsts things first…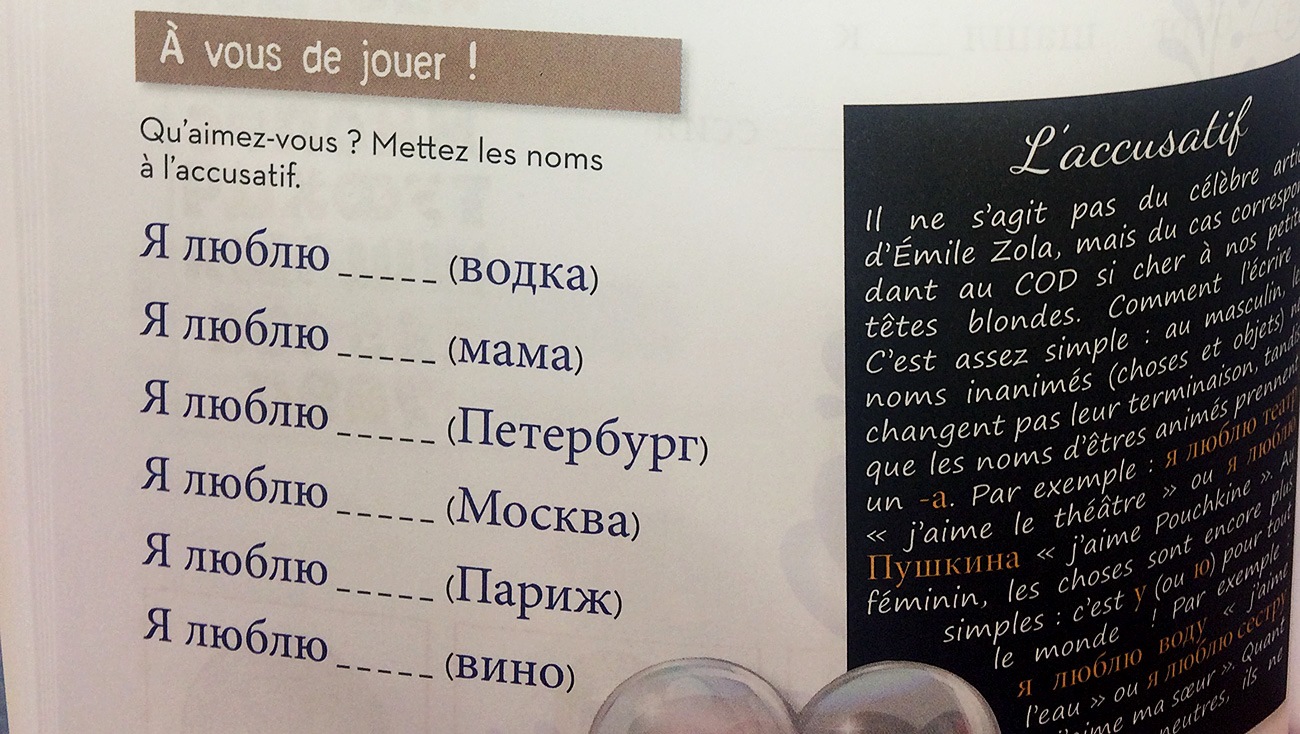 Photo: Anna Sorokina
I love vodka
I love mother
I love St. Petersburg
I love Moscow
I love Paris
I love wine
Because vodka helps you to deal with depression, apparently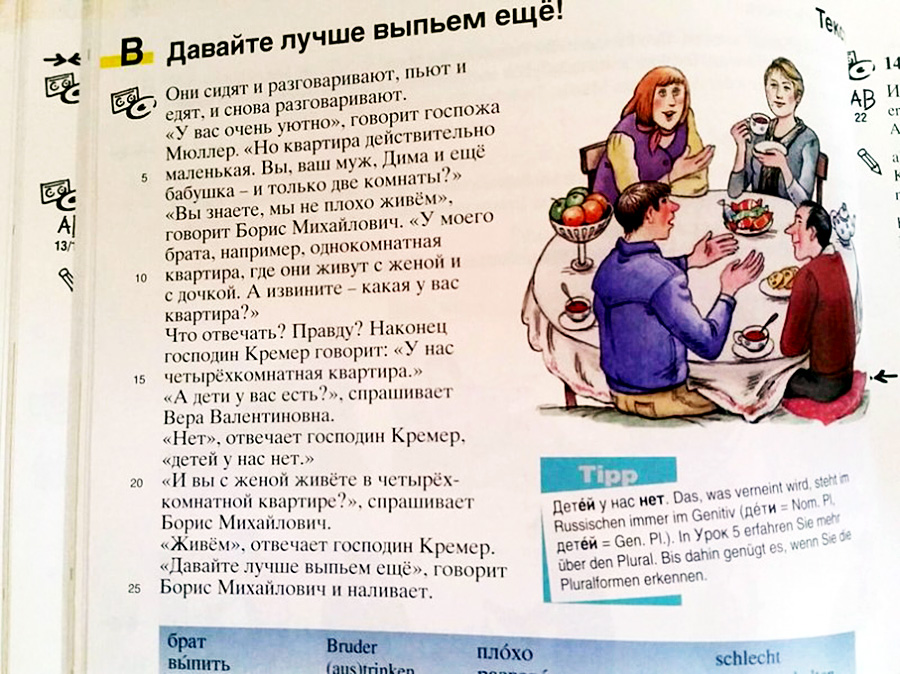 Photo: Peggy Lohse
They are sitting and talking, drinking, and eating and then talking again. "Your place is very nice," Ms. Muller says. "But your flat is really small. You, your husband, Dima, and the granny – and there're only two rooms for all of you?"
"You know, life is not that bad," Boris Mikhailovich says. "For example, my brother has a one-room flat where they live with his wife and daughter. Pardon me - how big is your flat?"
How to answer? The truth? Finally, Mr. Kremer says: "We have a four-room flat." "Do you have any children?" asks Vera Valentinovna. "No," answers Mr. Kremer. "We have no children." "And you live with your wife in a four-room flat?" asks Boris Mikhailovich. "We do," answers Mr. Kremer.
"Let's drink more," says Boris Mikhailovich and fills the glasses.
Be careful with what you wish for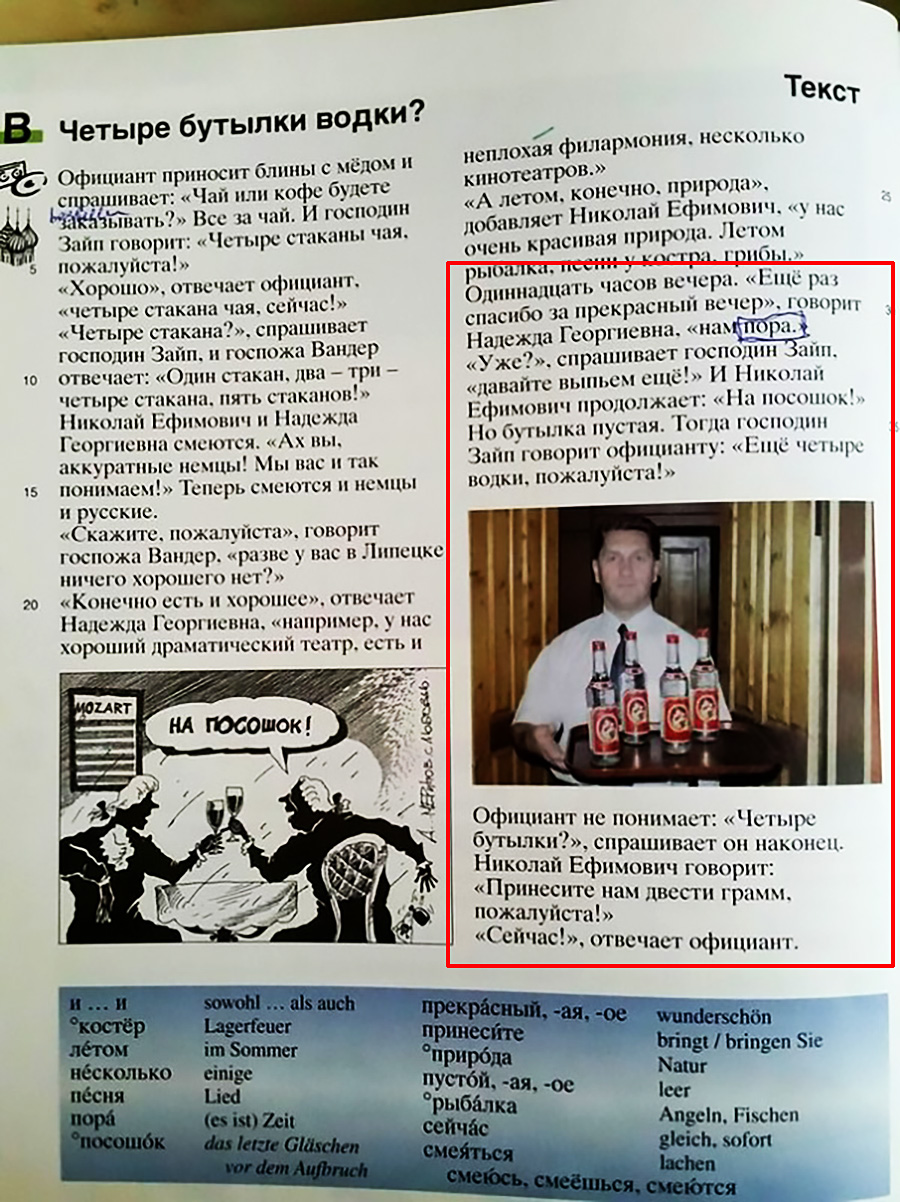 Photo: Peggy Lohse
It's 11 p.m. "Thanks again for the wonderful evening," says Nadezhda Georgieva, "Now we have to go."
"Already leaving?" asks Mr. Zayp. "Let's drink more!" And Nikolai Yefimovich goes on: "One for the road!"
But the bottle is empty. Then Mr. Zayp says to the waiter: "Four more vodkas, please!"
The waiter doesn't get it: "You mean four bottles?" he asks. Nikolai Yefimovich says: "Bring us 200 grams, please!"
"Ok," answers the waiter.
Here's a crash course in manliness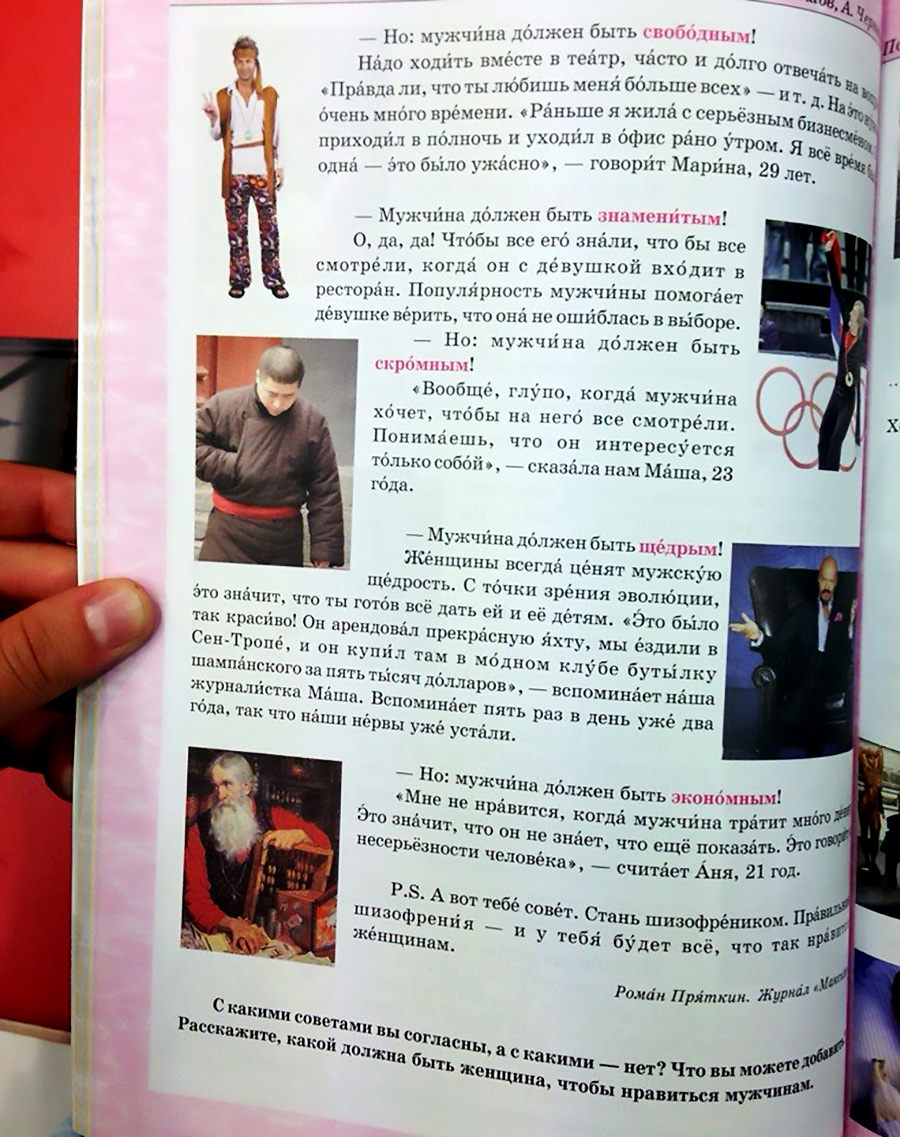 Photo: Daria Sokolova
A man should be free!
He has to go to the theater together with his significant other. He should frequently and thoroughly answer questions like: "Is it true, that you love me more than everyone?" etc. It takes much time. "I used to date and live with a serious businessman, he usually came home at midnight and left early in the morning. All the time I was alone – it was terrible," says Marina, 29.
A man should be famous!
Oh, yes, yes! So that he would be known by everyone and all eyes are on him when he enters the restaurant with his girlfriend. With her man being famous it helps the girl to believe that she made the right choice.
But: A man should be modest
"Actually, it's stupid when a man wants everybody to look at him. You understand that he's selfish," says Masha, 23.
A man should be generous!
Women always appreciate generosity. Consider it an evolutionary instinct, it means that he is ready to give everything to her and her children. "It was so beautiful! He rented a beautiful yacht, we went to Saint-Tropez, and he bought us a bottle of champagne for $5,000," recalls Masha, a journalist. She has been recalling it five times a day for two years already, so our nerves are shot.
But: A man should save money!
"I don't like it when a man spends a lot of money. It means that he doesn't know what else to show. This shows him as frivolous", says Anna, 21.
(There's a note at the end that this excerpt was taken from a men's magazine but who on earth takes a story from a men's magazine for a foreign language textbook?)
Read more:
If using any of Russia Beyond's content, partly or in full, always provide an active hyperlink to the original material.