Trolling, fake news, product placement, and vending machines: All of these methods were used in 19th century Russian ads in a unique way.
1. Shustov Brandy: Bar fights and emperor as advertiser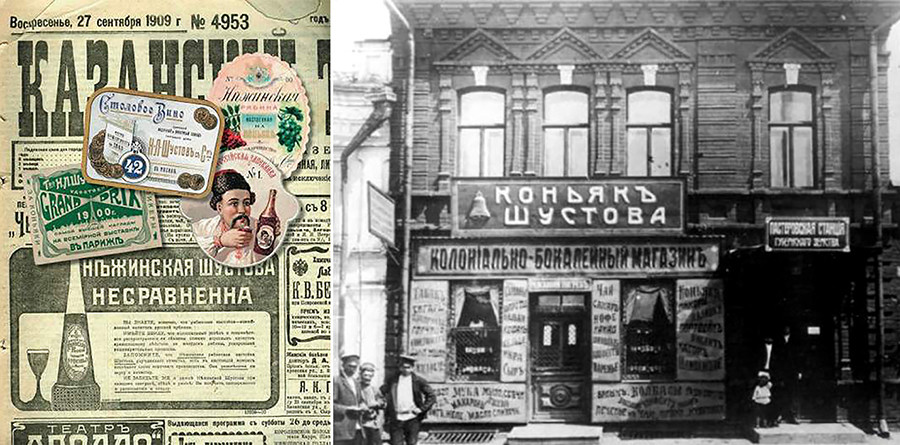 During the mid-19th century, Moscow merchant Nikolay Shustov started making brandy. But the market was already crowded with different types of the liquor, so he came up with an original way to plug his brand. He found several young handsome Muscovites - all of them slackers - and paid them to do the following: Dress up in nice clothes, walk into a restaurant, and ask for a lavish meal and a bottle of Shustov Brandy. The owner would answer that he's never heard of such a drink, which would be the cue for the paid scammer to feign anger and start raving on about how the brandy is the best drink in Russia, and that the restaurant must be a complete hole for not stocking it. He would then pay for the untouched meal (surely expenses were on Shustov) - after which the owner would rapidly order a huge shipment of the brandy.
But Shustov's son went even further. He managed to convince the emperor himself to advertise the brandy. In 1912 Shustov Jr. got himself invited to an Easter party at the royal palace. As soon as Nicholas II entered the hall, Shustov rushed up to him - ignoring that it was against court etiquette, for Shustov wasn't a nobleman - and fell to his knees, offering the emperor a shot of brandy on a silver tray. The confused emperor didn't refuse the present - he sunk the shot and said "That's pretty good brandy, gentlemen, I have to say!" No wonder Shustov's sales skyrocketed after that and by 1914 he was controlling 30 percent of alcohol production in Russia.
2. Henri Brocard: Educational soap and wax flowers for the Great Duchess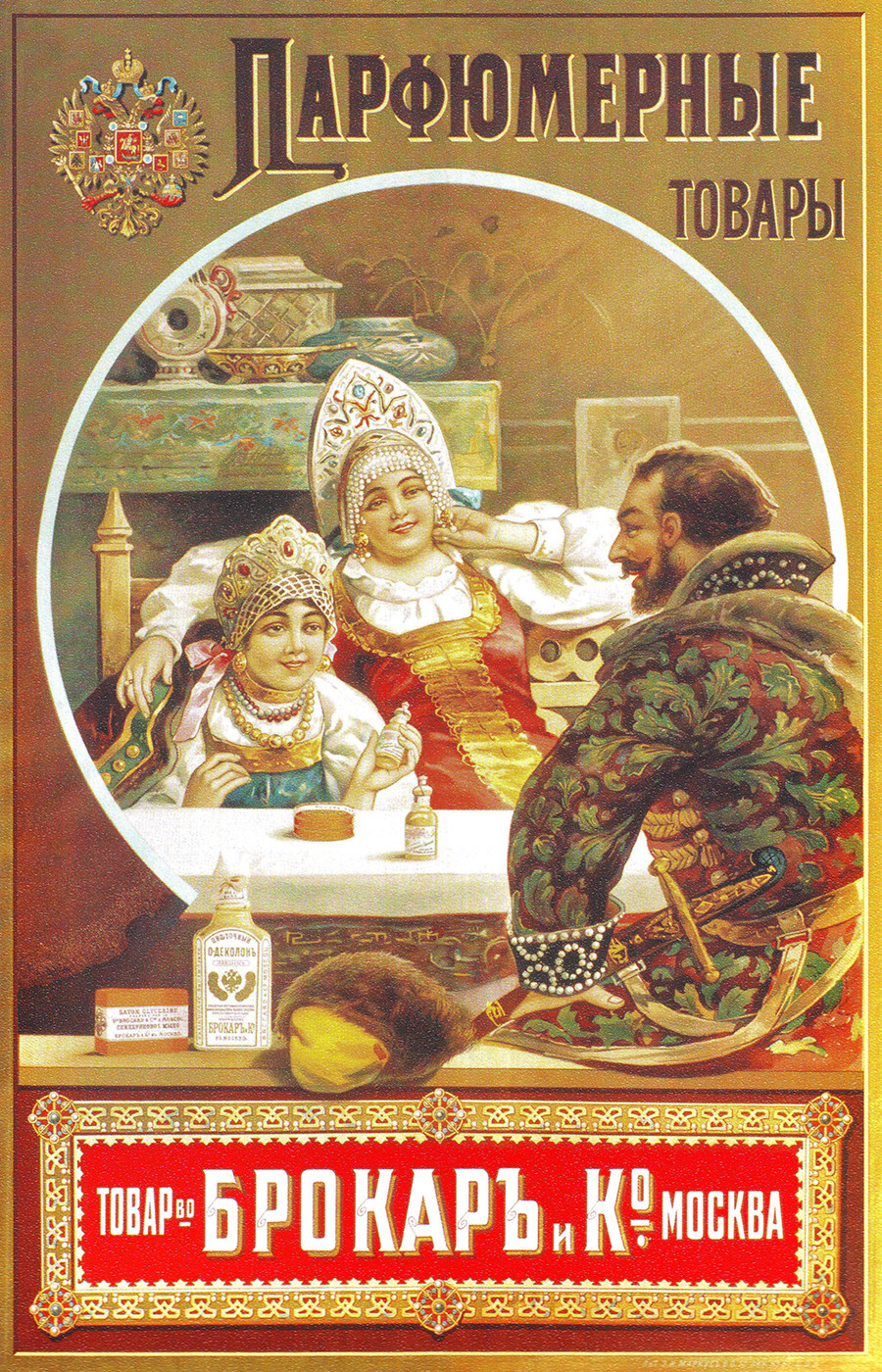 Brocard's Russia-themed advertising poster
Archive photo
Russia attracted many European merchants, who were creative in winning clients. Twenty-four-year-old Henri Brocard came to Russia in 1861 and started producing perfume. His first trick was to attract children: He started making "educational" soap in the form of letters - elementary schools were appearing all over Russia and many people in the cities were eager to educate their children. So he cashed in on this wave.
At the time, perfume was still something for the wealthy - poor people couldn't even afford simple soap, so Brocard targeted hard-up clients selling soap, face powder, and lipstick for just 10 kopecks each. This trick earned him a fortune and he was able to start creating elite perfume. This required another advertising method though.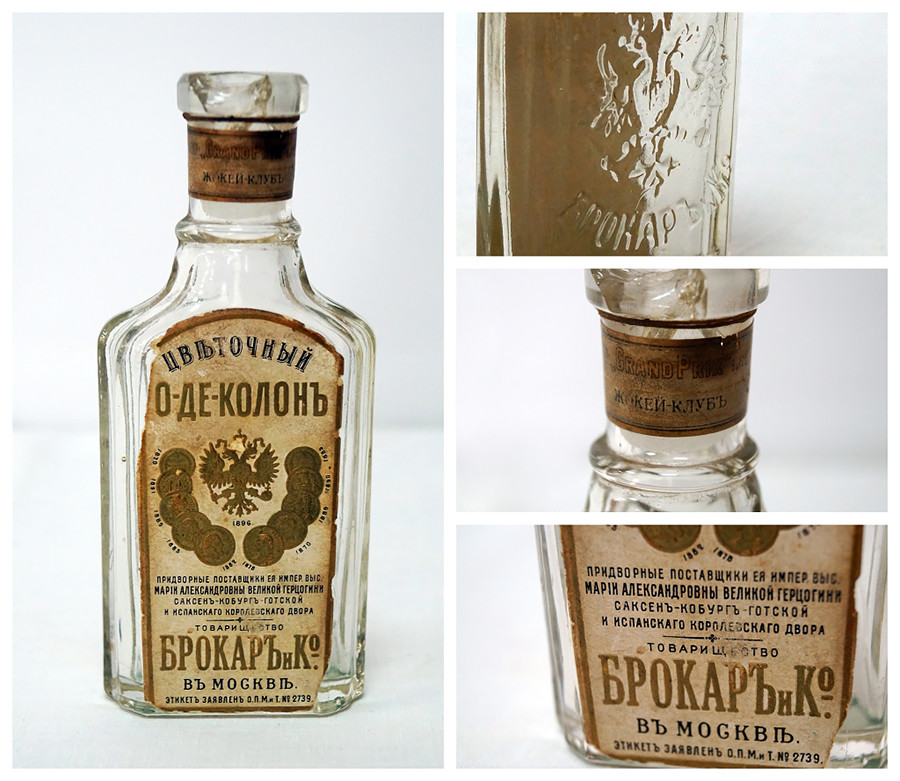 In 1873, Brocard arranged a visit of Grand Duchess Maria Alexandrovna, daughter of Emperor Alexander II of Russia, to his perfume factory. When she arrived the Grand Duchess was presented with a bouquet of wax flowers, each tinted with a special perfume. Awed and pleased, she allowed Brockard to use her name on the wrapping of his products, increasing his credibility. He even devised a new fragrance called "The Empress' Bouquet," which was hugely popular and still exists in Russia under the name "Krasnaya Moskva" ("Red Moscow" or "Beautiful Moscow").
3. Shaposhnikov's tobacco: A sea monster who smoked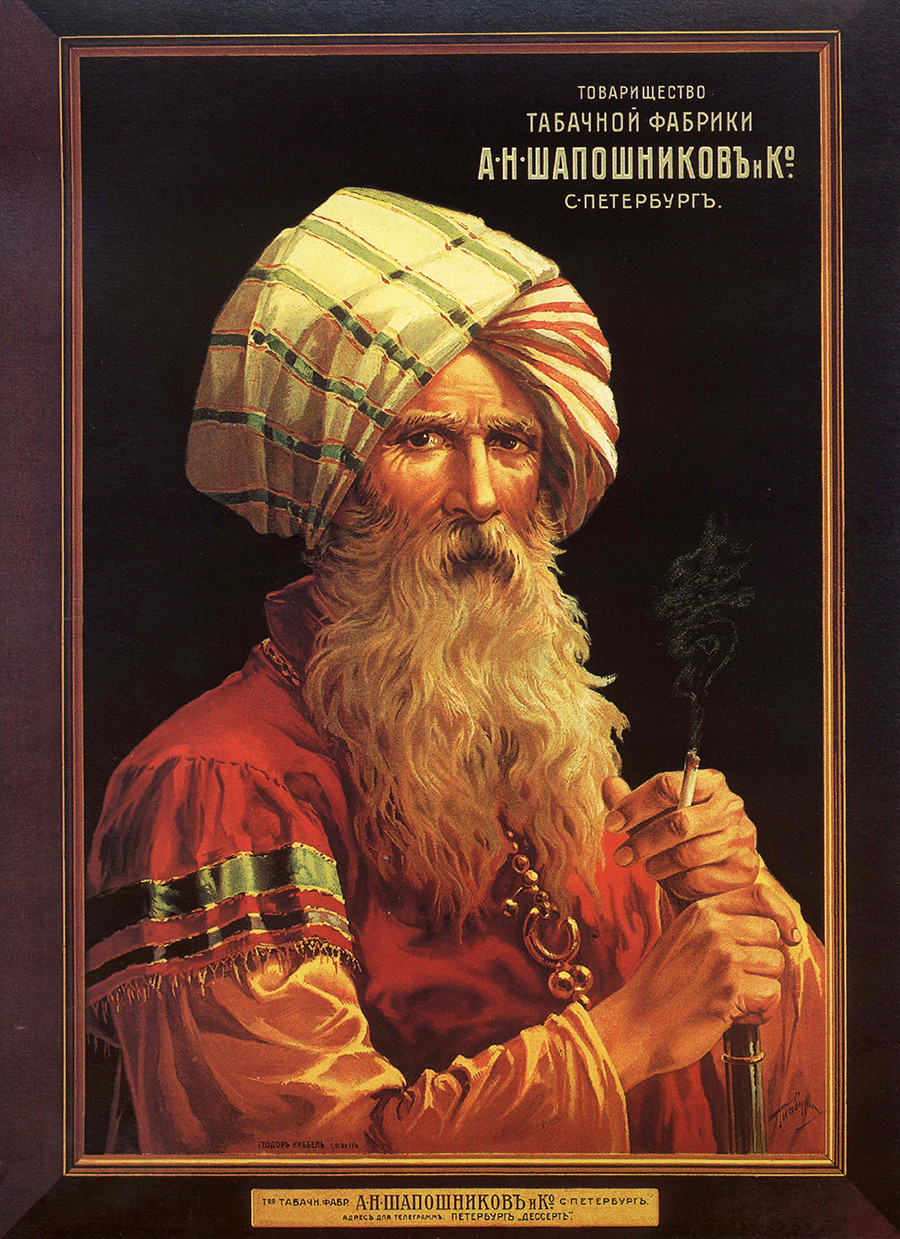 Shaposhnikov's tobacco advertisement.
V. A. Taburin
Brandy and perfume were fairly novel goods on the Russian market, that's why they needed such aggressive advertising. The same can be said about tobacco products.
Russian smokers mainly used pipes, sniffing tobacco, and hand-rolled cigarettes. In the mid-19th century, Russians could buy papirosy - an early version of a cigarette comprising a hollow cardboard tube extended by a thin cigarette paper tube filled with tobacco. To sell them, manufacturers had to attract people's attention, which was done using poetry. From the 17th century, the first Russian advertisements for simple goods like food and clothes used rhymes, which were catchy and easy to remember (or hard to get out of your head).
So Alexander Shaposhnikov's tobacco company invented a fictional character, Uncle Mikhey, who wrote short rhymes on cigarette packs, which went something like this: "'Golden Blade,' a tobacco plant, fragrant and tender, like a rose petal, sends you regards from the houris of paradise! There is no cigarette like this in the world!" Simple and touching - just what the folk needed. By the way, the real author of the verses, amateur poet Sergey Korotkiy, was a former soldier who had mingled with village folk during his time in the army - so he knew what the common man wanted.
Shaposhnikov also peddled what we would now call "fake news" now for his advertising campaigns. For example, he paid one St. Petersburg newspapers to issue a "sensational" news message that read: "A river dragon appeared in the Oka River near Nizhny Novgorod. A brave water police official hunted the beast and brought him down with a gunshot to the head. As the dragon of enormous length was dragged ashore, an inscription was revealed stretching from its head to its tail, which read 'Smoke only the best Osman cigarettes.'" We don't know if anybody believed that nonsense, but it was entertaining and made people remember Shaposhnikov's label.
4. Einem chocolate factory: 'Pastille waltz' and sweet zeppelins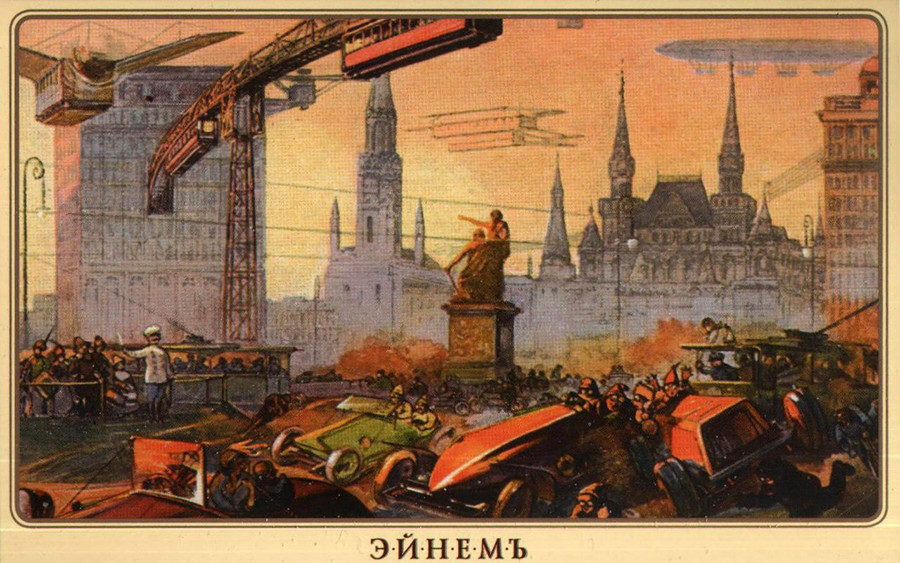 Red Square in the future - as seen on Von Einem's advertising postcards
Archive photo
Chocolate tycoon Ferdinand von Einem kicked off his his career in 19th century Moscow from scratch, starting with just a small confectionery shop. He first made it big after supplying the Russian military with syrups and jam during the Crimean War (1853-1856). Soon, his chocolate factory stood on the opposite bank of the Moscow River from the Kremlin. But von Einem mostly became famous for his advertisements that are remembered in Russia even to this day.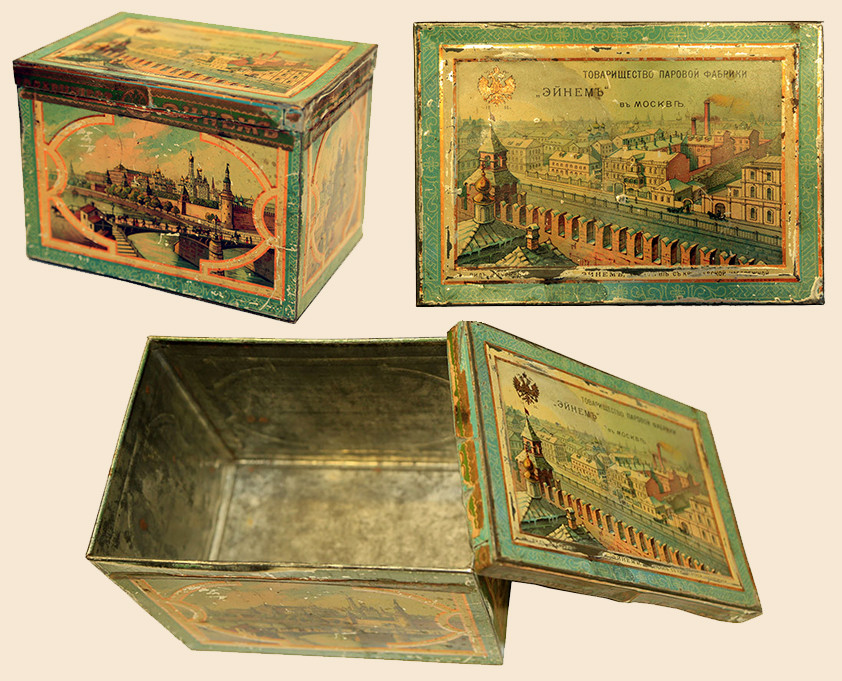 He was the first in Russia to install chocolate vending machines in his shops. These sold little chunks of chocolate for 0.1 ruble and were hugely popular with kids. The sweets were delivered in tin boxes that were then used as storage for grains and flour - so Von Einem's brand was seen in every kitchen. Different series of sweet tins contained collectibles, lottery tickets, cards with views of "future Moscow," and even sheet music with songs called "Chocolate Waltz" and "Pastille waltz." To print all of these, von Einem bought a small printing house. Finally, he rented two zeppelins bearing his brand names that soared over Moscow and St. Petersburg.
After the Revolution, von Einem's factory was nationalized but didn't stop production. In the Soviet times it was called "Red October."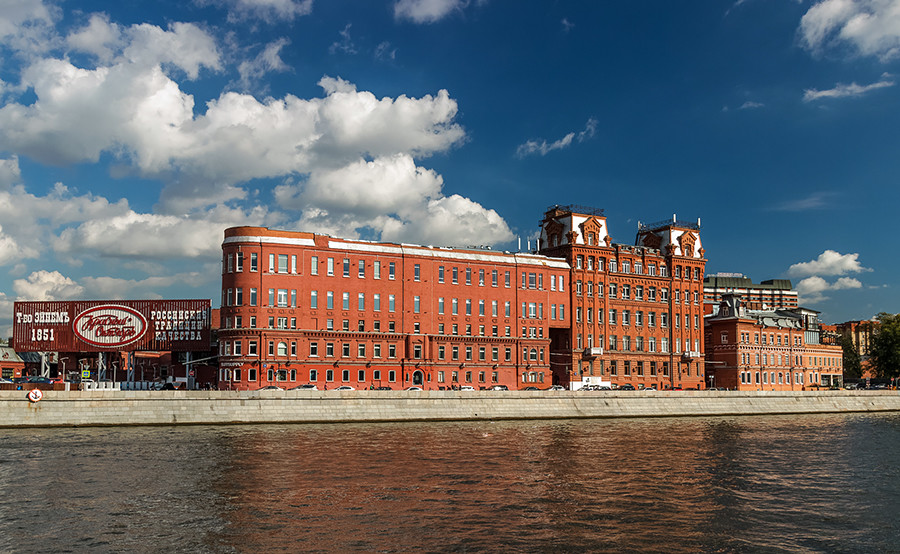 "Red October" candy factory, former Von Einem factory. A contemporary view.
Uladzimir Filipau
For more information on how foreigners made it big in Russia, you can read our article "3 foreigners that changed Russian history." For some crazy Soviet as posters, look at "Smoking is healthy: Soviet cigarette advertisements." And for something more contemporary, read about the habits of a real Muscovite.
If using any of Russia Beyond's content, partly or in full, always provide an active hyperlink to the original material.