EU-Russia 2013: Stagnating political and economic ties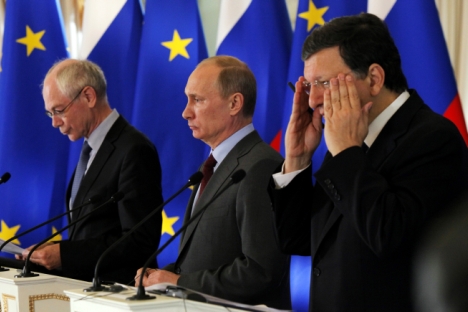 European Council President Herman Van Rompuy, Russian President Vladimir Putin, European Commission President Jose Manuel Barroso (L-R) attend a news conference during the Russia EU Summit in St.Petersburg on June 4, 2012. Source: AP
Russia and the EU are losing the ability to conduct effective political dialogue, say experts. While Russia still appeals to European businesses, it is also under unwelcome pressure to conform to European ideals of democracy and human rights. Meanwhile, Germany could be the key to improving the dismal forecast for EU-Russian relations.
Economic relations between Russia and the European Union will continue to develop in 2013, but experts predict an increase in mutual caution in the political sphere.
"Russia remains an attractive market for European businesses," said Fyodor Lukyanov, chairman of the Council on Russian Foreign and Defense Policy. "It is certainly no Klondike, but against the backdrop of a stagnating Europe and the dwindling faith in China's relentless growth, Russia is still an appealing investment target — even though some continue to complain about the difficulties in doing business here."
It is easy to see why Europe is still interested in Russia economically: Russia remains a fast-growing market with extremely high rates of return, even by European standards. European companies are increasingly opening manufacturing facilities in Russia, in addition to representative offices.
Russia's economy grew 3.5 percent in 2012, compared to Germany's 0.7 percent. Still, the European Union's biggest economy, Germany, remains Russia's key economic partner. Trade between the two countries reached an all-time high of $105 billion in 2012. The Trade and Economic Section of the Russian Embassy in Berlin expects a new record for 2013.
Europe and Russia have particularly strong ties in the energy sphere.
"The existence of the Nord Stream pipeline [which has been carrying natural gas from Russia to Europe via the Baltic Sea since 2011] is a factor of Russia's continued importance as an energy supplier," says Felix Hett, an expert on Russia from the German Friedrich Ebert Stiftung Foundation.
Yet not everything is so rosy in economic relations between Russia and the EU. According to Lukyanov, Russian energy exports will encounter growing resistance in the European energy market in 2013.
"The changes that are taking place in the energy sector do not favor Russia," he said. "Shale gas production, long dismissed by Gazprom, as well as the implementation of the Third Energy Package, will be increasingly bothersome to Russia. EU countries have been demonstrating exceedingly coordinated and effective efforts in this area. The European Commission and individual member states have been cooperating excellently on anti-trust legislation and energy issues."
Energy exports account for up to 70 percent of Russia's total exports in dollar terms, so the weakening of Russia's energy positions in Europe could be an unpleasant development.
Experts are not expecting any serious progress to be made in the political sphere, despite the fact that important events are scheduled for this year, including the two traditional Russia-EU summits and the G-20 summit in St. Petersburg.
"We are witnessing a process of new value-formation in Russia — values that are opposed to Western values. Russia used to say: 'Leave us alone, we'll follow the European model without your help.' Today Russia is saying something different: 'We don't aspire to become like you. We don't like your model,'" Lukyanov says.
Professor Hans-Henning Schröder, head of the German SWP foundation, can also see Russia's increasing alienation from Europe.
"Europe has come to the conclusion that the development we are seeing in Russia isn't compatible with the EU and the Council of Europe's ideas of democracy and human rights, and that this development is actually going in the opposite direction. The EU has serious doubts about Russia and is applying a certain pressure. This, in turn, increasingly makes Russia less interested in developing relations," says Schröder.
No breakthroughs are expected in the area of visa-free travel between Russia and the EU in 2013, either.
"The experience with certain West Balkan countries is a perfect scarecrow for conservative politicians," says Hett.
At the same time, experts have not ruled out the possibility of the situation in the political sphere improving next year. They believe the September 2013 parliamentary elections in Germany are one of the reasons behind this year's expected stagnation.
"Relations between Russia and the EU are heavily dependent on the relations between Berlin and Moscow. However, little will happen there in the next few months, because Germany will be totally consumed with its own elections. A new government will be formed afterwards. No great success can be expected until 2014, when a new foreign policy strategy is announced," says Schröder.
All rights reserved by Rossiyskaya Gazeta.