Russia and China take great energy leap forward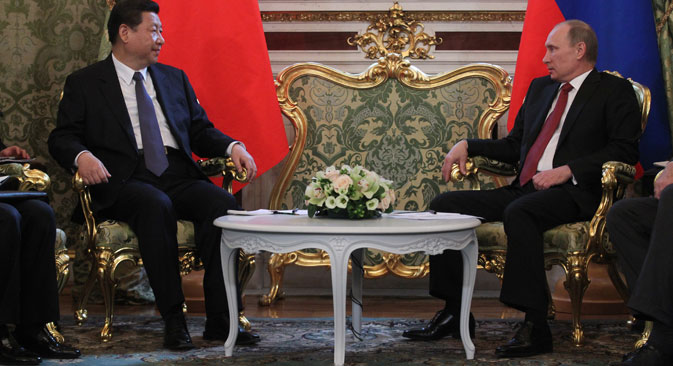 New leader Xi Jinping signs key oil and gas deals. Source: Rossiyskaya Gazeta
Deepening economic ties with the new leadership in Beijing are evidence that Russia is increasingly looking towards Asia.
A multibillion-pound raft of deals struck during new Chinese president Xi Jinping's recent visit to Moscow demonstrates a strengthening of ties between the two countries. As does the fact that Mr Xi chose Moscow as his first foreign visit since being appointed.
New deals were announced in banking, energy and even rabbit husbandry, but the most important deals involved energy – underlining Russia's increasing focus on China, and contrasting strongly with its lukewarm reaction to Europe during the recent Cyprus crisis.
Russia's state-controlled oil giant Rosneft, for example, will triple supplies to China to a million barrels per day, making China Russia's single biggest oil customer, with total exports rising from 34 million tons to 50 million tons by 2018 per year.
In further testament to the tightening of relations between Moscow and Beijing, the Chinese said they would give Rosneft $30bln in loans, which the company will use to finance its recent purchase of the British-Russian joint venture TNK-BP at a cost of $55 billion – a deal that made Rosneft the world's largest publicly traded oil company.
Kingsmill Bond, chief strategist at Citigroup in Moscow, described the Russian-Chinese relationship as "the best synergy on the planet," as "Russia has the raw materials and energy China's factories so desperately need, while Beijing has the market and the money for Russia."
This was a view echoed by President Vladimir Putin after his first meeting with President Xi on March 22. "Both countries want to encourage reciprocal investment," Putin said.
"We agreed to make more active use of the possibilities the Russian-Chinese Investment Fund offers, and pay particular attention to infrastructure and production projects in [Russia's] 
Far East."
The deals come after tough negotiating with China over a range of deals, which were stymied during the leadership changeover in China in the past two years.
After President Xi was confirmed in office on March 14, the new Chinese leadership was eager to get off to a flying start.
Another illustration of the deepening alliance was Russia's announcement that it will give China access to its jealously guarded oil sector: Rosneft promised the China National Petroleum Corporation (CNPC) a share in eight upstream projects including a "breakthrough" deal for China to explore and exploit Russia's prized Arctic reserves.
Progress was also made on a key gas deal stalled for more than six years over prices. The dispute was not settled, but a deal was signed between Gazprom and CNPC that will see 38 billion cubic metres of gas a year delivered to China from 2018.
The deal is significant, as Russia agreed to supply China from its East Siberian fields. It had wanted to supply China from its West Siberian fields, which also supply western Europe, which would have given it a choice of customers in east or west.
China met this concession with one of its own, agreeing to pay for 30 years' worth of gas in advance.
Gazprom was confident the last piece in the jigsaw, an agreement on price, would be reached by the summer.
"I think that in June the price will finally be determined and by the end of the year all of the contracts will be signed with regard to the supply, with the volume and price agreed," Gazprom chairman Viktor Zubkov said in a televised interview.
All rights reserved by Rossiyskaya Gazeta.