Russia and U.S. seek to step up trade and investment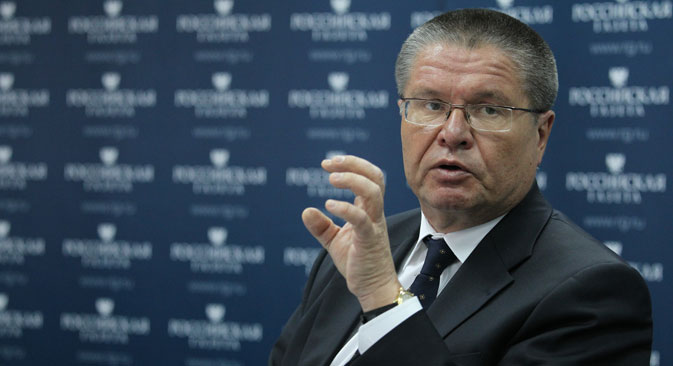 Alexei Ulyukayev:"The Russian and U.S. partners prepared a plan of action and designated priorities in the area of trade and investment cooperation." Source: Rossiyskaya Gazeta
After several years of stalled progress, the two countries have begun drafting agreements for closer commercial cooperation following high-level meetings in Washington.
The United States and Russia have agreed a draft plan for developing trade and investment cooperation, and have also begun drafting an agreement on investment protection, according to Russian Economic Development Minister Alexei Ulyukayev.
Speaking to journalists on February 26, Ulyukayev expressed satisfaction with the results of the meeting in Washington, which was attended by a working group under the Russian-U.S. Presidential Commission.
Ulyukayev was on a visit to the United States on February 23-26. The itinerary also included his meeting with U.S. Trade Representative Michael Froman and U.S. business circles.
"We discussed the bilateral agreements that underpin our relations, especially the outlook for signing an agreement on investment protection," Ulyukayev said. "I am hopeful that we are approaching the practical phase in preparing these documents." Ulyukayev added that at present, the proposed draft is being studied by experts.
He said that "more will be known" by May. "I think that we will soon be able to present our proposals to the leadership of our two countries," he told journalists, adding that "a pragmatic solution" must be sought.
Other items on the agenda included "agreements in the area of technical regulation and simplification of trade procedures, as well as phytosanitary controls."
Earlier, in an interview with daily Rossiyskaya Gazeta, Ulyukayev had this to say: "For several years we could not achieve any progress on the issue of signing an agreement on investment protection. Our two sides had their fundamental principles with regard to the form such an agreement should take. We have now submitted to our U.S. partners the concept of such an agreement," he said.
"In our opinion, it will enable us to end the deadlock. If we manage to make progress on investment protection, the next issues we would like to discuss as part of our proposals include an agreement on technical regulation, on sanitary and phytosanitary control measures, and on simplifying the trade procedures in general. Taken all together, these agreements would essentially put in place a free trade zone. It is possible that we will not actually be able to sign a document that includes the words 'free trade' in its title. But, by approaching the agenda in the areas of investment and trade from different angles, we could put in place some kind of equivalent [of a free trade agreement]."
The minister went on to say that during his visit, "the Russian and U.S. partners prepared a plan of action and designated priorities in the area of trade and investment cooperation". "Obviously, we are not happy with the current state of it, and we must make serious progress in this area," Ulyukayev said.
He added that a particular emphasis was made during the meeting "on the development of small and medium business, as well as the opportunities offered by the Russian regions."
Speaking of the situation in Ukraine, the Russian economic development minister said that "there is obviously an economic slump in the country, there are financial difficulties; all of that affects the Russian companies involved in trade and investment."
He said that "for now, there is no information about the [new] Ukrainian government's program, the composition of that government, or the signals it intends to send to the international community."
Speaking of financial assistance to Ukraine, he said that Russia "will certainly stay in touch with the international financial organizations and the governments of the United States and the European countries."
In late 2013 Russia agreed to buy $15 billion worth of Ukrainian government bonds. It has already given Ukraine the first $3 billion tranche of that assistance, and prepared the second $2 billion tranche.
For now, however, Moscow has decided to take a pause and study the situation in Ukraine so as, as Ulyukayev put it, "to understand more clearly who our partners are in Ukraine."
All rights reserved by Rossiyskaya Gazeta.