Dmitry Medvedev begins 4-day visit to China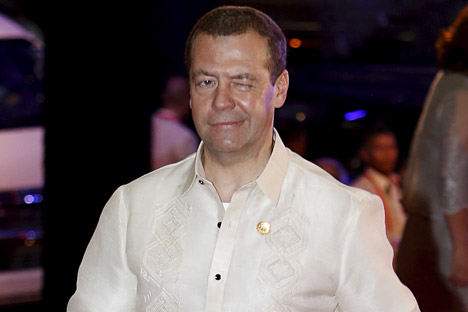 Russia's Prime Minister Dmitry Medvedev winks as he arrives in a traditional Philippine "barong" shirt for a welcome dinner during the Asia-Pacific Economic Cooperation (APEC) summit in the capital city of Manila, Philippines November 18, 2015.
Reuters
The SCO Heads of Government meet begins in Zhengzhou on Dec. 14
Russian Prime Minister Dmitry Medvedev began a 4-day visit to China on Dec. 14.
During the visit, he will take part in the meeting of the Shanghai Cooperation Organisation (SCO) Heads of Government Council in Zhengzhou, Henan province, and will make a speech at the opening ceremony of the Second World Internet Conference in Wucheng.
On Dec 16., Medvedev will have a meeting with his Chinese counterpart Li Keqiang in Beijing, where several bilateral deals are expected to be announced.
All rights reserved by Rossiyskaya Gazeta.