Japan, India top Asian investors in Russia - Eurasian Development Bank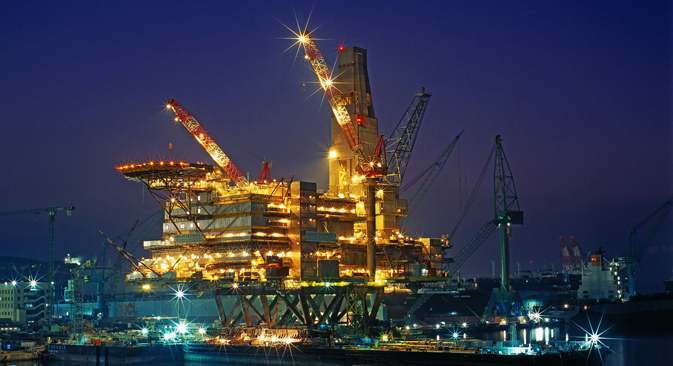 An oil and gas development project in Sakhalin Island.
Press Photo
Despite a rapid development in economic ties between Moscow and Beijing, China trailed behind Japan and India in direct investment in Russia, as of the end of 2014. The bulk of Chinese foreign direct investments in Eurasia went to Kazakhstan.
Data released by the Eurasian Development Bank (EDB) revealed that China trailed behind rivals Japan and India when it comes to direct investment in Russia.
As of the end of 2014, China was only the fourth biggest Asian investor in the Russian economy, having made cumulative direct investment of about $3.37 billion. Japan had invested $14.4 billion in Russia, while India had invested $3.6 billion. Turkey, which is considered an Asian country by EDB, invested about $5.7 billion.
According to a report titled 'EAEU and Eurasia: Monitoring and Analysis of Direct Investments,' which was released in January 2016, the main recipient of Chinese direct investments ($23.6 billion out of $27.1 billion as of the end of 2014) was Kazakhstan.
An analyst with UFS Investment Company, Pyotr Dashkevich, attributes the paradoxically small amount of Chinese investment into Russia to the fact that the implementation of "numerous oil industry agreements is protracted and involves too much red tape." He added that Chinese manufacturers create too much competition for Russian companies in sectors such as heavy machine engineering.
The EDB figures differ considerably from the official statistics of the Russian Central Bank. According to the latter, Japan's cumulative investment into Russia was just $1.2 billion. The EDB attributes the discrepancy to the fact that its calculations are based on "companies' reports and other primary information."
According to the authors of the EDB report, this approach makes it possible to get a real picture of investments, which is distorted by the fact that "Asian investors are more frequently inclined to use offshore companies and other trans-shipping destinations for their foreign direct investments than European investors."
Where the investments go
The bulk of Japan's investments went into oil and gas projects on the island of Sakhalin: Sakhalin-1 and Sakhalin-2 ($10.1 billion). Unlike China, Japan makes hardly any investment in Kazakhstan. According to the EDB, Tokyo invested just $25 million in the ferrous metals industry in the Central Asian country.
China's interests in Kazakhstan concern transport infrastructure and resources, while in Russia, it is primarily energy resources. Unlike Japan, China invested only $1.2 billion in the Russian oil and gas industry, despite being one of the main Asian consumers of Russian energy resources.
South Korea mainly invests in machine engineering ($787 million), construction ($400 million) and agriculture ($251 million) and uses the Russian market to re-export its products to other post-Soviet countries.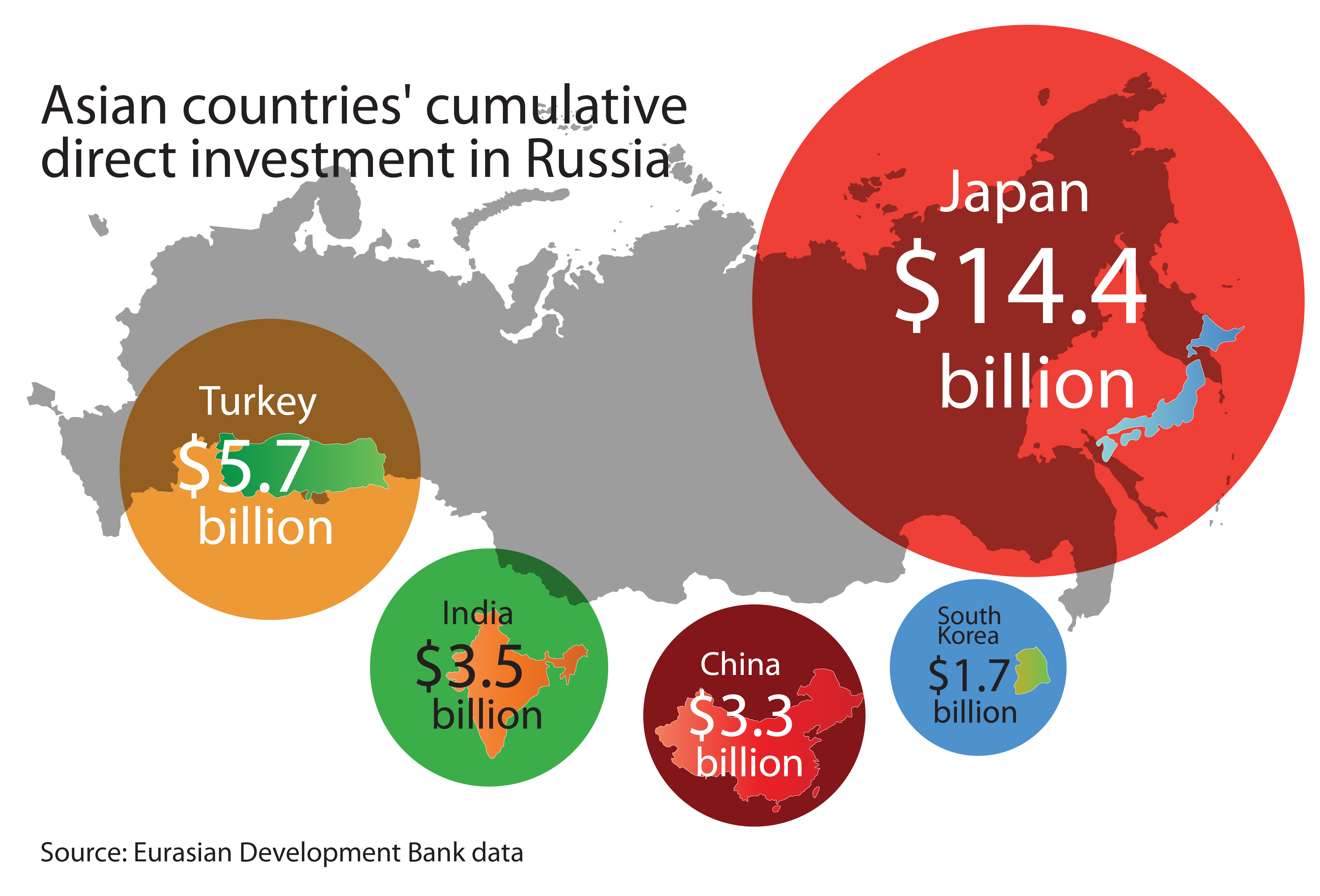 As of the end of 2014, long before the incident with the downing of the Russian Su-24 bomber and the introduction of Russian sanctions against Turkey, Russia accounted for over 70 percent of Turkish direct investments in the region.
India, which is mainly interested in energy and non-ferrous metals, divided its investment between Russia and Kazakhstan in a more balanced manner: $3.6 billion and $2.3 billion respectively.
According to EDB analysts, despite slow global economic growth and uncertainty in the financial markets, Asian countries will continue to increase their investments in former Soviet countries.
The main role, the bank believes, will be played by Chinese investors, which "try to give effect to memoranda and preliminary agreements entered into in 2014-2015," while "Japanese companies will try to occupy free niches in Central Asia, where competition among transnational corporations is still low."
All rights reserved by Rossiyskaya Gazeta.