A new era in Iranian-Chinese relations threatens Russian interests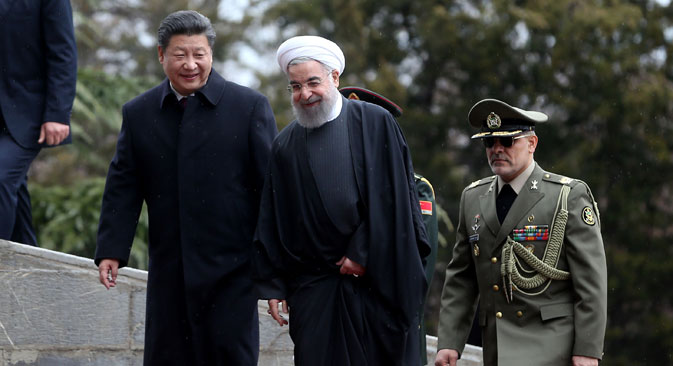 Chinese President Xi Jinping is welcomed by Iranian President Hassan Rouhani during his official arrival ceremony at the Saadabad Palace in Tehran, Iran.
AP
China has agreed to construct two nuclear power plants in Iran and import Iranian oil on a long-term basis. Such cooperation could threaten Russian positions, since Moscow had earlier announced that it would simultaneously be building eight nuclear plants in Iran. Russia's place in the Chinese oil market, which for the last years has been squeezing out the Arabic countries, could also be affected.
On January 23, 2016 Iranian President Hassan Rouhani and Chinese leader Xi Jinping reached a pact, as part of 17 agreements that were signed, to have China build two nuclear power plants in southern Iran and for Iran to provide long-term supplies of oil to China. The 10-year agreement will increase the total value of trade between the two countries to $600 billion according to the Tehran Times. Rouhani called the meeting "the dawn of a new era" in Chinese-Iranian relations.
China has been Iran's leading trade partner for many years. In 2014 trade between the countries was worth approximately $52 billion and in Rouhani's words, by 2026 it could exceed $55 billion a year.
A threat to Russian oil in China
The return of Iran has provoked a new battle among oil suppliers in the Asian market, where Russia occupies one of the main niches.
"It was clear from the beginning that after the cancellation of the sanctions Iran would start supplying more than one million barrels of oil (a day) to China," says Georgy Vashchenko, head of Russian stock market operations at the Freedom Finance investment firm. "However, for now this does not have any influence on Rosneft's volumes."
Iranian-Chinese oil agreements will not have a direct impact on Russian-Chinese trade relations, according to Ivan Andriyevsky, the chairman of the board at the 2K engineering company. Firstly, the Russian oil that is supplied to the East is better in quality with respect to oil provided by the Persian Gulf countries. Secondly, the logistics supply lines of Russian and Iranian oil do not intersect, emphasizes Andriyevsky. This is why Iranian oil will primarily compete not with Russian oil, but with supplies from Saudi Arabia, Kuwait and other regional producers.
However, there will be side effects. Due to dumping, Iran will most likely grab a piece of the Chinese oil market from each of its current suppliers. But Asian consumers will not be so careless as to destroy relations with other oil producers for Iran's sake. They know perfectly well that Iran's current price reductions are a temporary phenomenon, but at the same time not taking up such an attractive offer at the moment would be economically foolish.
In this case, the increase in volumes of exported Iranian oil in the East coupled with the deceleration in China's fuel demand as a result of its economic slowdown could slightly improve Russia's lasting prospects in the region.
By 2020 the annual volume of imported Russian oil in China will exceed 50 million tons, in comparison to the 30 million tons it sent in 2014. This estimate was made by Sushant Gupta, an analyst at Wood Mackenzie consulting group, in The Wall Street Journal in 2015.
A threat to Rosatom in Iran
Russia and Iran had close business ties in the field of peaceful nuclear energy long before Xi Jinping's arrival in Tehran after the cancelation of the sanctions. It is important to remember that it was Rosatom that built the first nuclear power plant in Busher.
Moreover, in November 2014 Moscow and Tehran signed a deal for the simultaneous construction of eight plants in Iran. This was the largest deal in the world nuclear market announced in recent years. The deal includes the full construction of a second stage plant in the city of Bushehr with two nuclear units, which could be extended to four, and plans to build four more nuclear units on other platforms still to be defined.
For now it is still too early to talk of a Chinese threat to Russian nuclear projects in Iran. However, the fact that this time China won the nuclear power plant tenders is a negative sign, Vashchenko believes.
"Before, Russian companies never lost tenders in Asia," he says. "Furthermore, Iran made it clear that it could now have many strategic partners, which means that in the future cooperation in the nuclear and oil and gas fields might not develop so smoothly."
Earlier, Rosatom had said that construction would begin in the fall of 2015. But even though the project has been postponed, it will still be implemented. On Monday, citing Ali Akbar Salehi, the director of the Atomic Energy Organization of Iran, the TradeArabia publication wrote that the construction of the first energy unit of the second nuclear power plant in Bushehr with Russia's participation is slated to begin in March 2016. The total volume of investment in the construction of the nuclear power plant with its four power-generating units is valued at $11 billion.
First published in Russian in VZGLYAD.
All rights reserved by Rossiyskaya Gazeta.