Russia, India and China seek common ground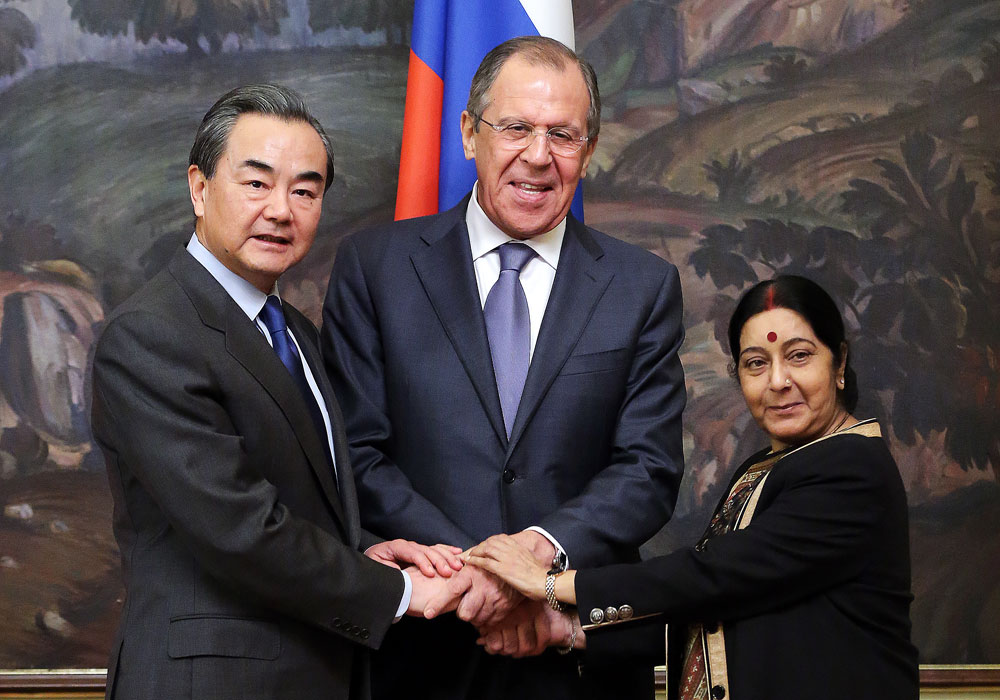 China's Foreign Minister Wang Yi, Russia's Foreign Minister Sergei Lavrov, and India's Foreign Minister Sushma Swaraj (L-R) ahead of the 14th Russia-India-China (RIC) meeting of foreign ministers
Sergei Savostyanov / TASS
A meeting of the RIC Foreign Ministers was held in Moscow against the backdrop of deteriorating India-China relations. Although the RIC format has existed for over a decade, it is often tied down by differences on certain issues between New Delhi and Beijing.
Moscow hosted a trilateral meeting of foreign ministers of Russia, India and China on April 18. The meetings are usually held on an annual basis under the RIC (an informal Russia-India-China consultative grouping) format.
This year's RIC meeting was held against the backdrop of deteriorating India-China relations.
Indian External Affairs Minister Sushma Swaraj held standalone talks with Chinese Foreign Minister Wang Yi before the RIC meeting.
Swaraj and Wang agreed with Lavrov in general, but each had their own agenda.
The Indian External Affair Minister said terrorism was the main global problem and urged all countries "not to divide terrorists into good and bad, into 'ours' and 'not ours.'" She also urged her RIC colleagues to support India's candidature to become a permanent member of the United Nations Security Council. While Moscow has been supportive of New Delhi's candidature, Beijing has remained vague on its position.
Wang Yi, who managed to discuss many issues with Sergey Lavrov at a meeting in mid-February, limited himself to words on the common approaches of the three countries to comply with international law, democratization of the international system and "respect the choice of peoples."
He also shed some light on the RIC communiqué, which outlined five areas of interaction: global policy, defense, finance and economy, infrastructure, and humanitarian issues.
According to Wang, the parties put forward 12 initiatives that covered cyber security, infrastructure, cultural and humanitarian cooperation, terrorism, piracy and drug trafficking among other areas.
The RIC format was proposed in the late 1990s by the then-Prime Minister Yevgeny Primakov and first tested during international events in 2005-2006. This format has begun to lose its relevance, says Georgy Toloraya, Director of the National Committee for BRICS studies.
"The countries are actively cooperating within G20 and BRICS, and the agenda there is much richer," Toloraya says. "With the entry of India into the Shanghai Cooperation Organization (SCO), the three countries can discuss the military and anti-terrorism cooperation and regional security."
According to Toloraya, Eurasia is beginning to resemble a "plate of spaghetti." There are many overlapping formats and groupings.
Each country has different objectives when it comes to RIC, says Samir Saran, Vice-President of the Observer Research Foundation, an Indian think tank.
He adds that RIC has some unique features. "Firstly, this is the only format of communication of the three major Asian powers, with testy relationships in the past, that does not include other regions," Saran says. "Secondly, the format serves as an important stabilizer for the bilateral relations of the three countries," and finally "the ambition to create political institutions that would serve the Asian Century would need to have these three countries at the helm."
Analysts agree that for RIC to work as a format, relations between India and China must improve.
New Delhi is peeved with Beijing's lack of support when it comes to contentious issues with Islamabad.
In early April, Beijing blocked (for the fourth time) a UN Security Council resolution to designate Maulana Masood Azhar a global terrorist.
Azhar is the head and founder of a Pakistani group called the Jaish-e-Mohammad, which is widely blamed for several attacks in India.
India and China also have a territorial dispute that dates back to the time the latter annexed Tibet.
First published in Russian by Kommersant
All rights reserved by Rossiyskaya Gazeta.