Shinzo Abe proposes "new approach" to solving Southern Kuril dispute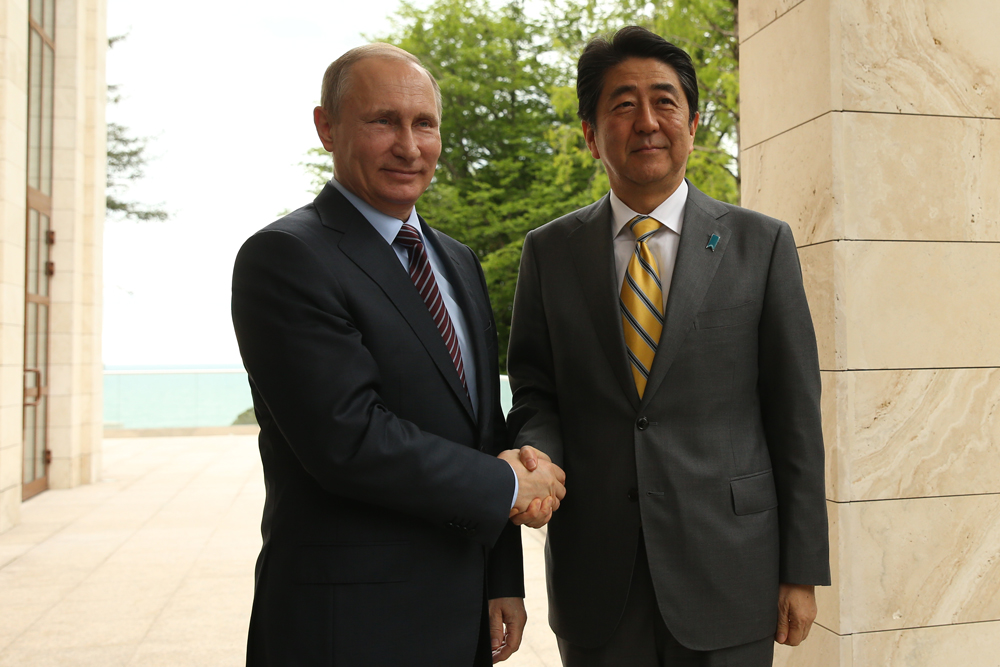 Russian President Vladimir Putin and Japanese Prime Minister Shinzo Abe, Sochi, May 6, 2016.
Konstantin Zavrazhin
Russian and Japanese officials have not disclosed any details about the Japanese Prime Minister's proposals on solving the territorial dispute that is the main stumbling block to a World War II peace treaty between the two countries.
Japanese Prime Minister Shinzo Abe visited Sochi on May 6 for talks with Russian President Vladimir Putin. In addition to trade, economic and investment cooperation, the two leaders discussed the painful issue of signing a World War II peace treaty, something that cannot be done until the territorial dispute over the Southern Kuril Islands has been resolved. After the talks, Abe said he proposed to a "new approach" to solving the territorial dispute.
A friendly tone
Abe last visited the resort city in 2014 for the opening ceremony of the Winter Olympics. "The warmth of this wonderful city reminds me of my meeting with Vladimir in 2014," Abe said in a markedly friendly address to his host. "With memories of Sochi's beautiful sights, I was looking forward to meeting Vladimir. I am very glad to see you."
Putin greeted his guest in an official tone. "Mr. Prime Minister, we see your visit as an opportunity to work together on issues of mutual interest," he said. At the same time, the Russian leader vaguely referred to existing tensions between the countries. "In view of the ongoing developments in politics, trade and the economy, there are issues that should be given priority attention," Putin said.
The range of issues on the agenda for the talks was known in advance. They included the prospects of signing a peace treaty (which Abe mentioned in his opening address), the related issue of the Southern Kuril Islands as well as bilateral cooperation and the resolution of conflicts in Syria, Ukraine and the Korean Peninsula.
The meeting had been arranged during Russian Foreign Minister Sergei Lavrov's talks with his Japanese counterpart Fumio Kishida that took place in Tokyo in mid-April. It was Lavrov who summed up the results of the talks between President Putin and Prime Minister Abe.
He said the two leaders had discussed trade and economic ties as well as Vladimir Putin's impending visit to Japan, "including specific dates" (to be announced later).
Putin invited Abe to attend the Eastern Economic Forum, which will be held in Vladivostok in early September.
In addition, the Russian side proposed reviving the 'two plus two' format that originated in 2013 and involves joint talks of the two countries' foreign and defense ministers. "We hope that our Japanese colleagues have heard us," Lavrov said, adding that this format was "useful given the threats to security that exist in the Asia-Pacific Region and Southeast Asia."
Southern Kuril dispute
Abe said he had proposed a "new approach" to resolving the issue of the disputed islands. However, neither the Japanese nor the Russian side disclosed any details of this approach.
"There have been hints in the Japanese media as to what idea Shinzo Abe may have brought with him to Sochi. They suggested that the proposal may to a certain degree be based on the idea put forward in 1998 by then Japanese Prime Minister Ryutaro Hashimoto during his meeting with Boris Yeltsin," says Alexander Panov former Russian Ambassador to Japan. "It cannot be ruled out that the Japanese side may have proposed an option whereby the islands of Habomai and Shikotan are handed over to Japan after a peace treaty is signed, while the other islands (Iturup and Kunashir) for a certain period of time, say for 30-50 years, remain under Russia's administrative rule."
Panov adds that such a proposal would be considered a compromise by Japan.
The next opportunity for the two sides to discuss the issue of the Kuril Islands and a peace treaty will come in June this year at a meeting between their deputy foreign ministers.
Alexander Gabuev, head of the Asia-Pacific Program at the Carnegie Moscow Center, suggests that Shinzo Abe's bold statement may have more to do with the domestic political situation in Japan. Ahead of the early parliamentary election that is scheduled for July, "there were very high expectations from Shinzo Abe's visit to Sochi," he adds.
Abe had to demonstrate that it was not just an "empty visit" and that he was ready to look for new approaches to one of the key issues in Tokyo's foreign policy, Gabuev says.
First published in Russian by Kommersant
All rights reserved by Rossiyskaya Gazeta.