Russia steps with economic engagement with Southeast Asia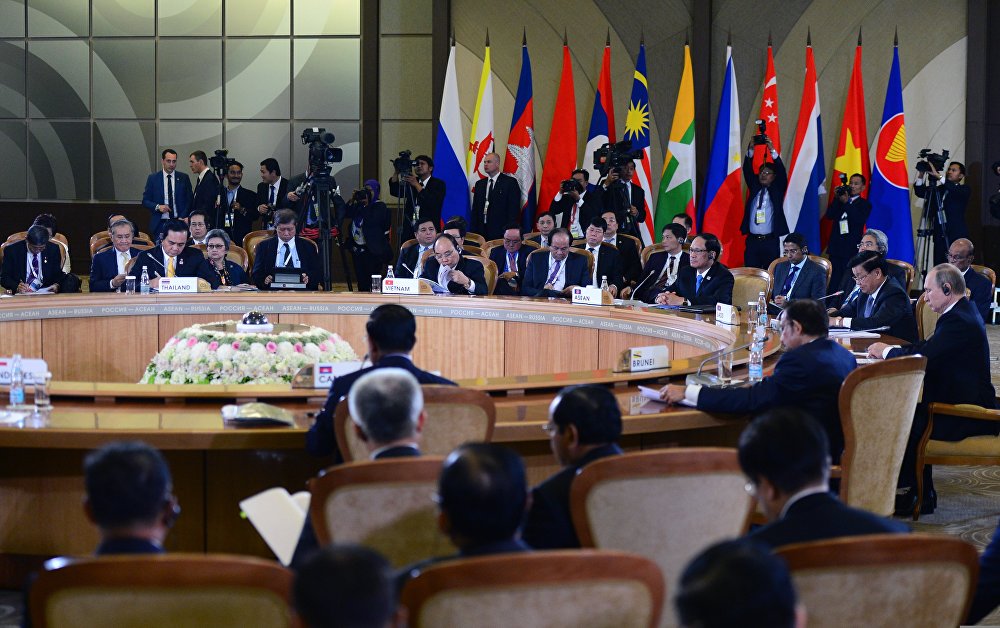 Sochi hosted the Russia-ASEAN summit on May 19-20.
Press Photo/ russia-asean20.ru
Since ASEAN has always been a predominantly economic alliance, the foreign trade dimension plays the key role in Russia's relations with Southeast Asia.
Current economic challenges in Russia and the unfavorable international situation with its traditional Western partners are forcing Moscow to pay more attention to Asia. Apart from Russia's extensive economic and political cooperation with China, the Kremlin is looking to expand its ties with the countries of Southeast Asia, which are very attractive both economically and technologically.
In this context, on May 19-20, Russia hosted the ASEAN-Russia summit in Sochi and commemorated 20 years since dialogue was first established with the Southeast Asian grouping.
Twenty years of partnership
The Sochi ASEAN-Russia Summit was the third of its kind even though the agreement on "partnership dialogue" between Russia and ASEAN dates all the way back to 1996. Over two decades of partner relations, the parties developed various cooperation mechanisms, such as high-level policy dialogue, a Joint Cooperation Committee, and a Working Group on Trade and Economic Cooperation.
It is important to emphasize that cooperation between Russia and ASEAN is not limited to commerce and trade. For example, partners adopted the Work Plan on Countering Terrorism and Transnational Crime and are actively cooperating in humanitarian and medical fields, higher education, and at the inter-parliamentary level.
Still, since ASEAN has always been a predominantly economic alliance, the foreign trade dimension plays the key role in Russia's relations with Southeast Asia.
Did the Sochi summit achieve any breakthroughs?
So far it is pretty obvious that the ASEAN-Russia Summit and Business Forum held on May 19-20 in Sochi was a major regional and international event. However, its results can be seen only over the mid- and long-term.
Sochi welcomed heads of states and governments of almost all ASEAN members. Given that Western anti-Russian sanctions are still in effect, the summit can be interpreted as Moscow's political success in breaking its international isolation.
It is also important to point out that the adopted Sochi Declaration spelled out Russia's and ASEAN member states' obligations on strengthening cooperation on political and security issues, including combating terrorism, fighting organized transnational crime, and upholding maritime security.
Still, top-level negotiations mainly focused on the economy.
Addressing the ASEAN-Russia Business Forum participants, Russian President Vladimir Putin stated that Russia offered 57 joint projects in innovation and technology. He also pointed out that Russian business is increasingly active in Southeast Asia. For example, Russian mining companies are working in Indonesia and Myanmar, nuclear power projects are ongoing in Vietnam, and Russia is participating in high-tech projects in Malaysia.
Putin also specifically encouraged Southeast Asian partners to invest in infrastructure projects in the Russian Far East.
Another important development is the announcement that Russia and three ASEAN member states (Vietnam, Singapore and Cambodia) are ready to start working on a free trade zone between ASEAN and the Eurasian Economic Union (EAEU).
It is extremely important for Moscow that the idea has the backing of Thongloun Sisoulith, current chairman of ASEAN and prime minister of Laos, and Le Luong Minh, secretary general of ASEAN and a high-ranking Vietnamese diplomat. Historically, Vietnam and Laos have been Russia's allies, so it makes the current ASEAN geopolitical environment close to ideal for the Kremlin's agenda in Southeast Asia.
Over time, we will see if Russia manages to use the situation to its advantage as Russia's partnership with ASEAN now enters its third decade.
The author is a professor at St. Petersburg State University. Views expressed in the article are personal and may not necessarily reflect the position of Russia Direct or RBTH.
This is an abridged version of an article, first published by Russia Direct
All rights reserved by Rossiyskaya Gazeta.