'There Once Lived' – Russian website shows films dedicated to the plight of Moscow's homeless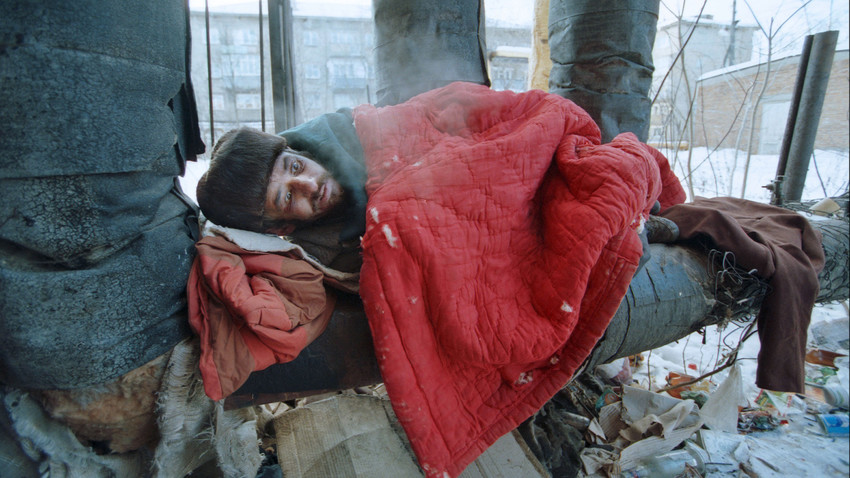 A homeless man clings to heat pipeline on a frosty day. More than 13 000 people have to survive in the streets of Moscow in extreme poverty
Vladimir Smirnov/TASS
Thousands die on the Russian capital's streets each year, especially during winter. Often they are not remembered, but a charity and its supporters are now holding memorial services to ensure those who pass away on the streets are not forgotten.
Zhenya was a young man when he came to Moscow to work at a factory, but ended up being fired and homeless. Lilya left home after being severely beaten by her husband and had no place to go. Esma, living in Tajikistan until her 63th birthday, was forced to flee political turmoil – but no one welcomed her in Moscow.
All these people ended up on the streets of Russia's capital – literally ended up, because now they are dead. There are many homeless people in Moscow (official statistics say 13,000, unofficial: 60,000) – finding a way back from the streets is incredibly difficult.
Memorial service
There are several organizations working with the homeless – volunteers feed them, help to find shelters during the winter, and spend time with them. One such organization is Friends on the Streets, which organizes an annual memorial service for those who don't make it through the winter.
"At this service, the names of the deceased are read out loud," says the official information on the page of the special project called There Once Lived, created by the web portal Takie Dela ("So It Goes"). "Because having a funeral without a name being recognized is terrifying. It's not human."
There Once Lived is available in English and you can watch five animated short documentaries based on the stories of five real people, struggling through a life of poverty. They were all supported by volunteers from Friends on the Streets.
Both chilling and beautiful
The fates of the people are not easy to watch: Some froze to death during severe Russian winters, others were beaten to death in the dead of night. However, the films are beautifully made and incredibly touching.
As Sergey Karpov and Galya Mosalova from Takie Dela put it: "Our main goal is to touch people, to break through indifference." According to them, film is especially important to spread the message as it reaches people's subconsciousness and is indifferent to language or culture.

If using any of Russia Beyond's content, partly or in full, always provide an active hyperlink to the original material.