Xenia Sobchak first made her career as 'Russia's Paris Hilton,' and now she wants to be 'Russia's Hillary Clinton.' Here are interesting facts about the possible presidential candidate.
Xenia Sobchak became a TV star in 2004 with her reality show, Dom-2 (House-2), where young people build a house and forge romantic relationships.
After 13 years the show is still on the air, but associated with bad taste and the most vulgar things on Russian TV. Xenia Sobchak, however, has become a serious and influential figure in Russian society.
Vladimir Putin hasn't officially declared he would be running for presidency but few in Russia doubt that he wouldn't. For the past several months rumors have been flying that Sobchak will challenge Putin in the March presidential elections, and on Oct. 18 the daily newspaper, Vedomosti, published a letter claiming that Sobchak sent them an email where she announced her decision to run for president.
Daughter of Putin's patron
Putin started his political carrier as a deputy of Anatoly Sobchak, former Leningrad mayor at the time when the city reacquired it historical name, St. Petersburg. Mayor Sobchak, who died in 2000, was said to be an honest and wise person, and a true adherent of democracy. There are rumors that Putin, who was Sobchak's right hand man, is Xenia's godfather.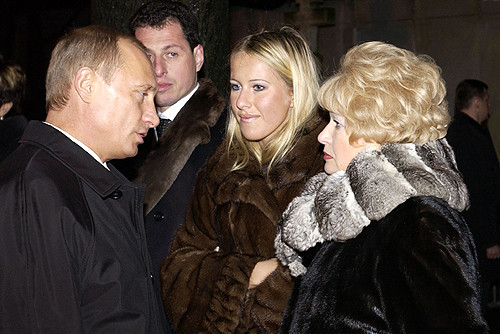 Scandalous TV host
Xenia Sobchak first appeared on TV in 2004, and at that time her public persona was as a member of the so-called 'golden youth,' and 'Russia's Paris Hilton.' She even had her own reality TV show, "Blonde in chocolate," that featured her hanging out in lavish clothes, and drinking expensive drinks in luxurious nightclubs. She was a professional socialite, a frequent guest at the parties of the rich and famous, and a host of music awards and major corporate events. At the same time, her name was associated with scandal, earning big money and even bigger enemies.
Growing up to the serious life
The year 2012 was a watershed for Sobchak, and her image turned 180 degrees as she tried to become a serious woman. She started wearing glasses and making serious journalistic projects. From 2012 and up to June 2017, she interviewed major politicians, businessmen and journalists in her TV program, "Sobchak live," which was aired on Dozhd (Rain) TV.
That same year Sobchak became chief editor of the glamorous magazine, SNC, (previously known as Sex and The City), leaving this position in 2014 to be chief editor of L'Officiel.
Probably her most surprising and serious project, however, was to join the political opposition. As protestors hit the streets of Moscow in 2012, demanding fair elections, Sobchak and her friends (journalists, actors and writers) began to attend rallies, for which they became persona non grata, having no chance to work again on state TV.
Opposition leader
Somewhere in the middle of opposition meetings Xenia met her future husband, actor Maxim Vitorgan, and in 2016 she gave birth to their son, Platon.
Since Sobchak had long been perceived as close to Putin's inner circle, for a long time many didn't believe that her conversion to the opposition was sincere. However, her social media comments and her interviews concerning the Kremlin became harsher and harsher. When opposition activist and blogger Alexey Navalny announced his run for presidency, Sobchak supported him.
During an interview she made with Navalny in June, they had a small conflict. Xenia claimed his political program isn't clear how to make the country a better place – Navalny is only fighting corruption, unmasking officials and making reports about their villas and private jets, lacking a plan on how to change things..
Running for presidency
"I am Xenia Sobchak, I am 35 years old and my entire life I've lived and worked in Russia, and I care what happens to my country," Vedomosti quotes Sobchak's letter. "I treat all public activities with responsibility and I realize all the risks and incredible difficulties of this challenge. I've decided that my participation in the presidential elections can be a step towards changes that are such essential for our country."
Sobchak writes that she wants to represent the platform "Against everyone," that used to be on voting ballots in the 1990s. She is applying, "not only as a candidate, but as a mouthpiece of those who are not able to become candidates. I am ready to voice complaints to the powers-that-be." The whole letter in Russian is available here.
Earlier, media reported that the Kremlin decided to allow Sobchak to run for presidency.
Let's see what this smart and intelligent woman can achieve.
For more information, take a look at Sobchak's website to promote her candidacy: sobchakprotivvseh.ru.
If using any of Russia Beyond's content, partly or in full, always provide an active hyperlink to the original material.