Fun at Moscow's circuses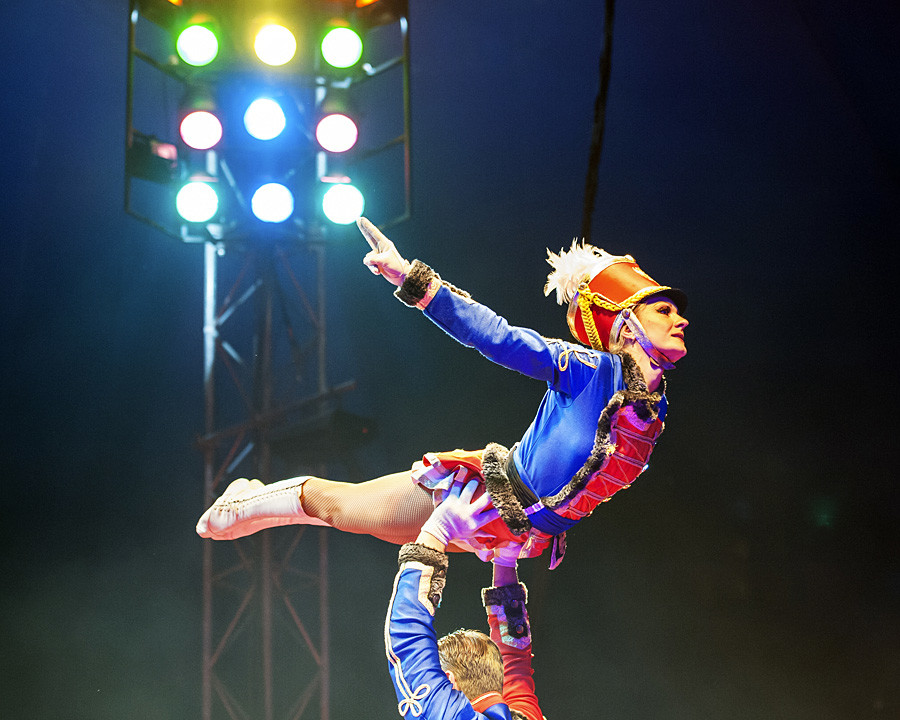 The Moscow Circus on Tsvetnoy Boulevard opened in 1880, and its directors quickly understood the importance of children in the audience, and so they paid special attention to clown performances and Christmas parties. Due to high demand today, we advise booking tickets in advance.
www.circusnikulin.ru (website only in Russian).
Another popular venue, the Moscow Big Circus, is also perfect for kids of all ages. The productions combine traditional circus arts with modern technology: you can enjoy illusionists, well-trained animals and skillful acrobats, as well as sound and light shows and a scene that involves an ice rink and even a pool. Morning performances are a main advantage for both circuses.
Tickets for the Moscow Big Circus can be found here – tickets.bigcirc.ru
Cheerful polar bears at the Moscow Zoo
Conveniently located near a metro station, the Moscow Zoo is a great place for kids. With many indoor pavilions, it's open in all seasons and has elephants and giraffes, as well as many insects and reptiles. Zookeepers take conservation seriously, and so the zoo is also an educational facility. With 21 hectares, Russia's largest zoo provides a decent, respectable environment for both the animals and visitors. If you've heard horror stories about zoos, be certain that the Moscow Zoo stands above the rest. And for sure there'll never be a Harry Potter snake situation here. Tickets are free to anyone under 17, and entrance is possible with a Troika transport card. You can also check the animal feeding schedule on the official website.
Tickets are free to anyone under 17, and entrance is possible with a Troika transport card. You can also check the animal feeding schedule on the official website.
Discover outer space at the Planetarium
Not far from the Moscow Zoo is the Moscow Planetarium. Founded in 1929 and recently opened after renovations, it's an incredibly popular place for visiting with kids. (Yes, you should book tickets in advance). A ticket includes a lecture, educational movies and watching the stars.
Check the schedule in advance – www.planetarium-moscow.ru
Evolution at the Darwin Museum
This unique and very informative museum will help your child explore the origins of life and the evolution of humans and animals. The museum features natural and geographical topics, as well as interesting facts about ancient peoples, and even different birds singing. Don't miss the interactive tours, quests, high-tech laboratories and don't forget to look into the microscope.
Exploring the sea at Moscow's aquariums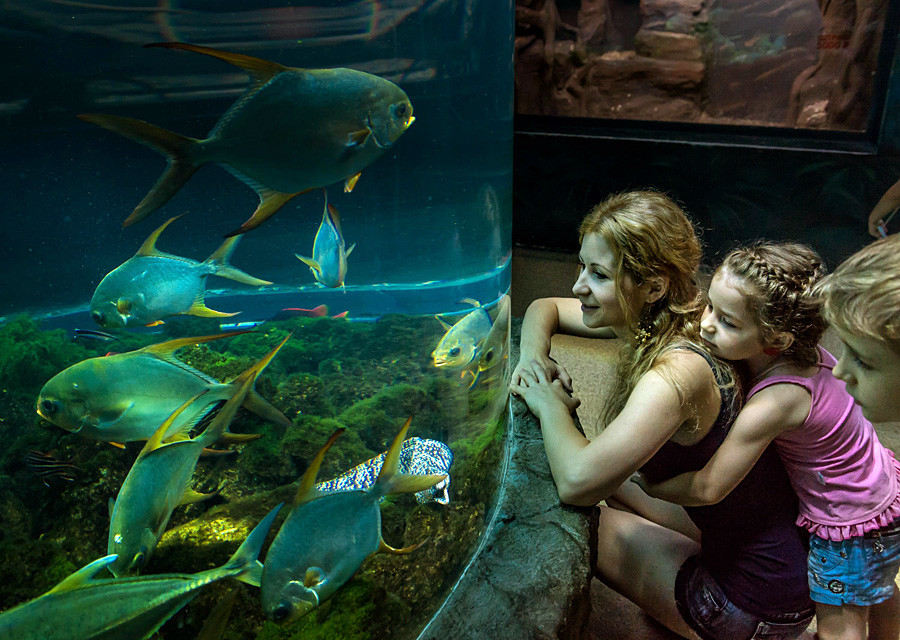 Moscow Oceanarium
Georgiy Rozov/Global Look Press
The extravagant Soviet era park, VDNKh, is a fine place to spend time with kids in any season. In summer you can rent all possible types of mini transportation, while in winter the park turns into a huge ice rink. The recently built Moskvarium on the territory of VDNKh is certainly worth visiting. Though the entrance ticket is not cheap, (tip: check the family ticket options), where else can you see mysterious creatures such as sharks, manta rays or caiman lizards? Another great thing about the Moskvarium is a water show featuring dolphins, sea lions, seals and even huge beautiful killer whales. The only disadvantage – the Moskvarium is rather far from the metro and park entrance.
If you don't have time to go that far, there is an ocean aquarium at Chistye Prudy metro station, where you can also enjoy sea creatures and corals, watch a shark show and touch a starfish.
aquatis.ru (website in Russian)
Find a profession in educational themed parks
In Masterslavl children ages 5 to 14 are taught what it's like to work as a doctor, janitor, garbageman, or a security guard. They can even get a driver's license and use a microscope.
www.masterslavl.ru (website in Russian)
KidZania is not purely Russian, like at Masterslavl, but it also lets children try themselves in a variety of areas: for example flying a real plane or broadcasting from a radio studio. Moscow's KidZania is an inclusive project where children with autism and other mental and physical disabilities can tour the park, not separately, but with everyone else.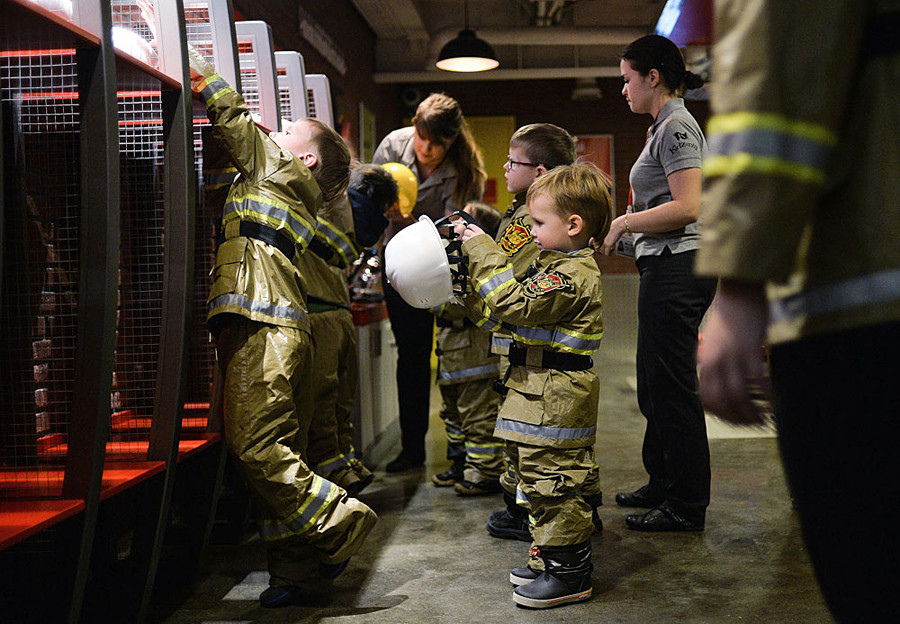 Children learning fire-extinguishing skills at the fireman area of the Kidzania game training park in Moscow
Vladimir Astapkovich/RIA Novosti
Kidburg is another interactive museum of professions for kids.
Creative workshops at museums
On the first Sunday of each month the Garage Museum of Contemporary Art has a special program for teenagers, usually connected with the museum's main exhibition, and which includes a guided tour and an entire day of lectures and workshops.
The Jewish Museum & Tolerance Center has a Children's Center "where everybody can find activities to suit their taste." Alongside art classes, quests and educational programs, there is even a theater for kids. During the school holidays, there are more activities.
Pure fun at Tortuga
When you're done with the educational programs, why not play and jump around? Tortuga – "The Island of Freedom" – offers "baby parking," where you can leave your baby for an hour or the whole day. Kids spend time learning culinary skills or ceramics, but most of all – there are active games.
tortugakids.ru (website in Russian)
Theatrical art for the smallest spectators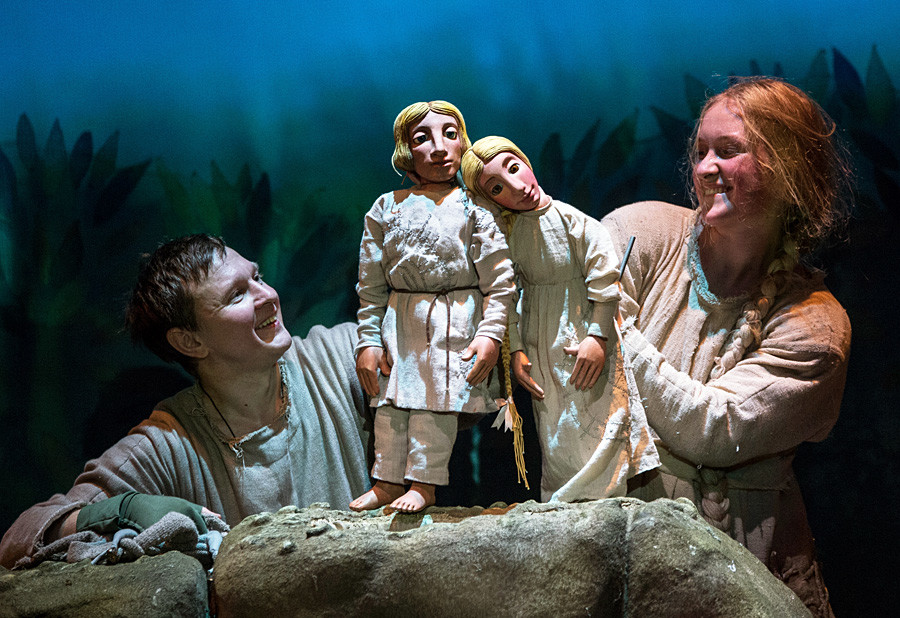 'The Scarlet Flower' performance at the Obraztsov Puppet Theater
Evgenya Novozhenina/RIA Novosti
Moscow has many theaters, and of course there are great options for kids - Natalya Sats Musical Theater, Theater for Young Spectators, and one of the world's largest puppet theaters – the Obraztsov Puppet Theater. All productions are fantastic, and your only challenge will be choosing the one that your child will enjoy most.
Sliding at high speeds in water parks
There are more than 10 water parks in Moscow and the Moscow Region. The three largest and most famous are Qua-qua Park, Karibia and Moreon. All are worth visiting and prices are almost the same, so best to choose the one closer to you.
If using any of Russia Beyond's content, partly or in full, always provide an active hyperlink to the original material.